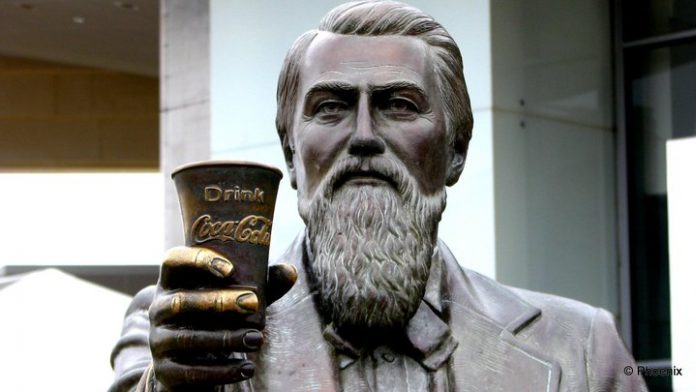 COCA-COLA plans to cement its operations in the country and produce healthier products for consumers.
The Coca-Cola Company (TCCC) this month celebrates its 132nd birthday globally, 90 years in Africa and 70 years of operation in Zimbabwe.
On May 8 1886, Dr John S. Pemberton sold the first Coca-Cola for just 5US cents in Atlanta, Georgia, US.
In recent years, Coca-Cola has diversified its product range to include water and juice categories.
"We are evolving our recipes to offer new drinks that provide benefits like nutrition and hydration; and sugar reduction by reformulating the sugar content in some of our products," read a statement from Coca-Cola.
"As Coca-Cola, we are serious about making positive contributions to the world. That starts with reducing sugar in our drinks and continuing to introduce new ones with added benefits.
It also means continuously working to reduce our environmental impact, creating rewarding careers for our associates and bringing economic opportunity wherever we operate."
With three bottling partners, Delta Beverages, Schweppes Zimbabwe Limited and Mutare Bottling Company, Coca-Cola employs over 3 000 people in Zimbabwe and supports over 56 000 others across the supply chain.
"We take great pride in being a part of Zimbabwe's fibre for over 70 years… But we offer more than just refreshments. We prioritise our value chain and contribute to the nation's social-economic aspirations and the environment," read the statement in part.
The three bottlers have invested millions of dollars in the business, with Mutare Bottling Company and Delta Beverages having commissioned new Returnable Glass Bottle (RGB) lines in recent years.
Delta has also launched two PET (polyethylene terephthalate) lines.
In addition, Schweppes Zimbabwe has invested in a new hot fill line and a Minute Maid Pulpy Orange production line.
"We hire locally, manufacture and distribute our products locally. We run our business through a network of 20 000 outlets in all provinces," read the statement.
Coca-Cola is also committed to Zimbabwe' socio economic advancement and has invested in a number of business and community programmes.
Some of the initiatives include water projects in Nyanga, Makoni and Mwoyoweshumba in Manicaland Province, in collaboration with Plan International.
In 1948, the company started operations in Zimbabwe as a Company Bottling Operation – with the first factory premises at Telford Road in Graniteside, Harare, and has since expanded to the present site known as 'Coke Corner'.
For seven decades, the company has been a cornerstone of special moments — bringing people together and being at the core of their celebrations, while providing refreshments.
Coca-Cola Zimbabwe's story is underlined by being the cradle of COPA Coca-Cola, a grassroots football tournament founded in Bulawayo in 1989.
The tournament is now being played in more than 63 countries by over one million teenagers.
Alex Makamure, corporate affairs director, Delta Corporation Ltd, said Coca-Cola has an enduring belief in Zimbabwe.
"Over the past five years, we have invested in infrastructure, manufacturing, distribution, marketing and skills development," said Makamure.
"We have an enduring belief in Zimbabwe.
"We see a bright future ahead, with socio-economic trends showing a growing population, rising GDP and increased urbanisation."
The celebration by Coca-Cola comes at a time when Indian soft drinks manufacturer, Varun Beverages, has started manufacturing operations in the country, but says the cost of setting up its plant might spiral from the initial budget of US$30 million to about US$40 million due to foreign currency shortages.
PepsiCo has already spent US$22 million on phase one of the plant, with more capital expected to be invested as the project progresses.
The plant will be built in phases, totaling four on completion. This will see an increase of Pepsi branded soft drinks and other brands.
PepsiCo started operations last month and its products are already making a mark on the local market driven by their affordability.
Varun Beverages corporate affairs manager Fungai Murahwa said cost cutting measures and affordability will give his company an edge.