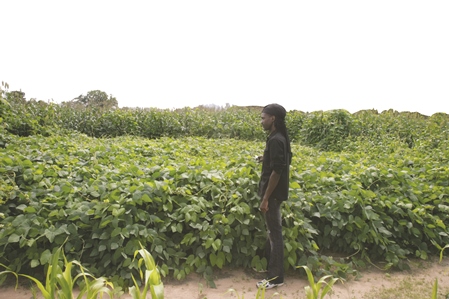 By Professor Sheunesu Mpepereki
IN a previous article, we indicated that we would examine practical ways in which soyabean can contribute to the achievement of the Zimbabwe Agenda for Sustainable Socio-Economic Transformation (Zim-ASSET) goals.
The main elements of Zim-ASSET are hinged on indigenisation, economic empowerment and job creation.
We already discussed the multiple benefits of soyabean which include a wide variety of foods for both humans and livestock.
I have argued that soyabean must be elevated to the status of a strategic crop, key to meeting Zim-ASSET goals.
Let us examine some of the relevant elements of the soyabean value chain that are critical for achieving Zim-ASSET goals.
The main components of the soyabean value chain include production, processing, marketing and utilisation.
All these components of the value chain offer opportunities for indigenisation, economic empowerment and employment creation as envisaged under Zim-ASSET.
The new farmers need to diversify from the traditional non-food cash crops such as tobacco and cotton.
Soyabean is one of the most important food cash crops grown in the whole world. It is easy to grow, requiring minimal inputs.
In areas where rainfall and soils are suitable, soyabean should be the main cash crop apart from the staple maize.
National production has historically never satisfied national requirements peaking at 170 000 metric tons in 2001.
Strong local demand fuelled by cooking oil, poultry and pig feeds manufacture guarantees a local market.
Even where liquidity has affected the viability of local markets, demand for soyabean on regional and international markets is projected to remain strong into the 2020s.
Last season, we received inquiries from Europe for thousands of tonnes of GMO-free soyabeans.
To date, Zimbabwean seed companies breed and market GMO-free soyabean varieties.
South Africa alone imports between 300 000 and 400 000 metric tonnes of soyabean meal annually.
Currently, there is an order out for the supply of 2 – 3 thousand tonnes of soyabean per month for food programmes targeting Great Lakes region African countries emerging from conflict.
The point is to illustrate that viable domestic and export markets exist for soyabean.
Under Zim-ASSET, however, value-added exports are the target.
Where does soyabean fit into that scenario?
Let us look at soyabean as an industrial raw material.
As indicated earlier, many Zimbabwean farmers will be employed or will operate businesses engaged in growing and marketing soyabeans.
This situation satisfies part of the Zim-ASSET goals of indigenisation, employment creation and economic empowerment.
Access to land means access to the means of production.
A wide range of human foods can be manufactured for both domestic and export markets.
These would range from confectionery, meat and milk substitutes and high grade oils to name a few.
The popular nutritionally balanced soya-maize bread, 'chimodho' should be elevated to a national special bread popular with both urban and rural populations.
Using locally grown soyabean as a raw material, we can meet the food and nutrition security needs of Zimbabwe.
This will partly reverse the over-dependence on imported foods such as cooking oil.
Livestock feeds can also be manufactured for both domestic and export markets using locally grown soyabean as raw material.
l To be continued next week