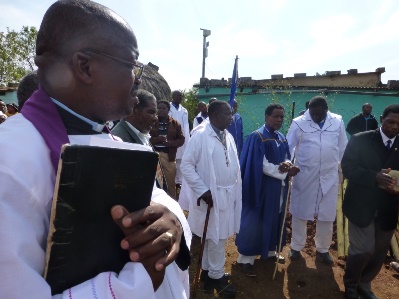 IN the middle of an emotive watering hole argument on African Traditional Religion and Christianity, my opponent finally delivered the killer punch; for all the noise you make about Christianity's complicity with the colonial and imperial agenda why is it that, at all state functions, Christians rule the roost?
I just stared at him not knowing what to say, blinking my eyes in total embarrassment.
For indeed even on occasions meant to celebrate our cultural integrity, our nationalism and pan-African ideals we find ourselves calling upon the 'man of God', preferably of a denomination headquartered in some Western capital, to calm us spiritually.
Hours later, moody and back home, I struggled for sleep. Angry at the import of the observations just made.
Upset at our low self-esteem and penchant for things foreign. My thoughts drifted to my friend's nightmarish trip to London for an arts exhibition a few years ago.
At the exhibition reception my friend met a fellow 'artiste', Uzoma, from Nigeria who opened every conversation with the question, "Have you received Jesus Christ?"
The question was followed by handing of leaflets on Christianity. Throughout the evening Uzoma repeated the question and leaflet ritual to each and every artiste and dignitary he met at the exhibition.
A country full of Uzomas is a country full of zombies, I reckoned.
I did a quick survey of all state and traditional functions I had attended in the last two-and-half decades.
Most burials are dominated by graveside conversion to Christianity. Even in instances where the deceased was not Christian "tinomureverera" to be accepted as one. Years back the village had a patriarchy called Mbavarira.
He looked after the village homestead while his brothers toiled for the elusive dollar in the hustle and bustle of Harare.
When their time was up, one by one, they returned to the village to be planted into the soil with full cultural honours like nheedzo and mahapa.
Mbavarira was on hand to see to it that "ndonovigwepiko…ini Kambuzuma handidi" was fulfilled.
However, one day his health began to fail and he went to his only remaining sibling in Harare for treatment.
Not long after that he left us. A quick cost benefit analysis followed and he was interred at Mbudzi to melodious Christian hymns and no nheedzo or mahapa.
Today the city wise are at rest in the village's cool soils while the village patriarch is restless in the city cauldron.
Likewise even heroes of the struggle against colonialism and imperialism must endure the humiliation of imperial funerary rites.
Other state functions raise Western culture to the official and spiritual pedestal while relegating our culture to entertainment acts.
To spice Buckingham Palace traditions we request for groups in animal skins to thump the ground as homage to our own culture and traditions.
Systematically our music, dance and customs have now been forcibly divorced from our religion.
This is very evident during national and family events.
Recently a colleague attended a kurova guva ceremony.
It was being 'bankrolled' by a typically spiritually divided family; father nostalgic about traditional religion and mother a fanatic 'born again'. The spirit that was being brought back into the family was of the father's father, for years the village patriarchy of this family.
For the all-night music and dance spiritual welcoming, father hired a top drawer mbira group from Harare.
'Seven days' and 'super' were served in abundance.
The kitchen rondavel hosted a bira as never been seen before. Surely the 'mudzimu dzoka' melodies would not fall on deaf ears?
The muroora, mother, had her own party going in her rondavel further down from this bira.
They were having an all-night prayer, kneeling and surrendering to the Lord and beseeching Him not to allow 'this' spirit entry into the family.
I concluded that even in this instance its advantage to Christianity and Western culture.
Not even my recent experiences with kurova guva could console me.
It was in Murehwa and during the night wake one autochthon remarked at the irony of how the best guva ceremony beer and Mbende drums are associated with deceased Christians as was the case in this particular instance.
We drank to that all night, savouring our small victory.
I drifted back to my survey of national functions. Perhaps only two stood out in attempting to resist this 'let's bow our heads in prayer' instruction.
Interestingly both are from the 1990s; one was the burial of Christopher Ushewokunze at the National Heroes Acre and the other the Great Zimbabwe ceremony to mark the return of part of the Zimbabwe Bird.
On January 17 1994 Comrade Christopher Machingura Ushewokunze was tragically killed in a tragic car crash near Chegutu.
The nation was plunged into mourning, a very dynamic Cabinet Minister with an impressive service record.
He was interred at the national shrine as Zimbabwe's 21st national hero.
His burial ceremony would have passed on for any other national hero burial but for the intervention of Comrade Herbert Ushewokunze.
He kneeled at the graveside for a no holds barred conversation with the Soko Murehwa Mukanya ancestry, taking them to task for not shielding Christopher from evil winds, and imploring them to ensure that wrong was righted.
It was a spectacular performance, rich language, meaning and spirituality.
Nearly a decade later I witnessed another national event that reinforced the rapidly fading belief that there could still be space for traditional worship.
This was at Great Zimbabwe and the event was to welcome back the lower half of the Zimbabwe bird from a century of wondering in Europe.
The ceremony coincided with a Chiefs Council meeting at Great Zimbabwe.
The late Mambo Jonathan Mangwende, moyo muzukuru, Chirandu, muNhohwe weBokoto, then president of the Chiefs Council, made sure the protocol and delivery was neck deep in our history, culture and traditions.
Moyo, that was a performance for the archives!