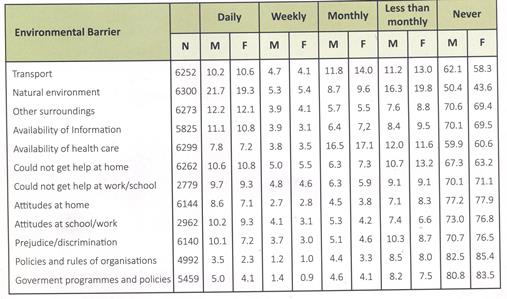 THERE were signs, but I suppose we were too excited about baby George to notice how he never responded to loud noises, struggled to sit upright and always seemed a little floppy.
However, our tenant, Mai Hilda shattered our utopia and drew our attention to how even his eyes never seemed to follow dangling objects or respond when funny faces are made.
Instead of seeking medical advice, we quickly dismissed her 'vicious allegations' and even threatened to give her 'notice' for saying such things.
However, as time progressed we were forced to face head on and acknowledge George's 'laziness', and 'slowness'
He had cerebral palsy and there is no cure.
For George it is so severe that he could never walk, talk, see and hear.
No visit to prophets and healers could change his fate.
The above could be from any family, poor or rich, in the country and acceptance of such conditions is difficult for most families.
According to a survey conducted between September and December 2013 on the 'living conditions among persons with disability' by Ministry of Health and Child Care and other stakeholders, there were still high levels of abuse and discrimination.
Despite Zimbabwe being the first country in Africa to come up with disability specific legislation through the Disabled Person's Act of 1992, statistics availed show higher levels of ignorance and cruelty towards people living with disability.
Economic woes have also seen caregivers shoulder the burden alone without the assistance of government institutions like social services whose operations have been crippled by the liquidity crunch induced by the illegal sanctions imposed on the country by the West.
These challenges have resulted in the disabled being disadvantaged and marginalised with many schools not equipped to handle disabilities for example, Braille material is not readily available in all the schools.
Speaking at the report presentation at the Harare International Conference Centre (HICC) on Tuesday, the Secretary for Health and Child Care, Retired Brigadier-General, Dr Gerald Gwinji explained that the report was meant to establish the accessibility of health and social services for persons with disability in the country.
It provides data aimed at guiding development policies and strategies that ensure equity and opportunities for children and adults with disability.
The report was representation of findings from a sample of nearly 15 000 households where seven percent of the population which amounts to over 900 000 has some form of disability.
"We hope that the evidence in this report will provide the necessary direction for our country in the successful implementation of the World Health Organisation (WHO) Action Plan 'better health for persons with disabilities'," Dr Gwinji said.
The findings highlighted by the report show that 6,6 percent of the males and 6,8 percent of females are denied access to primary education due to their disability.
The report also highlighted that as many as 26,1 percent individuals with disability are not in a position to make important decisions affecting their lives.
"We have an obligation to remove any barriers to participation for persons with disability through investing sufficient resources and expertise towards increasing access to quality health, rehabilitation and assistive technology," Dr Gwinji said.
The survey highlighted that many disabled people in the rural areas struggle to access assistive devices that aid them in their disability with many relying on Government for assistance.
Meanwhile, members of the albino community called on Government to look into making skin creams locally to increase their availability.
"We are tired of being used by some non-governmental organisations as income generating projects (due to many not affording to buy creams)," said one participant at the HICC.