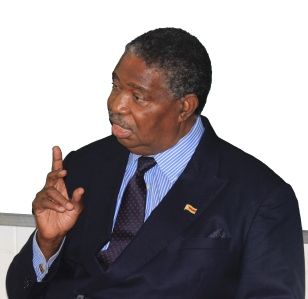 PRIVATE players have been urged to partner Government to upgrade the country's provincial heroes' shrines.
Speaking at the side-lines of the Heroes Day commemorations at Nkulumane Heroes Acre in Bulawayo, ZANU PF secretary for education, Dr Sikhanyiso Ndlovu urged local companies to upgrade the provincial shrine and transform it to a modern state-of-the-art monument.
"There has been a bit of some improvement, it was worse," Cde Ndlovu said. "There is still need to upgrade the graves and the responsible ministries should make an effort.
"On some graves, it is just a slab.
"It is disheartening for the relatives of the fallen heroes.
"We need a fence or perimeter wall to enclose this place for security.
"It is time we took responsibility of our Heroes' Acre and companies should contribute in the upgrading of the graves.
"It is because of the sacrifices that were made by these fallen heroes that those companies exist today."
Cde Ndlovu said the refurbishment of the Heroes acres required collective effort especially to speed up the construction process.
The Department of National Museums and Monuments of Zimbabwe are the custodians of all national shrines.
Local entrepreneur and former Zimbabwe Ambassador to South Africa Phelekezela Mphoko pledged to assist widows of the liberation war heroes and their children to empower themselves.
Ambassador Mphoko encouraged Bulawayo residents to work together to improve the provincial heroes acre.
"We need to work together to spruce up the heroes acre," he said.
"There is so much that we can do if we co-ordinate our efforts.
"So far, we have empowered about 500 liberation war heroes' children through various programmes.
"We should never expect people coming from elsewhere to come and solve our problems."
Recently the Zimbabwe National Army's One Brigade placed 30 tombstones on graves, while 120 graves in bad state were refurbished.
However, some widows and widowers cried foul alleging favouritism in the placement of tombstones.
Provincial Widows and Widowers of War Veterans Association chairperson, Cde Sikhululekile Ndlovu said the issue of tombstones was a cause for concern.
"You find that graves of people who died before 1999 do not have tombstones while those of people who died in 2012 already have tombstones," she said.
"This area is under the museums department and we call the relevant authority to immediately address the issue."
Besides the concerns, there was pomp and funfare at the provincial shrine with scores of people from all walks of life converging to honour the gallant sons and daughters who liberated the country from colonial bondage.
Entertainment was provided by the Zimbabwe National Army, the Zimbabwe Prisons and Correctional Services Brass Band and Amakhosikazi Entuthuko from Bulawayo ZANU PF Women's League.
The Zimbabwe Prison and Correctional Services Band kept the crowd at the gathering on its feet as they performed renditions of legendary Dendera King Simon 'Chopper' Chimbetu's songs such as 'Ndarangarira Gamba' and 'One Way'.
One Infantry Brigade also gave a sterling performance which was followed by a 'toyi toyi' by war veterans, led by Cde Molly Mpofu.
Rhythm of Revolution danced to catchy tunes that reminded the crowd about the importance of uniting as Zimbabweans and celebrating the freedom and sovereignty the country enjoys because of the sacrifices of its heroes and heroines.
Families of the heroes and heroines were treated to lunch at Bulawayo Polytechnic College, School of Hospitality.
The celebrations ended with each family receiving a food hamper containing basic commodities such as cooking oil, soap, sugar, rice and salt.