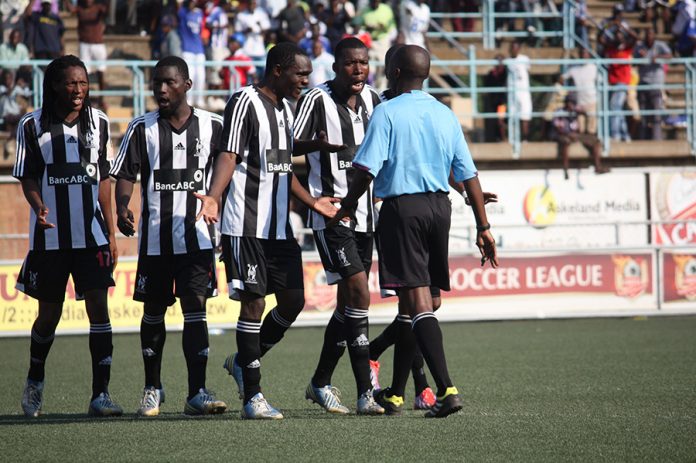 ZIMBABWE premiership teams seem so desperate for sponsorship that they enter into deals without scrutinising all clauses with regards to terms and conditions.
Football teams need to read and understand clauses of sponsorship deals before they commit pen to paper, they must read between the lines of the fine print.
Because sponsorship deals are hard to come by, premier soccer league teams have gone into agreements that have hampered more lucrative deals.
It is the same with players when they sign for premiership clubs. At big clubs, like Dynamos and Highlanders, players are owed thousands of sign on fees dating back to 2010.
Some have failed to recover the monies they are owed.
A marriage between clubs and sponsors, at times, reaches boiling point when another sponsor wants to come on board or when playing in a knockout or invitational tournament.
It is only on the Zimbabwean football landscape where sponsors have a monopoly over a team; where a sponsor closes a door on other sponsorships.
It is only in Zimbabwean football where tournaments fail to materialise owing to sponsorship wrangles.
It is strange how a team fails to wear a branded jersey for a one-off tournament!
A typical example is the BancABC-Dynamos deal which saw DeMbare in sixes and sevens when it was in the One Wallet Cup sponsored by mobile telephone service provider NetOne.
The club's principal sponsor, BancABC, argued that each time Dembare played a match, they should don a jersey with their name on the front yet the cup sponsor NetOne wanted its logo to be displayed by participating teams.
However, despite being that demanding, BancABC did not renew the deal with both Dynamos and Highlanders.
And we hopes NetOne was not put off and will consider bankrolling the country's big team.
Zimbabwean teams are found in a catch22 with sponsors who dictate terms to them as they do not have bargaining power due to lack of strong financial bases.
Once a sponsor shows interest, for fear of losing a deal, local teams, without due diligence, get into deals that, at the end of the day, are really not beneficial for the team.
In South Africa, clubs enjoy sponsorship packages from corporates who are in the same line of business without conflict.
ABSA bankrolls South Africa's top flight league while Nedbank sponsors a Cup in the same league. The same league sees Telkom Cup and the MTN 8 Cup. Both Telkom and MTN are in the telecommunications sector while Nedbank and ABSA are top financial institutions in South Africa.
There has never been any conflict when it comes to wearing branded jerseys in knockout tournaments.
All the tournaments introduced make the league more interesting and leave clubs richer as teams are paid for just participating in the Cup.
The issue with BancABC and One Wallet drives away other potential sponsors.
In the above case, all that was needed was to have both sponsors on the same jersey for the good of the game.
The NetOne and big three deal is shrouded in secrecy but one hopes the teams go to the table with some bargaining power.
The teams are brands and are being engaged on terms of their brand power, thus they too have leverage in negotiations.
It will be sad for the teams to fail to benefit from other sponsorship deals with a single sponsor monopolising the teams.
While the teams, if sponsorship is clinched, will have, among other things, players' salaries bankrolled by the telecoms giant together with travelling and accommodation expenses, these are not enough conditions to sell their souls.
The sign on fees will be catered for under the sponsorship deal. An estimated US$500 000 deal for each team is expected, which will go a long way in easing the financial woes for the clubs but still the door must not be closed on other sponsors.
Football is a multi-million-dollar industry elsewhere; our local players and teams must also make those millions that mostly come from multiple sponsorship deals.
Meanwhile, local clubs, especially the big ones, must commercialise their activities.
Clubs like Dynamos, Highlanders and CAPS United must be businesses that rake in thousands of dollars before sponsors come on board.
But the teams which command big crowds have poor methods of raising funds. The clubs, if they follow good corporate governance, must earn healthy revenues from gate-takings and merchandise.
But presently, the clubs are not getting revenue from selling replica jerseys.
In the case that they are availed, they are ridiculously priced, considering the local market.
Last season's replica jerseys for Dynamos and Highlanders were pegged at around US$50 which was too high for most supporters.
As a result, you find more Chelsea jerseys at a Dynamos match and supporters wearing a Juventus jersey at Highlanders homeground Barbourfields Stadium than local club jerseys.
The expensive replicas have given enterprising tailors in Harare a chance to earn hundreds through production of imitation jerseys that they sell for US$5 and those reasonable prices see money going into the 'wrong' coffers.