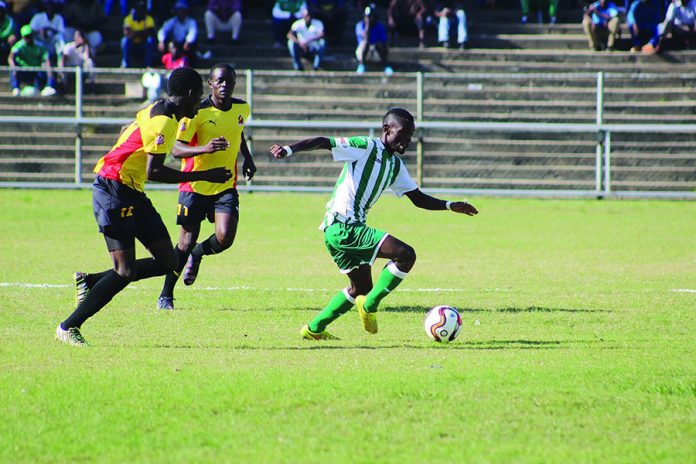 By Sheldon Hakata
SPORTING facilities are important in the development of talent and growth of sport.
One of the most popular football venues, Gwanzura Stadium, in Highfield, Harare, is the oldest soccer stadium in the country.
The high-density suburb is the birthplace of Zimbabwe nationalist liberation movement, which ended colonialism.
Gwanzura Stadium was built by brothers Eric and Phanuel Gwanzura, leaving a legacy for the sporting fraternity.
However, contrary to general belief, Rufaro Stadium, one of the earlier sports facilities only opened its gates in the 1970s.
Gwanzura Stadium was constructed to defy colonial restrictions which saw Africans failing to access most of the sporting facilities in the then Rhodesia.
Gwanzura Stadium became the first home to Dynamos Football Club which was formed in 1963.
Harare City Council is in charge of the upkeep of Gwanzura Stadium.
The stadium used to host Castle Lager Premiership games while in different times it was also home to CAPS United, Black Aces, Blue Line Aces and ZPC Kariba.
The 2011 fourth edition of COSAFA Women's Championship, hosted by Zimbabwe, had its opening match pitting Tanzania and Botswana, at Gwanzura Stadium, Harare.
Sadly, this famous sporting venue has become an eyesore due to neglect.
The venue has not been able to host any games for the past two seasons because of its poor state.
With a seating capacity of 10 000, Gwanzura is in need of massive improvements if it is to meet international standards as dressing rooms are dilapidated and the football pitch is in a sorry state.
Having been closed after continuously failing to meet the minimum requirements, pressure has been exerted on Rufaro and the National Sports Stadium in Harare.
The Premier Soccer League (PSL) has been faced with a serious challenge following the condemnation of a number of local stadia in hosting top-flight matches.
The bad state of dressing rooms, venue authorities' failure to maintain perimeter fences that separate playing field from stands to give maximum security to players and match officials, has led to the condemnation of the stadia.
Sakubva in Mutare, Vhengere in Rusape, Ascot in Gweru and Trojan in Bindura have all been suspended from hosting PSL matches.
Thousands of soccer fans have been deprived the privilege of watching their local teams in action.
Manica Diamonds of Mutare are using Gibbo Stadium in Triangle as their home ground at the moment since Sakubva Stadium was deemed unfit to host top-flight games.
Manica Diamonds have to travel 300km to Gibbo Stadium for their home games.
Mushowani Stars of Madziva use Rufaro Stadium in Harare while Chapungu and TelOne, who must use Ascot Stadium in Gweru have relocated to Mandava in Zvishavane.
The PSL has had to ease fixture congestion by spreading games around Friday, Saturday, Sunday and midweek.
Poor drainage systems have resulted in waterlogged pitches which are deemed unsuitable for play.
The 2012 Mbada Diamonds Cup final between Dynamos and Motor Action had to be delayed for about 45 minutes while employees at the giant National Sports Stadium had to use buckets to drain water from the pitch.
Heavy rains also made play impossible for How Mine and Tanzania's Chouni Stars in 2014 at Barbourfields Stadium in Bulawayo.
All this shows that efforts have to be made to revamp our stadia as the current ones would not pass a strict fitness test.
For the country to reach greater heights and enjoy benefits of the sport, it is critical to pay attention to the sporting facilities.
The world over, sport has become a big business significantly contributing to countries' Gross Domestic Product (GDP).
League fixtures
Friday
Yadah vs TelOne (Rufaro)
Bulawayo Chiefs vs ZPC Kariba (Luveve)
Ngezi Stars vs Chicken Inn (Baobab)
Saturday
Black Rhinos vs CAPS United (Rufaro)
FC Platinum vs Hwange (Mandava)
Sunday
Chapungu vs Harare City (Mandava)
Monday
Dynamos vs Herentals (Rufaro)
Manica Diamonds vs Mushowani Stars (Gibbo)
Highlanders vs Triangle (Barbourfields)
All games start at 15hr unless otherwise stated.