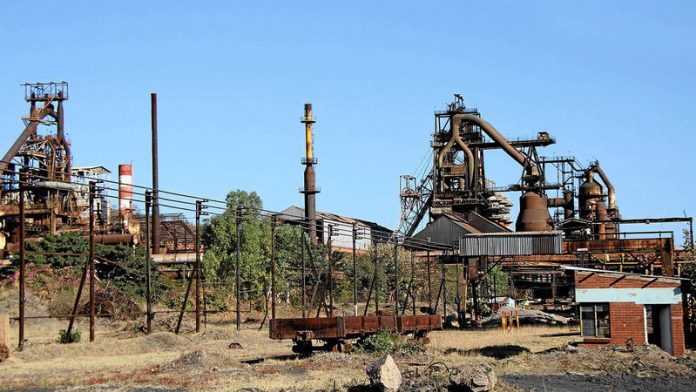 THE re-opening of Steel Brands is a welcome move as it is set to increase foreign currency generation through exportation of finished steel.
Over US$12 million was invested in the Houghton Park project which produces steel bars from scrap metal.
When fully operational, the factory will create 450 jobs directly and hundreds others across value chains, especially for the SME sector.
The steelwork ceased operations in 2016 following, among other things, machinery and technical challenges.
Already, Steel Brands has created 250 jobs and made purchases from SMEs amounting to US$186 000 of scrap metal in its first month.
Speaking at Steel Brands' launch, Minister of Industry and Commerce Dr Mike Bimha said the steel company's thrust on value addition was commendable and in line with Government's policy of value addition and beneficiation.
"The company's activities have stimulated the growth of a vibrant SME sector, which supplies and sells scrap," said Dr Bimha.
"It is pleasing to note that Steel Brands Limited's operations are also in line with Government's thrust on import substitution, which Government intends to implement through Local Content Policy."
The Minister also called on investors to comply with the country's laws and regulations in discharging their manufacturing activities in a sustainable and responsible manner.
The steel industry is one of the key components in the construction, mining, as well as the manufacturing industries.
Steel Brands public relations manager Rodwell Makuni said the investment by his firm is a welcome development for the country's economic eco-system as the venture will greatly reduce the import bill.
"The venture will greatly reduce the import bill on finished steel and will also enhance foreign currency generation through exportation of finished steel products into the region and beyond," said Makuni.
Zimbabwe is importing US$400 million worth of steel annually, bleeding the country of foreign currency.
Engineering Iron and Steel Association of Zimbabwe (EISAZ) says its sector is importing 90 percent of its key raw materials, a development which has resulted in the country being less competitive on the export market.
Following the closure of ZISCOSteel more than 10 years ago, companies that relied on the giant have been forced to import raw materials such as steel billets, which were being manufactured at the Redcliff-based firm.
Apart from steel billets, local foundries are also importing ferrosilicon and ferromanganese from other countries.
With scarce foreign currency resources, some of the companies have been forced to scale down operations.
Steelmakers, Midlands Metal and Haggie Rand are some of the steel companies, which are still operating, but below capacity, while Lancashire Steel shut down as a result of a plethora of challenges in the sector.
EISAZ president Austin Tigere said the re-opening of ZISCOSteel is the only way the sector can come out of its current quagmire.
Since January 2008, ZISCOSteel has not been producing any steel and has been selling mainly scrap iron and coal.
The woes at ZISCOSteel have had serious repercussions on main economic activities had over the years, depended on the steel maker.
Downstream industries have not been spared either.
ZISCOSteel was one of the largest integrated steelworks in Africa with a capacity to produce one million tonnes of steel per annum, before its closure in early 2008 owing to financial constraints and a huge debt.
It used to export its products to countries such as Germany, China, India and neighbouring southern African countries.
Presenting evidence before the Parliamentary Portfolio Committee on Mines and Energy recently, ZISCOSteel chief executive officer Alouis Gowo said at least US$1 billion is needed for it to start operations.
He said urgent refurbishment was critical to ensure the iron and steel giant, once the largest integrated steelworks in sub-Saharan Africa outside South Africa, comes on board.
This would need 18 to 24 months to restructure and reconstruct the blast furnaces before production starts.
Chinese investor R&F Properties has expressed interest in investing at least
US$1 billion to revive ZISCOSteel.
There are no steelworks in southern Africa outside South Africa.
So, in this part of the world, there is need for more production.
The revival of ZISCOSteel would breathe life into companies such as Steel Brands, among others.
Its revival is set to trigger increased output in other sectors such as coal mining.
The revival of the former steel giant would be a major boost for Hwange Colliery Company Limited.
ZISCOSteel was one of the largest off-takers of coal, getting 100 000 tonnes per month.