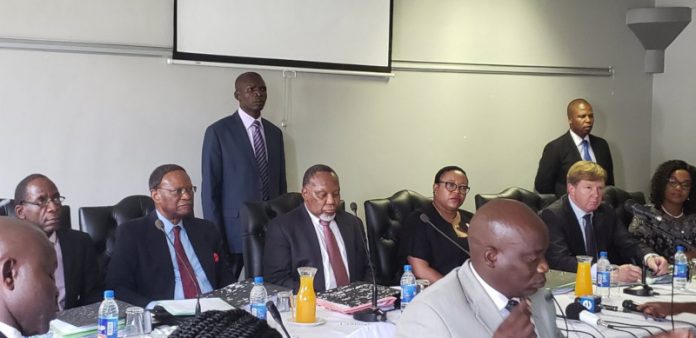 IT was a revelation that came too little too late, but one which, all the same, confirmed what we have time and again said about MDC leader Nelson Chamisa.
Here was Chamisa himself, not us, calling his supporters 'stupid'.
For us, that is a scary word to use.
However, we will use it in the context of what Chamisa said.
Let's give him the chance to speak: "You are talking about an election that has not been declared. And why would I even react because I do not know the results that will be announced?
"It was very stupid, even, for people who demonstrated…it was stupid, because they then opened themselves for attacks and manipulation," he told journalists.
"I think whoever demonstrated – it was their right, but I feel it was not called for."
Chamisa was speaking in response to the invitation to give testimony to the August 1 2018 Commission of Inquiry that he received.
We have been told by impeccable sources that Chamisa is scared stiff of standing before the Commission.
The sources have further told us he is afraid of being nailed by the Commission since his reckless utterances and those from the MDC Youth Assembly leader, Happymore Chidziva, in the run-up to the elections are incriminating.
It is going to be a cold afternoon in summer for Chamisa, the sources said.
Time will be the best judge in this regard and we are going to expose all that when that time comes.
This is why it is important for us to give prominence to the BBC coverage of the Chamisa story.
The BBC further reports:
"The same day, MDC Alliance leader Nelson Chamisa said he had won the popular vote and that 'manipulation' would not prevent his victory.
He has refused to accept the election result."
We have in our articles maintained that we have nothing against the youthful leader.
In fact, he is what Zimbabwe needs – young people with focus — but it is his politics that we do not agree with.
So, on Thursday, on a humid morning, Chamisa calls for a press conference.
Fair and fine, it his democratic right to do such.
After all, democracy is one of the hallmarks of President Emmerson Mnangagwa's leadership.
In a marked departure, the Zimbabwean leader has opened up space for everyone.
But that privilege has been flagrantly abused by those who believe they can do as they like with the same right.
That is one of the fundamental flaws of the human race.
They demand something, and when it is given, they abuse it.
Democracy does not mean that Chamisa and his 'stupid' supporters can do as they please in this country.
It does not mean they can infringe on innocent civilians' rights on the basis they are the MDC Alliance and, as such, have a right to destabilise peace in the country.
No!
Every citizen has a right and that right must be respected.
Let us get deeper into this.
President Mnangagwa has said democracy must not be abused.
He is right.
And in so many ways too.
Speaking at the annual Presidential Pass Out Parade at Morris Depot last week, President Mnangagwa warned those who have been planning to destabilise the country.
The MDC Alliance has been planning demonstrations against what they say are 'stolen elections', but they have yet to prove their claims despite being given the opportunity to prove their flimsy claims in the highest court in the land.
They challenged President Mnangagwa's victory in August and lost dismally in the Constitutional Court.
"The advent of the new dispensation and the Second Republic saw the expansion of democratic space in our country, as enshrined in our Constitution," said President Mnangagwa.
"This culminated in the holding of peaceful, free, fair and credible harmonised general elections.
"However, it is regrettable that some retrogressive, unpatriotic and selfish individuals are bent on abusing the democracy we now enjoy."
President Mnangagwa also said the findings of the Commission of Inquiry into the violence that took place on August 1 would be made public once completed.
"The unfortunate and violent incident that took place in the streets of Harare on August 1 2018 is not only regrettable, but has no place in the new Zimbabwe," he said.
"The Commission of Inquiry looking into the event is expected to complete its work soon and its findings will be made public."
We are at a stage where we should tell each other, as people and as a country, in order for us to move forward.
That stage requires us all to be sober in our dealings.
Chamisa has been acting and behaving like a lunatic.
That has to stop.
We have a country to run and that surely cannot be stopped by his childish antics.
He probably needs real advisors.
Let those with ears listen.