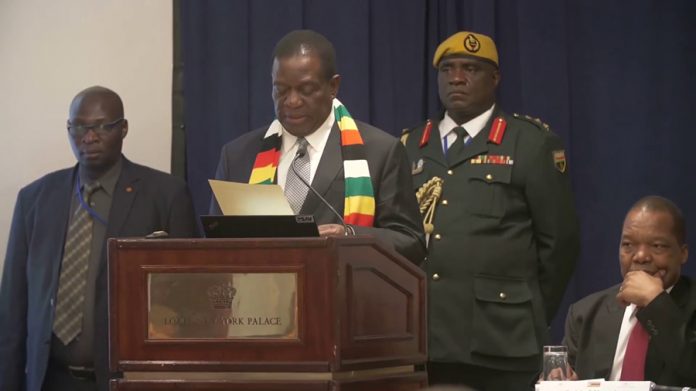 IT has been a most fulfilling week, as many of us spent the better part of it in New York, meeting with Zimbabwe's new leadership, exchanging and sharing ideas.
On my part, I have to say President Emmerson Mnangagwa first trip to the US has been a success.
He came, he saw and he conquered.
For years, the discussion among us, 'vana vekumusha', was how best we should chip in and contribute to the development of our motherland.
Our elders taught us: "Ziva kwawakabva," and it is against this backdrop that for years, we have made efforts to form a functioning community that not only supports itself here, but also back home.
Our curious village, which is made up of Zimbabweans from around North America is separated by distance and time, but united by our uniqueness. Zimbabweans have a feel about them, which makes them special and a cut above the rest.
We break barriers, we are a confident and proud people who are emboldened by our heritage, and no one can take that away from us.
A while back, I was approached to make a presentation on Zimbabwe by some brothers and sisters who are running an initiative which is pushing for African-Americans to reconnect with the mother continent, Africa.
These brothers and sisters believe that as people of African origin, connecting with their roots is one of the first steps in reclaiming their hunhu/ubuntu and taking a stand against the oppression they face daily in the US.
Some of the attendees kept in touch with me and expressed their willingness to travel to Zimbabwe to experience the real Africa, not the one they see on CNN, Fox and NBC.
Through some friends back home, we organised and they visited Zimbabwe.
What they saw impressed them and motivated them to take up Zimbabwe's cause.
So, when I received a call last month from brother Omawale suggesting that we organise and have a solidarity and welcome-to-New York march for President Mnangagwa, I relished the task.
The December 12 Movement has been instrumental in proffering an alternative voice to the Zimbabwe situation and we joined hands with Friends of Zimbabwe in organising the event.
To put the icing on the cake, it was communicated to us that President Mnangagwa wanted to meet Zimbabweans in North America, and the response was overwhelming.
So, on September 22, we gathered in Harlem for our solidarity rally.
Why Harlem?
Harlem is home to many African-American brothers and sisters.
It is rich in African culture and is also home to the largest African-American Day Parade which celebrates the culture of African Diaspora in the US.
The response to the march was good.
We received support from the Caribbean communities, other African nationals and various pan-Africanists.
One of the key organisers of the rally, Brother Jones, had this to say:
"The purpose of this rally is to show support for President Mnangagwa, to let him know that black folks in the New York area support the policy of land reform, support the new dispensation, support the campaign for economic development, and to welcome him to New York for the General Assembly.
"So that's why we are here.
"Harlem has a history of supporting Zimbabwe, ZANU PF going back to… I know I myself was at the first African Liberation Day we had in Washington DC in 1972 and there was a representative from ZANU there.
"And so over the years, we have struggled to support the question of independence, self-determination for Zimbabwe and, especially since the Land Reform Programme began, and Zimbabwe came under sanctions from the US.
"We have accelerated our support.
"So that is why we are here today.
We are demanding that the US end the sanctions against Zimbabwe and that the country be allowed to develop in the best manner that it can."
The support that Zimbabwe enjoys among our African-American brothers and sisters and other pan-Africanists is based on the stance that Zimbabwe has taken in terms of articulating the emancipation of black folk, both politically and economically.
Land plays a critical role in that emancipation and for many brothers and sisters, the dream of owning property remains just that, a dream.
Zimbabwe's land reform is not just a major feat for black Zimbabweans, but stands as a symbol of many who were taken from the continent and today have no real sense of belonging in the US.
Of significance was the speech by Brother Roger Wareham, who was part of the pan-Africanists who came to observe the July elections.
He chronicled events leading up to election day and the violence that broke out in Harare after Nelson Chamisa stoked his supporters to demonstrate following his loss at the polls.
A human rights lawyer, Brother Wareham, was part of the United Nations Working Group of Experts on People of African Descent that issued a report on the historic and contemporary conditions of black people in the US, recommending the US Government pay reparations for human rights abuses and crimes against humanity in 2016.
That same year, the December 12 Movement International Secretariat (with consultative II status at the UN and a Co-operation Agreement with the African Union) sponsored and led a black vote campaign, The Choice, advocating a 'Write-in Reparations Now'!
The next day, we were in for a treat as we met with President Mnangagwa.
For a man who was on his inaugural trip to the UN, we, as Zimbabweans in the Diaspora, welcomed the initiative as it indicates that it is no longer business as usual when it comes to our Government and leaders.
The deliberations were frank and the exchange was mutually beneficial.
It was good to see Zimbabweans, not people from different tribes, religion and political parties, but just Zimbabweans engaging and contributing to how best they can help shape the new chapter we have entered into as a nation.
The majority of Zimbabweans in the Diaspora have no ill-will towards their country and as the President put it, circumstances might have brought us to faraway lands, but they also opened doors for us to be able to transfer the skills and knowledge back home.
Zimbabwe is now and Zimbabwe means business.