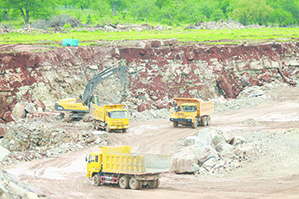 MINING operations in the Chiadzwa diamond fields have been marred by controversy.
Lack of transparency and accountability has been cited as major problems in the exploitation of the precious stones.
The Chiadzwa diamond fields have been hailed as "the greatest find of the century" and said to hold 25 percent of global rough diamonds.
Experts suggest that Zimbabwe could earn up to US$2 billion a year from the Chiadzwa diamonds alone.
However, there is a general feeling among Zimbabweans that the country has not realised optimum value from diamond mining.
Instead of improving the livelihoods of ordinary Zimbabweans, the gems have courted more controversy than anticipated riches.
Last year, Finance Minister, Patrick Chinamasa said Treasury did not receive any proceeds from diamond revenue in the nine months to September 2013.
In 2012, treasury received a mere US$41 million from a targeted US$600 million expected from diamond sales.
In a move set to improve transparency and accountability, Government plans to reduce the number of players in Chiadzwa to at most two companies.
Mines and Mining Development Minister, Walter Chidhakwa this week said streamlining diamond companies in Chiadzwa will help Government monitor operations.
"It will enable us to ensure that the capital requirements not just for alluvial mining, but more importantly for kimberlite mining are put in place because we will concentrate our resources on one or two companies," he said.
"As Government, (we) will be in a much better way to follow the activities of the companies because they are fewer."
There are currently seven diamond mining companies in Chiadzwa.
These include, Mbada Diamonds, Marange Resources, Anjin Investments, Diamond Mining Company, Jinan, Kusena and Gye Nyame.
The companies operate as joint ventures with Government represented by the Zimbabwe Mining Development Corporation (ZMDC).
Minister Chidhakwa said Government will in the short-term create an efficient production model that will be used in Chiadzwa.
"I cannot give you a date when we will do it but we will try to do it as quickly as possible," said Minister Chidhakwa.
"We will be talking to everyone depending on what agreement we have.
"What we are making clear though is that we will be closely managing the process and those that do not want scrutiny may not want to be with us, and those that are not afraid of scrutiny will surely continue to work with us in that one company."
Next week, Minister Chidhakwa will visit Namibia to look at its model of mining diamonds while a similar visit to Botswana is being planned.
Minister Chinamasa in January said Government was auditing seven firms mining diamonds in the Chiadzwa fields as first steps to rationalise operations.
He said the audits will cover miners' operations from the time they first set up shop.
"Firstly, we will look at a particular company and demand information on how many diamonds have been taken from the country and secondly how much they have been sold for," he said.
"We need to know that as a country.
"What we want to do is to cut down on these other companies and identify a company which will work in conjunction with the Government so that we do not have these small companies working on our diamonds.
"This will take time.
"It is not an event, but a process."
Minister Chidhakwa said Zimbabweans were entitled to know the amount of money being accrued from their resources.
"We are determined because Zimbabweans have not really gotten what they expected from Marange," he said.
"Even if it is little, let that little be available to the people of Zimbabwe."
President Mugabe last year expressed concern over the below par contributions mining was contributing to the national economy.
He said the sector should be rationalised and better controlled to ensure revenues from the sector benefit the entire country.
Some of the controversies surrounding Chiadzwa diamonds are claims by some companies that diamond reserves in Marange are depleting.
However, Minister Chidhakwa said exploration showed that Chiadzwa still had solid diamond reserves.
The Marange-Zimunya Community Share Ownership Trust has also been marred with controversy.
Recently, it emerged mining companies had refused to honour the US$50 million in pledges to the Marange-Zimunya Community Share Ownership Trust, launched by President Mugabe.
Some denied any knowledge of the existence of the trust.
Since assuming office in September last year, Minister Chidhakwa has made significant changes in the mining sector particularly in diamond mining.
In February this year, he reviewed licence fees levied on diamond cutters and polishers from US$100 000 annually to US$20 000 for a period of 10 years as a way of creating an enabling operating environment for players within the processing value chain of diamonds.
As part of enhancing beneficiation and value addition, Minister Chidhakwa said the country will set up a Zimbabwe Diamond Exchange by July this year.