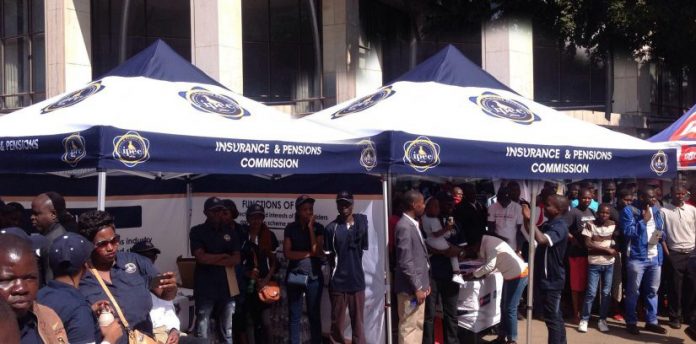 IN a drive to increase insurance uptake, Insurance and Pensions Commission (IPEC) was in Mutoko last week for an awareness campaign.
National insurance uptake currently stands at four percent.
Many people have not been eager to have insurance following past experiences which saw them losing thousands of dollars during the economic meltdown more than a decade ago.
The economic meltdown saw some people being paid as low as US$21 for policies they had contributed to for more than three to four decades.
IPEC public relations officer Lloyd Gumbo said the campaigns seek to encourage those in and out of employment to have insurance cover and pensions.
"We have noted that we have low insurance uptake in Zimbabwe which means the majority of people do not have financial protection in the event that they suffer loss, damage, illness or death," Gumbo said.
"The loss usually relates to their assets be it vehicles, houses or crops among others. The low insurance uptake is exhibited by an insurance penetration ratio of less than four percent."
Gumbo said the series of awareness campaigns being held would assist in doing away with misconceptions.
"We are using road shows to demystify the misconceptions about insurance and pensions where some people think that insurance and pensions are just for the elite or those who are formally employed," said Gumbo.
He, however, expressed concern over insurance fraud which is accounting for a significant percentage of insurance claims.
"Indications are that about 30 percent of the claims that are made to the insurance industry are fraudulent. In 2017, the insurance industry incurred claims amounting to around US$220 million. Our estimate is that 30 percent of that amount which translates to US$66 million could have been fraudulent."
Gumbo said insurance fraud is not only perpetrated by policy holders but can also be committed through the sale of bogus insurance cover to unsuspecting clients while employees of an insurance company can make fraudulent claims on behalf of a policy with or without the knowledge of its holder.
He added that enhanced surveillance was critical to guarding against fraud.
"The Commission conducts offsite surveillance by monitoring and pursuing other sources of information such as the media among other ways," he said.
Zimbabwe Association of Funeral Assurers (ZAFA), general manager, Taka Svosve, said the low uptake was due to low disposable income.
"Our businesses are based on paying premium for service provision. The major problem at the moment is that there is a low disposable income pushing insurance on the bottom of the priority list. As a result people are not paying on time resulting in policies lapsing," said Svosve.
"With Zimbabwe open for business, we hope that employment will rise and cash-flow improves boosting uptake of policies."
ZAFA currently has 13 registered members and the association helps guide the operations and standards of the industry.
The association also helps settle disputes between assurers and policy holders.
Tonderai Chikwenya, a Mt Darwin resident, said he had little knowledge on insurance.
"I understand that insurance helps when one has an accident even when tobacco produce gets burnt, but I have not seen anyone receiving any payout."
Chawora Judge, another Mt Darwin resident, said he was skeptical on crop insurance.
"I have not had problems with payout because my funeral assurance company has been true to its word. As for insuring my tobacco, that I am not interested in because I feel that it is a waste of money because you never find those people when you need them."
An April-August 2018 Consumer Education newsletter shows that about
23 500 pensioners could be living in poverty yet they have money that they have not claimed from their pension funds for years.
It claims that about US$25 million is in unclaimed benefits as at December 31 2017.
The majority of those not claiming worked in the clothing and mining industries.
The article attributes this to poor record-keeping by pension funds or outdated records which make it difficult for the pension funds to trace the members.
It also advises employees that they are entitled to pensions when they leave employment on retirement or contribution refunds when they resign before reaching retirement.