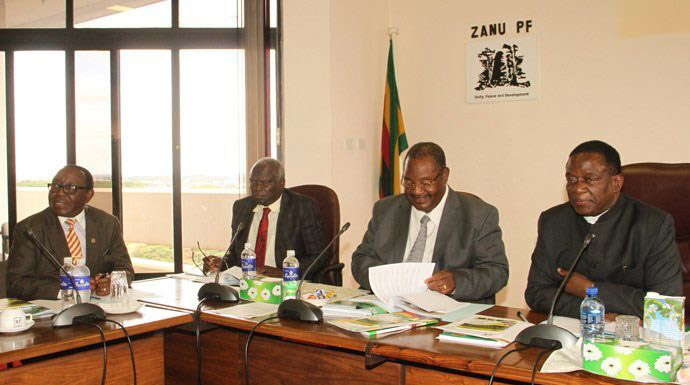 THERE are many similarities between 2017 ZANU PF's Seventh Extraordinary Congress which takes place in Harare today (December 15) and the first ZANU Congress of 1964 held in the then Gwelo (now Gweru).
The 1964 Congress was ZANU's first after its formation in August 1963 and was confronted with the unenviable task of waging an armed struggle.
This time around, ZANU PF is faced with a mammoth task of re-invigorating the nation, taking it to the next level.
After successfully implementing the Land Reform and Resettlement Programme as well as the Indigenisation and Economic Empowerment Programme, the country must now realise maximum benefits from these.
Just as the People's Congress of 1964 took the decisive action to wage an armed struggle and regain lost land and political independence, the ZANU PF 2017 Extraordinary Congress will set the tone for a new era of economic development.
The Congress has three items on the agenda, the first one being to confirm the First Secretary and President of the Party, Cde Emmerson Mnangagwa.
The second, endorsing President Mnangagwa as the presidential candidate for the 2018 harmonised elections, while the last item is to endorse Central Committee resolutions made on November 19 2017.
The resolutions include the recalling of former first secretary and President Cde Robert Mugabe and confirmation of the expulsions of the G40 members who include ex-first lady Grace Mugabe, Phelekezela Mphoko, Jonathan Moyo, Saviour Kasukuwere, Kudzanayi Chipanga, Mandi Chimene and Ignatius Chombo.
Its three-point agenda though straightforward, offers the party a new leadership, which is expected to turn around the fortunes of the country.
Just like in 1964, there is a sense of destination in sight, of people completing a part of a phase of their journey.
Fifty-three years ago from May 23 to 25 1964, ZANU founding members embarked on a journey into the future, a journey to Gwelo to lay the rubrics of a new Zimbabwe.
It was a journey they took on, fearlessly because they knew they were the architects of their own future.
The reality was that freedom was not going to be handed to the people on a silver platter.
Boycotts and strikes by blacks in the then Rhodesia had failed to bring about the desired change.
The strikes were brutally suppressed, leading to deaths and the arrest of blacks.
It was at the Gwelo Congress that ZANU took the decision to engage Ian Smith in an armed confrontation.
An abridged version of the original speech delivered by the then ZANU President Reverend Ndabaningi Sithole on May 24 1964 in Gwelo in Mkoba Hall reads:
"Those who believe that the United Nations will bring us independence are greatly mistaken.
No one can liberate another.
Independence is not ours unless we liberated ourselves.
There is no such thing as being liberated by others.
Others can only help us to liberate ourselves.
We are our own liberators.
What method then is ZANU going to use in liberating this country?
This is the only true solution to the present problem.
We have the power in our hands.
You will be detained.
You will be torn away from your families.
In some cases, some of us may be shot dead.
But this is the price all human beings must pay to be free."
So it was at the 1964 Congress where ZANU set the tone for the future, which meant the dismantling of colonialism and everything it entailed.
Barely two months after the first ZANU Congress, on July 4 1964, ZANU guerillas ambushed a white foreman from Silverstreams Wattle Company, Pieter Johan Andries (Andrew) Oberholzer.
The ambush had a lasting effect on the small, close-knit white community, even though it was an isolated incident.
In 1964, they made resolutions and they followed through these resolutions by way of implementation.
The defeat of Ian Smith on the warfront and the electoral victory that introduced democracy in 1980 set ZANU on the path to see the indigenes take control of their resources.
This was the dream of the delegates at the 1964 Gwelo Congress.
And this time around, the ZANU PF Extraordinary Congress is tasked with building on what has already been achieved.
The theme 'Consolidating the Gains of Zim-ASSET Through Unity, Peace and Development', speaks volumes.
The last part, 'Unity, Peace and Development' is the ZANU PF motto.
And this Congress presents the opportunity to go back to the basics.
Back to what really builds and makes ZANU PF.
It is time to cement ZANU PF's aims and objectives.
It is at this 2017 Extraordinary Congress that the foundation to create conditions for
economic independence, prosperity and equitable distribution of wealth of the nation will be laid.
More jobs, jobs and jobs for the people, equal opportunities for all and ownership of our natural resources among other issues.
It is this gathering that will propel leaders to preserve and defend the national sovereignty and independence of Zimbabwe.
It is an occasion to revisit the ideals and guiding principles of ZANU PF (Gwara remusangano).
Once upon a time there was a Leadership Code that defined and guided ZANU PF and its leadership.
It was the commitment, conviction, honesty and dedication espoused in the code that drove and won the liberation war.
It somehow got lost in the 'intoxicating noise' of independence celebrations.
And as First Secretary of ZANU PF, it may be prudent for Cde Mnangagwa to implore his lieutenants to revisit some of the tenets of the party's Leadership Code that sustained it during the country's critical formative years after independence.
Adopted at the Second People's Congress in Harare on August 8-13 1984, it reads in part:
"Every leader shall abide by the Party Constitution as the Central Committee shall declare, and shall not:
1. Knowingly act or express himself in a way that violates the Constitution.
2. Deal arbitrarily and arrogantly with members of the public or indulge in any conduct which brings the party into disrepute or ridicule.
3. Disclose party or Government secrets or any confidential information to any unauthorised or unentitled person.
4. Be seen or found drunk in a public place.
5. Commit acts of immorality,
6. Be repeatedly dressed in a slovenly or in appropriate manner thereby failing to maintain personal neatness and cleanliness.
ZANU leadership shall function within its ranks with candour, honesty and discipline and therefore:
1. A leader shall not deliberately and willfully mislead or give untrue information to the Central Committee or any other organ on the party.
2. A leader shall, where reasonable orders/instructions have been given by any person above him, obey and comply promptly with such order/instruction.
3. In the case where a leader believes that an instruction from a ZANU official seriously violates ZANU's Constitution or policies, he may decline to carry out the instruction and promptly notify the immediate authority above him of his reasons for his refusal.
The party firmly upholds the principle of equality of man.
ZANU regards corruption as an evil disease destructive of society.
Therefore it is hereby decreed that a leader shall not:
(a) Accept or obtain from any person or for any other person a gift or consideration as inducement or reward for doing or failing to do or for having done or fore-borne to do any act in relation to the party's business or the business of the Government or for the purpose of showing or fore-bearing to show favour or disfavour to any person in relation to the affairs of the party or Government.
(b) Give or offer a gift to any person as an inducement to that other person to do a favour or as a reward for a favour he has obtained or been promised.
(c) Use funds of the party or the Government or produce false receipts and or account falsely for such monies with intent to deceive the party or the Government.
(d) Make collusive arrangements with commercial or other persons or secretly obtain consideration for himself or for another person or fail to disclose the full nature of the transaction to the party or to Government.
(e) Decline to disclose his personal financial affairs or other assets to a properly constituted party or Government body of officials investigating corruption.
ZANU believes that a leader who concentrates on acquiring property or who personally engages in the exploitation of man by man rapidly becomes an ally of the capitalists and an enemy of socialism, and of the masses of the population.
Except as provided in this section and except as required by his official position, a leader may not:
(a) Own a business, a share or an interest in a business organised for profit, provided that this shall not be interpreted as prohibiting such petty side-line activities as chicken runs, small plots and gardens on one's residential property.
(b) Receive more than one salary.
(c) Serve as a director of a private firm or business organised for profit.
(d) Own real estate or other property or an interest in real estate or other property from which he receives rents or royalties.
(e) Own more than one dwelling house: except as dictated by family requirements, but in no event shall additional houses be for purposes of earning rents.
(f) Except with respect to interest received on account of monies deposited in a savings bank or similar institution, receive interest or other income on account of money loaned to another; 'No leader shall indulge in chimbadzo'.
(g) Own or have beneficial interest in more than 50 acres of land."
Following recent exposés of massive corruption in the Party, it is expedient to impose on leaders a strict code of behaviour.
While the wholesale implementation of the Leadership Code may be problematic due to the dynamics now present within the political realm, it is an incontestable fact the Leadership Code still stands as a formidable bedrock in curtailing wayward and reckless accumulation of wealth by some in the leadership of party and Government.
This is the tall order for ZANU PF, a challenge they must deal with head on.
During the liberation struggle, ZANU PF gained the capacity to determine the management of discipline and the administration of punishment.
Its doctrine hinged on 'Nzira Dzemasoja', a song adopted from Chairman Mao's military doctrine 'Three Rules of Discipline and Eight Points of Attention'.
The doctrine was developed as a code of conduct for the Chinese Red Army.
It focused on respect for people and property, particularly, the ordinary people and peasants who contributed to the war effort.
In adopting these principles during the Second Chimurenga, freedom fighters equally valued the wider Zimbabwean population and knew that the war was a collective effort for the liberation of all Zimbabweans.
"Kune nzira dzemasoja dzekuzvibata nadzo/Tererai mitemo yose nenzira dzakanaka," (There are ways in which soldiers must conduct themselves/follow these rules in a proper way) are the opening lyrics to the song.
"Bhadharai zvamunotenga nenzira dzakanaka/Mudzorere zvinhu zvose zvamunenge matora," (Pay for everything that you buy in a good way/return everything that you take), part of the song states.
As articulated in the song, the three rules of discipline required first and foremost, that Party leadership adheres to orders promptly, and second, that freedom fighters need to respect the property rights of the masses to gain their confidence and trust and third, to return any property appropriated for the sake of advancing the struggle.
At the Seventh Congress, one of the issues needing serious introspection is the matter of orientation.
The need to invest in the Chitepo Ideological College must be underscored.
The rigorous orientation that was the hallmark of ZANU's survival during the liberation struggle seems to have slackened.
The absence of a rigorous foundational induction or orientation strategy has over the years resulted in members failing to entrench themselves in the party's belief system and, therefore, becoming easy instruments for manipulation and destabilisation.
And ZANU PF is still cleansing itself from the infiltration that had been formulated at Chatham House on January 24 1999 by Richard Dowden, a chief adviser to the British Government on African policy.
The meeting was called to formulate a strategy to deal with ZANU PF in the face of its compulsory land repossessions.
One of the strategy was to infiltrate and subvert ZANU PF itself and buy amenable individuals from within to wrench power from the perceived hardliners and collaborate with the West to abort ZANU PF's empowerment programmes.
In-fighting (factionalism), an aspect of any group can take place, but when there are some in your midst who understand the past, present and future, one remains focused.
ZANU PF must also continually question the purpose of its existence and ask how relevant it is now and in the future.
Factionalism that had rocked the party and almost buried it, was a wake-up call for ZANU PF, with a clear indication that when the Party is founded on solid and people-centred principles, it's difficult to pull it down.
The party has not been immune to challenges and problems, but it has always emerged triumphant.
Thus, the 2017 Extraordinary Congress must be a rededication to the ethos of service to the nation.
It must show that this is now a whole new ball game.