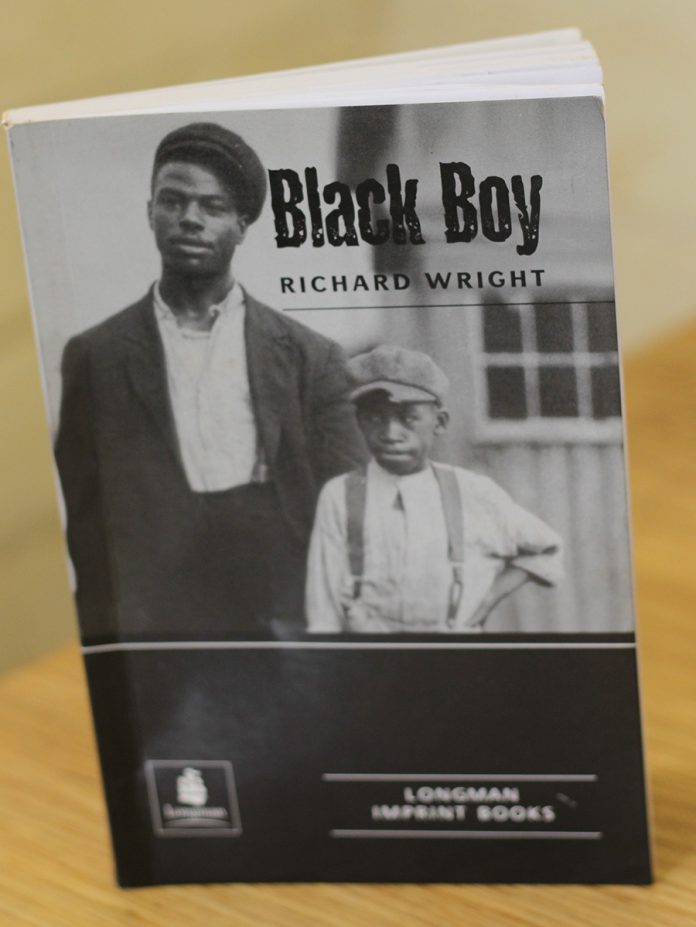 Black Boy: A Record of Childhood and Youth
By Richard Wright
Published by Longman Imprint Books (1970)
ISBN: 978-0-582-23380-5
Through Richard Wright's narrative titled Black Boy: A Record of Childhood and Youth, the author, whose family were victims of slavery, desperately yearns to identify with a part of his life that was forcibly taken away from him by whites.
The book centres on the writer's life story.
Wright grew up in a family of his parents and brother living in Memphis.
Memphis is a city located along the Mississippi River in the south-western corner of the US state of Tennessee.
Life in Memphis was not all rosy for the Wrights family.
"In Memphis, we lived in a one-storey brick tenement," writes Wright.
"The stone building and the concrete pavements looked bleak and hostile to me.
"The absence of green, growing things made the city seem dead."
With not much opportunities availed by the government for the black folks in Memphis, many, both the young and old, turned to crime.
The streets, as Wright writes, were not a safe haven.
Just like today, not much is done by the American Government to assist black neighbourhoods where violence, drug trafficking and prostitution have become the order of the day.
This just goes to show the whiteman cares less about the welfare of the blackman.
All he wants is to exploit blacks.
"The next afternoon I looped the basket over my arm and went down the pavement toward the store," writes Wright.
"When I reached the corner, a gang of boys grabbed me, knocked me down, snatched the basket, took the money and sent me running home in panic."
Given his poor background, Wright was not afforded the chance to go to kindergarten.
This was not peculiar to him but to a host of other children in his neighbourhood.
"Of a summer morning, when my mother had gone to work, I would follow a crowd of black children — abandoned for the day by their working parents — to the bottom of a sloping hill whose top held a long row of ramshackle, wooden outdoor privies whose opened rear ends provided a raw and startling view," writes Wright.
"For hours we would laugh, point, whisper, joke, and identify our neighbours by the signs of thier physiological oddities, commenting upon the difficulty or projectile force of their excretions."
Having too much idle time, coupled with the growing crime rate in Memphis, Wright had not much of a choice but found himself engaging in deviant behaviour.
Unfortunately the elders, who were supposed to set the right pace for him, were the ones to guide him on the 'wrong route'.
They were not to blame. They too had been let down by the system.
"To beg for drinks in the saloon became an obsession," writes Wright.
"A man called me to him and whispered some words into my ear and told me a nickel if I went to a woman and repeated them to her.
"Toward early evening they let me go.
"I staggered along the pavements, drunk, repeating obscenities to the horror of the women I passed and to the amusement of the men en route to their homes from work.
"I was a drunkard in my sixth year, before I began school.
"With a gang of children, I roamed the streets, begging pennies from passers-by, haunting the doors of saloons, wandering farther and farther away from home each day."
Realising that he was destroying his life, Wright's mother began leaving him behind under the care of an elderly woman.
Soon, he quit drinking.
He changed his ways for the better.
"In the immediate neighbourhood there were many school children who, in the afternoons, would stop and play en route to their homes; they would leave their books upon the sidewalk and I would thumb through the pages and question them about the baffling black print," Wright writes.
"When I had learned to recognise certain words, I told my mother that I wanted to learn to read and she encouraged me.
However, for Wright, the adage: 'It never rains but pours' rings true.
Following his mother falling ill and making it difficult for her to work and provide for her children, the court ruled that Wright be moved to an orphanage run by Miss Simon.
The orphanage was certainly not heaven on earth.
Wright continued to face the same challenges such as not having adequate food and clothing.
"The home did not have the money to check the growth of the wide stretches of grass by having it mown, so it had to be pulled by hand," writes Wright.
"Each morning, after we had eaten a breakfast that seemed like no breakfast at all, an older child would lead a herd of us to the vast lawn and we would get to our knees and wrench the grass loose from the dirt with our fingers."
Despite his unfortunate circumstances, Wright managed to rise beyond his challenges.
He began writing about his experiences.
This helped him years later as he became an established writer.
His resilience should be emulated by blacks as they continue to fight for their development.