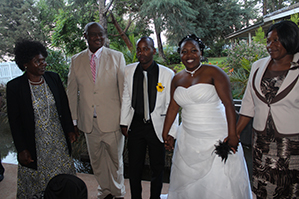 I HAVE mixed feelings about writing my 'last piece' to you because I just suddenly realised I did not want to write something that you would never read.
Then I tell myself that you never looked at death as the end and neither were you afraid of it: "How can the mother or family member who loved you in life suddenly turn against you in death," you would ask.
So as I write this article I am unassailably convinced that you are still most likely shaking your head in minor annoyance that I am being too dramatic as always.
It is just now, as I write, that I realise how I always wanted your approval on anything I wrote.
After I had written a piece I would anxiously pace the corridors pretending to mind my own business in case I bumped into you and you would tell me your opinion without any pretence.
It was the, 'now that, that, that was a good story', confirmation that would have me soaring until the next article or when you banged the desk in frustration when I slackened in another article.
VaKanengoni, you were my teacher in the newsroom when I landed straight from college.
My writing style has 'a more of you' than I could ever admit to your face.
"Intelligence is the ability to connect everything together," was one of your first lessons.
We co-wrote many stories where you claimed I was riding on your glory because you had 'people' telling you it was a masterpiece and because these 'people' did not call me therefore I was riding on your credit because we shared a by-line.
While in one meeting you confessed that you had pretended to be assistant editor Chris Mutseyekwa because people were praising his story and mistook you for him.
"Ahh ndangonyararawo ndikati ehe ndini, maida kuti ndiite sei?" you said.
When I was transferred from the newsroom, I remember sitting in your office and you told me that I would miss you terribly while you would never miss me because I was too loud at the reception area for your liking.
Yet you called often to have me write something.
I never admitted that each time I came to the diary meeting long after my transfer it was to hear you Mwalimu and your often controversial debates.
So I jokingly said Tanzania had Mwalimu Nyerere and I had you my teacher.
I nicknamed you the Disc Jockey, 'DJ', which stuck for the last five years because I believed you could spin anything into a story or a lesson.
The greatest lesson you taught me was how to love my country.
In each diary session, for the past five years, you gave us the confidence to love and defend our country even when the odds were not in our favour.
You believed that if we did not believe and fight for our country then who would?
As long as we looked down and mocked our own country and its history, which is engraved in our identity, the rest of the world would not respect us.
Even as the country celebrates 36 years of independence, I am grateful that you taught me to defend the liberation legacy.
I defend my country so much because you patiently explained in the last five years in each diary meeting how it came to be.
And so I became your disciple who would have followed you to war if you asked.
You were the force that united our small world, The Patriot newsroom.
A terrible keeper of secrets you were, who dared to gossip about anyone with you lest you went to that person and revealed what you had discussed?
You remember how you once insinuated that my husband Knowledge Teya and I were plotting a coup because you thought he gave me off days whenever I wanted.
I confronted you only to deny it saying there were divisive elements among us.
I knew you had most likely said it.
After all it was you who said people are there to be talked about, "if we don't talk about you, who do you want us to talk about?"
VaKanengoni, you gave a speech at my wedding that no guest will ever forget.
Instead of the 'nice speeches' expected on such occasions, you hinted you sympathised and warned my husband: "Uyu Melinda anotaurisa."
But I was never angry with you even then because I know every time I look at our wedding video I see you sitting there among the early arrivals and I know you hated gatherings, but for mine you were among the first to arrive.
I was never angry because you once said: "Munhu ngaabvume kutongwa.
"Tese varume tinotongwa mudzimba umo, pane asingazvizive?"
I secretly knew you were trying to comfort me after the gossip mill in the newsroom said I was an over-bearing wife.
I am angry at everything; time, nature, the Creator Himself, but mostly at myself because I spent the greater part of my last week hiding from you.
You found me and shamed me for not even coming to say my greetings because you knew each time we met you gave me an assignment and that week I didn't feel like writing.
I simply thought I would see you soon.
You disliked long articles so I will keep that in mind and end here.
Rest well with the ancestors Mwalimu DJ, until we meet again mumhepo.