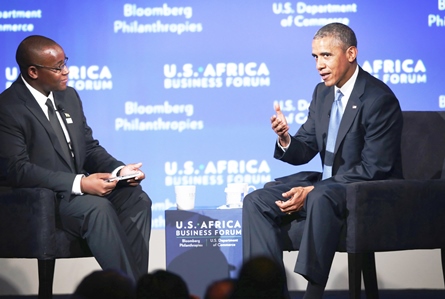 BY the time United States President Barack Obama unconvincingly finished rummaging through the sanctions poser thrown at him by Zimbabwe's 21-year-old Takura Chingonzo, the exposure of Uncle Sam's rattled administration's hypocrisy had been brought to the fore in stunning fashion.
Obama had been put on the spot by Chingonzo, a Zimbabwean student and ICT entrepreneur at the US-Africa Business Forum in Washington, forcing the beleaguered US leader to admit for the first time that his country's illegal economic sanctions regime was hurting ordinary people and needed to be reviewed.
Since the imposition of the sanctions against Zimbabwe by Obama's predecessor, George W. Bush, on December 21 2001, when he signed the so-called Zimbabwe Democracy and Economic Recovery Bill (ZDERA) into law, the US has denied that the sanctions are hurting ordinary people.
Instead, Uncle Sam has maintained that the embargo is 'targeted' at President Robert Mugabe and his 'cronies'.
But in Washington last week, Chingonzo, a National University of Science and Technology student and co-founder of Sai Sai Wireless took the bull by the horns and told Obama that the sanctions were hampering efforts by Zimbabweans to conduct business with other countries.
"Well, obviously, the situation in Zimbabwe is somewhat unique," said Obama.
"Let us see if we can refine them (sanctions) based on what you are talking about."
There are several issues to take into consideration from Obama's lame response.
The first is that Obama's attempt to pretend as if he does not know the effects of the sanctions on the people of Zimbabwe do not help his country's efforts to re engage with Harare.
It further threatens the already frosty relations between the two nations.
This is why his pummelling by Chingonzo is welcome.
There were torrential rains in Zimbabwe in the cropping season just ended, but they were nothing compared to the deluge that engulfed the embattled Obama during that fateful interview with Chingonzo.
Obama deserves no sympathy.
When he assumed office in 2009, Obama rejected the notion that it was a problem to be the man who followed the controversial Bush, but frankly it was as it is proving now.
Zimbabwe, with the departures of Morgan Tsvangirai and his ailing MDC-T from the political scene is evolving once again.
That poses more challenges for Obama and the US administration.
His 'snubbing' of President Mugabe from the recently held US-Africa Summit in Washington is a timely indicator of the US' fears of Zimbabwe's evolvement as an economic force to reckon with.
But this is nothing new.
On July 4 2004 the then Secretary of State, in President Bush's administration, Collin Powell announced that the US and European Union had ended all official assistance to the government of Zimbabwe and that they were lobbying other governments to do the same.
China in particular, which will in a few weeks time avail a funding package to the country could not be cowed by US' dirty politicking.
Powell stressed that this was punishment to President Mugabe and the Government of Zimbabwe, including its people.
He gave 'authoritarian rule' and the pursuance of 'wrong policies', principally 'his (Mugabe's) cynical land reform programme', which he alleged had rendered 'millions of people (to be) desperately hungry' as reasons for President Mugabe's 'punishment'.
Powell also made it abundantly clear that Zimbabwe's Land Reform and Resettlement Programme, the central and solitary cause of US' hostility against the country, was not, in the view of Washington, legitimate or part of 'the rebuilding' of Zimbabwe.
Prior to that, Harare had been 'warned' by former US Assistant Secretary for African Affairs, Chester Crocker.
"To separate the Zimbabwe people from that man Robert Mugabe and ZANU PF we are going to have to make their economy scream, and I hope you Senators have the stomach for what you have to do," said Crocker while calling for the annihilation of the Zimbabwe economy by imploring the US Senate to impose sanctions in September 2001.
Today the US Embassy's website in Harare claims that the sanctions are 'targeted'.
But what we have witnessed in recent years goes contrary to this claim and Obama's admission last week.
The Kaiser Networks' Daily report of November 28 2004 which was confirmed by the French news agency AFP showed that Zimbabwe's grant application for funding for its HIV and AIDS programme to the Global Fund for AIDS was rejected on political grounds.
Zimbabwe had applied for US$170 million for HIV and US$50 million for TB.
A statement by the National Aids Council (NAC) then read:
"This has come as a shock especially to NAC because we are almost at the end of preparing the Zimbabwe National Strategic Plan.
"It means we would re-prioritise and focus on a few issues because the budget has been limited.
"This will make it difficult to attain the Millennium Development Goal of universal access to treatment.
"It's unfortunate that they have not yet given us any reasons because we could have maybe reapplied.
"We were progressing very well, but the issue of funding is going to pull us back"
The Global Fund to Fight HIV, Tuberculosis and Malaria did not give specific reasons for its refusal to fund Zimbabwe's Round 10 application for financing.
Surprisingly, the development came as Zimbabwe had just joined the international community in commemorating World Aids Day, with the country celebrating the sharpest decline in HIV prevalence rates worldwide.
It is hoped that the announcement by Obama that they will 'refine' the sanctions will come to fruition.
The Chingonzo and Obama interaction could be the most intriguing storyline of this most fascinating political season.
Let those with ears listen.