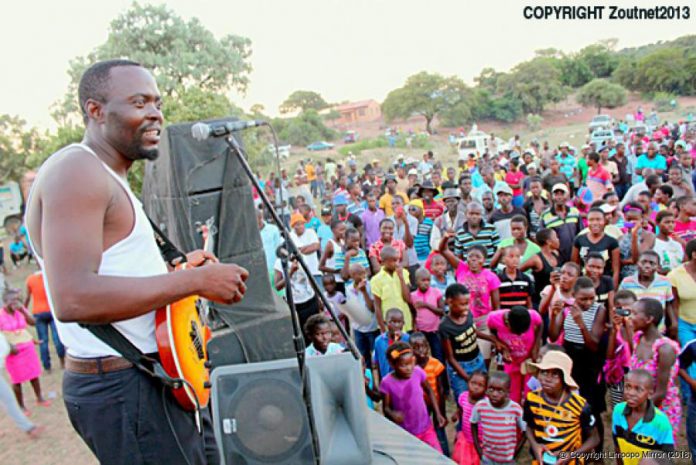 THE local arts industry, particularly the music sector, is a cutthroat, parched land in which only the grittiest survive.
While talent, perseverance, hard work and lots of planning has done it for artistes like superstar Oliver Mtukudzi, it appears the formula is not working for new entrants into the industry.
One artiste who seems to have had enough of the local music-scape is the promising sungura musician Tatenda 'Spanner Boy' Pinjisi.
Grouped in the category of artistes referred to as 'bush-celebrities', for being famous in farming areas, growthpoints and small towns, Pinjisi wants more and is frustrated.
He wants a spot in the big league as well as a slice of the cake, not just the crumbs.
Speaking exclusively to Patriot Arts, the 'Saina' hitmaker, revealed plans to relocate to Cape Town, SA.
The local industry has failed him; his idea of a musician and benefits therein have not been fulfilled.
For starters, the musician said earnings from his chosen craft barely sustain him.
"The local music industry is not offering much, making it difficult for upcoming musicians to rise," said a disheartened Pinjisi.
Even with two albums to his name and a number of live shows under his belt, the musician has not been able to secure a public address (PA) system, a basic for any self-respecting band.
And without a PA system, many musicians find the holding of live shows a nightmare as hiring is expensive.
"I am facing challenges in paying for things like the PA system, transport to shows and stage costumes. These challenges are hindering progress," said the frontman of the Holy Super Sounds band.
Without live shows, in an industry hamstrung by the scourge of piracy, musicians have been reduced to beggars.
Glowing reviews and impressive airplay has not paid dividends for the artiste.
His first album, Rumbidzo Kumusiki, carried the popular tracks 'Saina', 'Mweya Waneta' and 'Masimba'.
'Saina' was a chart-topper across radio stations.
Pinjisi has been a game changer, bringing competition in a genre that has largely been dominated by sungura maestro, Alick Macheso and other players who include Simon Mutambi.
His music is a message of love, with lyrics laden with teachings of the gospel.
Pinjisi is already establishing musical contacts in SA.
Part of his effort to relocate has seen him working on a collaboration with Joseph 'Zozo' Mbiza, a Zimbabwean sungura musician based in SA.
The duo is working on a single titled 'Maintenance', set to be released soon.
A firm believer in his abilities, Pinjisi has delivered to the best of his ability and had the environment been conducive, he would have recorded significant success.
The artiste who confesses to loving the "…way Thomas Mukanya Mapfumo does his things, the way he plays his instruments and his use of female vocals…" might just have been influenced by the Chimuranga music maestro to seek greener pastures outside the borders.
Mapfumo, now based in the US, claims to have many ongoing projects in that country.
And admirers of his might want to take his route, hoping for better fortunes.
Pinjisi insists his talent will not take him far in the local industry which he describes as unkind to upcoming artistes.
"As an upcoming sungura musician, I am facing problems of not having sponsors to boost my career and it is a real challenge to find anyone to help with marketing of the music I am producing," he said.
He bemoaned the unwillingness of music promoters to support upcoming musicians.
"Promoters usually concentrate on veteran musicians while leaving upcoming musicians out in the cold," he said.
Local promoters are on record saying they would not always support upcoming musicians as they are in business to make a profit and will only back artistes with guaranteed returns.
"Promoting music is also about making money, thus it remains the duty of an artiste to produce music that can market itself," said a promoter who spoke on condition of anonymity.
Pinjisi, born on August 7 1991 in Katsukunya Village, Mutoko, was educated at Katsukunya Primary School.
His music career began while in Grade Six and he first got into the studio, at Grammar Records, while doing Form Three when he was an instrumentalist on his brother Howard's debut album, Umbiridzo. Now he says he has had enough.
"The reality is that music as an art and business is better appreciated in countries such as South Africa. At least there are measures in place to ensure a hard working musician financially benefits from his work," he said.