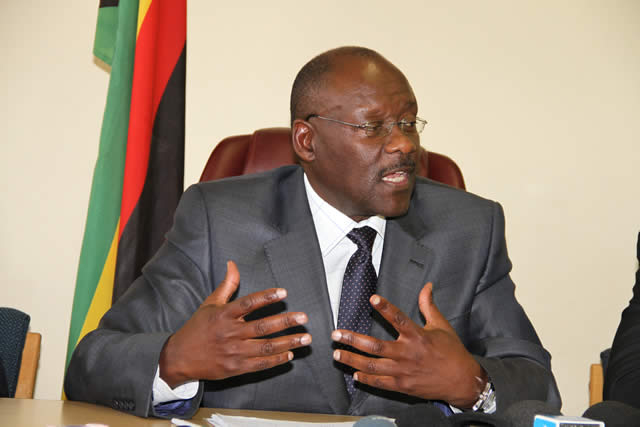 By Catherine Murombedzi
ZIMBABWE joined the global village to mark World Tuberculosis (TB) Day on March 24.
Zimbabwe held the event at Dzivarasekwa Stadium, Harare. The day has been observed since 1993.
This year's theme, running from March 24 2018 to March 23 2019, is 'Wanted: Leaders for a TB-free World. You can make history. End TB'.
The Minister of Health and Child Care, Dr David Parirenyatwa opened the day by highlighting that TB remains one of the killer communicable diseases.
The event brought together local and international TB partners, health workers, TB patients, civic societies, community members and Government ministries.
The commemoration gave due recognition to the role played by individuals and communities in TB control and adherence to treatment.
Free screening of tuberculosis was offered, with community champions on hand to assist.
"TB is a communicable disease that results in premature deaths everyday. This could be avoided," said Dr Parirenyatwa.
He implored everyone to get screened for TB as early diagnosis saved lives.
"I urge everyone here today to get screened for TB. Early diagnosis saves lives. TB is curable," he said.
Despite TB being curable, there are challenges in diagnosis, care and support.
More than 80 percent of TB patients in Zimbabwe are co-infected with HIV/TB.
TB treatment is offered free of charge, so is Antiretroviral Treatment for HIV (ART).
However, there are bottlenecks in accessing both ART and TB treatment.
Tests to assess ART effectiveness are paid for. One needs to have a liver test function carried out and this is not offered on the free ART service.
Of the 1,3 million people living with HIV locally, less than 200 000 have had a viral load test done. A viral load is the golden standard in assessing treatment success.
Not all public health facilities dispensing ART offer viral load testing.
A person testing positive to TB needs to be started on medication immediately.
As stated by Dr Parirenyatwa, early diagnosis saves lives.
We find out that most people know that they have TB when they are already ill and not able to go to the clinic for treatment without family support.
Lack of family support is a barrier to successful TB treatment. Stigma worsens access to treatment. One in three people does not disclose TB diagnosis outside the family unit.
Speaking on the sidelines of the commemorations, Leon Zava, who survived TB infection, said awareness still lagged behind and urged the Government to address the issue.
"The Ministry of Health and Child Care must educate the nation on TB and help stop discrimination. Even the nurses do not understand patients as they too discriminate," Zava said.
He said a visit to the clinic sees a nurse shouting: "VeTB endai kuside iri, vamwe varwere vese uko, (Those with TB come to this side and the rest of the patients go over there).
Community champions, he said, had proved to be more helpful than the nurses.
"Since community champions or activists live in our communities, they help fight stigma. They openly tell people that they have successfully been treated of TB and are living with HIV, so from such community champions we draw strength," he added.
Unidentified cases remained a threat to ending the TB scourge.
TB is passed by a person not on treatment who, at most times, does not even know he/she has TB. TB is no longer transmissible 72 hours after commencing treatment successfully.
Globally, a person dies from TB every 18 seconds, reports Médecins Sans Frontières (MSF, Doctors without Borders).
TB diagnosis, care and support need to be upped if we are to end TB infection in the set timeframe.
We are only two years from 2020, a year stakeholders had pegged to see the end of TB. But it appears 'Ending TB by 2020' will not come to fruition at the rate at which the condition is being handled.
"TB, left untreated, allows further transmission of the disease and leaves communities at risk. Four people living with TB are never diagnosed. Greater investment in screening is therefore required. People living with HIV are at high risk of getting TB infection," notes MSF.
The time one takes medication is lengthy and if support is not given, the patient usually defaults.
"Drugs must be taken for six months and if one reacts, (in poor settings) there is usually no replacement and patients continue taking the same drugs. Treatment for drug resistant TB is longer, ranging from nine to 24 months. The drugs can cause hearing loss and in general, upset the normal day-to-day life," reports MSF.
The cost of travelling to access medication is high and for an ill person, who at most times has stopped going to work, is not affordable.
"Patients cannot afford the food they need to eat in order to complete treatment," said MSF.
The slow pace of decentralising care for TB patients remains a barrier.
Before 2000, Zimbawe had nurse aides and environmental health assistants visiting TB patients offering treatment from home.
This was the right way to go for screening and diagnosis alone are not enough as treatment is a component of a cascade of requirements.
Looking at the cost of the home visits, one nurse's salary can pay three home-visit support assistants, with partners coming in handy too.
TB kills more than 1,5 million people yearly in southern Africa.
The first-ever UN High-Level Meeting (UN HLM) on TB will be held on September 26 2018.
If we are to see an end to TB, we have to scale-up support.
There is no point in placing someone on treatment if social psycho-support is not to be extended as well.
Without other forms of support such as follow-ups and food, medication will not be of much use.