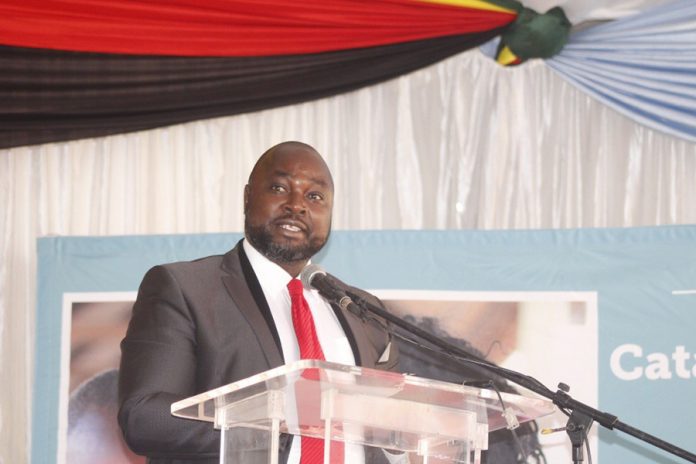 TUBERCULOSIS (TB) remains a global challenge and Zimbabwe ranks 19 among the 22 burdened countries, reported the World Health Organisation (WHO 2016).
TB is one of the top 10 causes of death in children.
In Zimbabwe, TB is the second leading cause of death after neonatal complications.
TB is an infection caused by a bacterium, mycobacterium tuberculosis passed when a person with TB coughs, sneezes, spits, sings or even talks.
Local diagnosis of TB has been a challenge, resulting in loss of life.
Only 43 percent of the estimated one million global pediatric TB cases are identified. The true burden of childhood TB in Zimbabwe is not known. HIV+ children are more at at risk due to a suppressed immune system if they are in contact with an adult with TB.
With children at heart, the Elizabeth Glaser Pediatric AIDS Foundation (EGPAF) is committed to overcoming critical barriers to TB diagnosis in children.
Working with the Ministry of Health and Child Care (MoHCC), with funding from UNITAID, a programme tackling childhood TB dubbed 'Catalysing Pediatric TB Innovation in Zimbabwe' (CaP TB) was unveiled. It runs from 2017 to 2021.
Diagnosis
EGPAF technical advisor Dr Tichaona Nyamundaya said TB diagnosis in children is a challenge as pneumonia, an infection that inflames the air sacs in one or both lungs, presented in a similar manner to TB.
The air sacs may fill with fluid or pus (purulent material), causing cough with phlegm or pus, fever, chills and difficulty in breathing. A variety of organisms, including bacteria, viruses and fungi, can cause pneumonia.
"TB diagnosis in children remains a challenge as pneumonia and even colds may present in a similar manner," Dr Tichaona Nyamundaya told people gathered at Beatrice Infectious Diseases Hospital in Harare last week.
Although the country has made strides in addressing the TB epidemic, major challenges in reaching all TB-susceptible populations (such as children) persist.
Children currently account for only eight percent of notified TB cases.
In 2016, WHO estimated one million children (15 years and below) were infected with TB.
Of that, only 434 044 were reported.
More than 253 000 children die each year from TB.
Barrier
A major barrier to the successful completion of a course for parents with children on TB treatment has been the medication which has not been child-friendly.
Dr Nyamundaya said this is set to be a thing of the past as child-friendly medication, which is strawberry-flavoured, is now in use.
"Globally, critical progress has been achieved in the fight to end pediatric TB," he said.
"The first child-friendly, fixed-dose drug formulations (FDCs) for first-line treatment of pediatric TB, aligned with the 2010 WHO guidelines, were announced in 2015.
"Enhanced TB diagnostic tools are now available. It now takes less months to complete the course.
"In the past a full course was 9 months and above depending on outcome. With the child-friendly doses, TB can be treated between 9 and 12 months."
Dr Nyamundaya said more work was still to be put in place in order to achieve the target.
"Work is still needed to overcome critical barriers to ensure the effective roll-out of these new and improved diagnostics and treatment in countries facing high TB prevalence rates," he said.
"As a leading pediatric HIV care and treatment partner, EGPAF is well-placed to improve pediatric TB diagnosis, care and treatment services.
Minors, said Dr Nyamundaya, are not able to give sputum hence the need to use tools that test the stools.
"Non-sputum tests using stools will therefore be used," he said.
Intensified
Zimbabwe is lucky to be included in the programme CaP TB which aims to end TB by 2030.
CaP TB aims to contribute to the reduction in pediatric TB morbidity and mortality in nine sub-Saharan African countries (Cameroon, Côte d'Ivoire, DRC, Kenya, Lesotho, Malawi, Tanzania, Uganda, and Zimbabwe) and India, Asia, which is a burdened country too.
Goal
The overall goal of this project is to reduce pediatric TB diagnostic and treatment gaps, by improving the capacity to diagnose pediatric TB and by increasing the uptake of new pediatric fixed dose combination (FDCs) for the treatment of active and latent TB through innovative models of care.
Sampling using modern tools, Xpert Ultra is to be done. The project will strengthen and monitor the uptake and use of the new FDCs, treatment outcomes and possible novel options for latent TB infection preventive treatment.
CaP TB will also allow EGPAF to document the feasibility, acceptability and impact of integrating TB services into non-TB health structures.
With leadership and guidance of Zimbabwe's MoHCC National TB Programme (NTP), EGPAF will implement activities in 20 pilot sites in the first two years of the project launch.
Expansion to an additional 30 sites is envisaged in the last two years, reaching a total of 50 sites.
Modern technology has improved patient retention as those with phones now receive SMS reminders for treatment adherence.
Environmental health technicians are also now a cog in patient identification and retention.
Zimbabwe, as a heavy-burdened country, has a lot of ground to cover.
Identifying children in need becomes everyone's responsibility.
The future lies in our children.
A TB-free generation is possible if we all work together in ending TB.