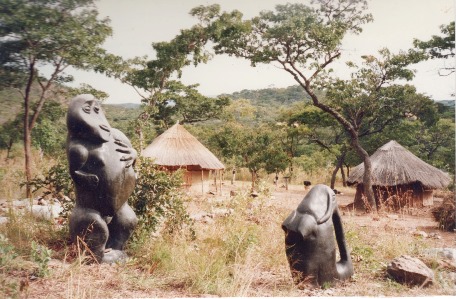 By Dr Tony Monda
IN the early 1950s, the Federation of Southern (now Zimbabwe) and Northern Rhodesia (Zambia) and Nyasaland (Malawi)
provided a politically buoyant period for settler economic growth and optimism. During this period, the Rhodes National
Gallery in Salisbury, (the National Gallery, Harare, was built and the incoming director, Francis Jack McEwen developed a
local creative hub in the arts. The Federal government era saw the movement of large numbers of immigrants from the region to Southern Rhodesia in search of work and education.
At the same time, colonial rule was ending throughout Africa amid growing African nationalism and general dissent at
home, particularly in Nyasaland. Britain decided in 1963 to dissolve the Federation of Rhodesia and Nyasaland,
(1953 – 1963), which was dominated by Southern Rhodesia.
As African-majority governments assumed control in neighbouring Northern Rhodesia and Nyasaland, in an effort to
delay a transition to black majority rule, the white minority Rhodesian government, led by the Rhodesian Front's Ian
Douglas Smith (1919 -2007), forced a Unilateral Declaration of Independence (UDI) from Britain on November 11 1965.
The British Government deemed UDI an act of rebellion; although they did not re-establish control by force, they immediately instituted total sanctions against
Smith's illegal regime, later also to be imposed by the United Nations, recommending international sanctions on petroleum
products and military hardware. In December 1966, these measures became mandatory and effective, extending
to the purchase of Rhodesian tobacco, chrome, copper, iron, asbestos, sugar, meat and hides. In 1970, having survived five years of independence, Smith's minority Rhodesian
government dropped the designation 'Southern' in the title and claimed nation status as the Republic of Rhodesia.
It entered the 1970s with optimism. Although sanctions were a strain on the Rhodesian population, they were not felt
as hard as expected. Oil accounted for only 27 percent of
power usage. It became obvious that sanctions alone could not break Smith's illegal regime that constantly found ways
of busting the sanctions; in part thanks to neighboring South Africa and Portuguese Mozambique who did not participate in
the sanctions and functioned as transit countries for the transport of goods to and from Rhodesia.
Anti-Rhodesian organisations often uncovered regular sanction busting activities forcing Rhodesians and their trading
partners to find new trading routes. The 1970s saw great economic growth for Rhodesia. With a strong economy and with the exception of the drought years 1968 and
1971, Rhodesia experienced a trade surplus every year from 1965–75. Rhodesia was a reliable trading partner
and good trade terms were also reason enough to disregard the UN-backed sanctions. Hardest hit by the sanctions was tobacco
trade. When the white-minority government declared itself a 'republic' in 1970, it prompted a civil war with Joshua Nkomo's
ZAPU and Robert Mugabe's ZANU, with assistance from the Zambian and Mozambican governments as well as cadres
who had already begun assembling in the
mid-1960s. By 1966, the international economic
sanctions imposed on Rhodesia (now Zimbabwe), adversely affected tobaccofarmers, Thomas Bloemfield (a farmer)
included.
It was against this background that the Tengenenge Community began. Bloemfield is eulogised for having 'persuaded' his farm workers to, "try their hand at sculpture" purely for altruistic
reasons; out of concern for their livelihoods and after he became aware of a huge deposit of black serpentine (rock)
situated on a hill on his farm. This, however, is a fallacy.
His farm workers were already sculpting part-time on their own.
It is their initiative that lit the down-and-out Rhodesian tobacco
farmer Bloemfield's path to fame and fortune.
In 1965, Chrispine Chakanyuka (1933- 2002), a sculptor and nephew to Sekuru Joram Mariga, drew Bloemfield's attention
to the deposits of serpentine stone in the area and convinced Bloemfield to support the stone sculptors where Tengenenge
farm workers — sculptors Fanizani Akuda, Zambian (1932-2002), Mozambican Luizi Purumeri (1929-1983), Malawian Makina Kameya (1920-1988) and others had already
begun to exhibit their characteristic simple silhouettes.
Other farm labourers who were parttime sculptors included: Angolan Wazi
Maicolo (1936-1987), Malawian Amali
Malola (1914-2002), Barankina Costa
(1932-1998), Shona-Korekore Ephraim
Chaurika, Josia Manzi (1933), Malawian
Lemon Moses (1925-1997) and Shona-
Korekore Bernard Matemera (1946-2003),
all had made an impact on international
art forums.Born in Johannesburg in 1926, Thomas
'Tom' Bloemfield, like most other white farmers in the Rhodesia at the time of UDI, found himself in financial difficulties
and at risk of losing his farm (Tengenenge) a name given by an old Korekore chief meaning 'the beginning of the beginning'.
Tengenenge was situated in the lucrative,
fertile tobacco-growing horseshoe
area of Guruve. Low on his luck, Afrikaaner Bloemfield
had come from South Africa to Rhodesia
in 1946 to 'try his hand' as a tobacco farmer and chrome miner.
He was often described as a forgetful dreamer opinionated and yet tolerant of Africans. Farming activities in Zimbabwe had
historically attracted workers from neighbouring countries and since the late 1960s and 1970s proved difficult years for
many farmers due to international sanctions
against Rhodesia, following UDI, Tengenenge being an example of one such farm; a similar venture was established by
a Mr Edridge in Hwedza. The viability of stone sculpture led
Bloemfield to convert his entire labour force to its production.
Several other small property owners also established sculpture groups on their lands. These include Pat Pierce, a cultural philanthropist who opened her Nyanga farm
to sculptors in 1961. Another early contender in the Shona
sculpture was a former teacher-cum-businessman
Roy Guthrie. Based on a rural village scheme, Tengenenge
Sculpture Community originally housed 18 families and a transient population of over 100 sculptors from Guruve
and surrounding areas. The early migrant farm workers-turnedsculptors came from Malawi, Zambia,
Angola and Mozambique until eventually there were over 400 people of different cultural and spiritual persuasions crowded
on the remote farm in the Great Dyke mountains of Guruve, 150 kilometres north of Harare. Guruve was formerly called Sipolilo, after a local, Chief Chipuriro. From the vision, hard work and singleminded efforts of Frank McEwen, who
had established the workshop school at the Rhodes National Gallery, synonymous with great sculptors such as Mukomberanwa, Mteki Brothers, Mukarobgwa,
Takawira Brothers, Ndandarika and Mubayi, Zimbabwean stone sculpture became the most visible form of contemporary
art in Zimbabwe, which resulted in a world-phenomenal art form and continued to be so, sanctions not-withstanding, until
the new millennium.
Dr Tony Monda holds a PhD in Art Theory and Philosophy and
a DBA (Doctorate in Business Administration) and Post-Colonial Heritage Studies. He is a writer, musician, art critic, practicing artist and Corporate Image Consultant. He is also a specialist Art Consultant, Post-Colonial Scholar, Zimbabwean Socio- Economic analyst and researcher.
For views and comments, email:
tonym.MONDA@gmail.coms