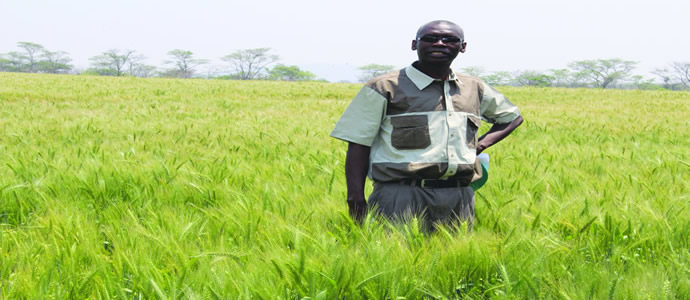 FARMERS have been urged to have soils tested to ensure they plant the correct seeds and apply right fertilisers to achieve maximum production.
Speaking during a field tour at Chance Farm in Doma, Mhangura, farm owner and Zimbabwe Farmers Union second vice-president Berean Mukwende said he has managed to produce high yields as a result of continuous testing of his soil.
"The resettled farmers we have work hard on the farms hence it is important that we follow through the right channels to maximise production," he said.
"Some of the reasons why some farmers every year fail to meet their targets despite using quality seeds and fertilisers is because they do not know the right varieties that are suitable for their soils.
"By knowing one's soil one is aware of the right seed variety to use, the right amounts of fertilisers and chemicals to apply."
Mukwende urged farmers with access to irrigation facilities to plant more than one plant a year.
"Farmers should fully utilise irrigation facilities and engage in winter crop production so that the facilities do not remain idle," he said.
"Farmers should draft a timetable on the crops they can grow all year round and ensure that the crop rotation tables are favourable for their soils."
Mukwende grows wheat during the winter cropping season.
This year, he has 23 hectares under wheat.
Mukwende is one of the few farmers that still produce wheat.
Wheat growers have in the past seasons been facing challenges which have resulted in the country failing to meet annual targets and having to rely on imports.
Experts say nearly 2 000 hectares have been put under wheat this winter, a figure which falls way below the initial target of 40 000 hectares.
This season the sector intended to produce 160 000 tonnes from 40 000 hectares.
Limited farmer support to finance the crop in terms of inputs as most farmers lack collateral to borrow from the bank as well as tight liquidity constraints are some of the challenges drawing back wheat production in the country.
Due to the challenges farmers have gone through in the past, land under winter wheat declined from 14 100 hectares in 2011 to less than 11 000hectares in 2012.
Growers are failing to meet national demand, which stands at 450 000 tonnes per year.
This has resulted in a wheat import bill of over US$ 500 million per year as Government resorts to close the deficit.
Wheat farmers have bemoaned inadequate support hence the continued decline in production.
Early this year Government indicated that US$80 million was required to finance the 2013 winter wheat season while at least US$21,8 million was required by Government to liquidate the arrears with input suppliers.
Speaking during the same tour Zimbabwe Farmers Union president Silas Hungwe urged farmers not to lose hope and re-engage in wheat production.
"The Government has reaffirmed its commitment to support farmers so farmers should not lose focus and continue to work hard on the farms," he said.
"The resettled farmers have the potential to help the country regain its status as the bread basket of the region."
Hungwe said Government and farmers' organisations were aware of the challenges farmers were facing that were inhibiting them from producing at full capacity.
"In the past seasons farmers have had challenges in accessing inputs and funds and this has derailed efforts to boost the agriculture sector," he said.
Hungwe also urged farmers to grow small grains in areas where crops such as maize were not yielding desired results.