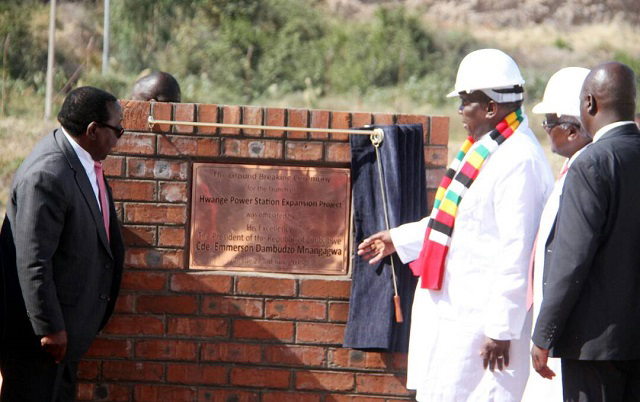 THERE were more than loud cheers in Hwange on Wednesday last week as President Emmerson Dambudzo Mnangagwa officiated at the ground-breaking ceremony of the Hwange Thermal Power Station expansion.
The cheers were an endorsement of the trajectory that the new dispensation has taken since ED's assumption of office on November 24 2017 for the people of Matabeleland North.
A new vibe!
A breath of fresh air!
A new beginning!
This is the feeling that has permeated the country in recent times.
The feel good factor is there for all to see. Even the most ardent of President Mnangagwa's critics have begun to retreat into their shells in earnest.
It has been a rollercoaster.
It has been one beautiful narrative after the other since the new dispensation took over.
The narrative has been that of development. It has been a process for President Mnangagwa and his team as they move a gear up in their Zimbabwe economic recovery and development project.
On a blazing day, it was the turn of that province to enjoy the immense benefits that have been enjoyed by the country since November last year.
And there was every reason for them to have their day in the sunshine.
The Hwange expansion project is no mean feat.
It is the kind of initiative that cuts across many facets.
The kind of development that defies detraction. This is Zimbabwe's biggest project since independence. It is also among Africa's biggest power projects.
For more than a decade, the project stalled due to lack of funding as the country's inclination towards politics at the expense of economic development saw it being frozen out by international financiers and funders.
It was only after President Mnangagwa visited China in April this year, where he met his counterpart President Xi Jinping, that funding for the project was unlocked.
With a staggering US$1,5 billion set to be poured into the project, benefits are immense. It will add an additional
600 MW into the national grid with at least 7 000 direct and indirect jobs set to be created.
Zimbabwe has installed capacity to generate 2 245 MW but due to chronic lack of investment in the energy sector, only
1 600 MW is being achieved.
In the same vein, the national electricity demand is 1 600 MW but current power generation stands at 1 200 MW per day.
The deficit of 400 MW is sourced through imports from Mozambique and South Africa and this eats into the country's already depleted foreign currency reserves.
The expansion of Hwange Thermal Power Station will see two units, Seven and Eight, being constructed.
The units will each generate 300 MW of electricity which will be fed into the national grid.
Significantly, the project demystifies lies being peddled mainly by the opposition that Government is doing nothing to improve the economy.
Farmers, miners and industry, among other key sectors of the economy, will benefit from this project. Crucially, increased economic activity will be realised in Hwange and across the country.
This is why the groundbreaking ceremony was crucial to the people of Hwange and Matabeleland North Province. There was a buzz, a spring in their steps. A nostalgic feeling of a beautiful past gone by reverberated in this sprawling but dusty city.
Their moment of reckoning had arrived in the nick of time. Their leader who, only days before, had escaped death by a whisker was in town to show that his is an action-oriented administration.
"The US$1,5 billion project will go a long way in our quest to achieve energy self-sufficiency and meeting the increased demand for electricity," said President Mnangagwa.
"Zimbabwe presently requires substantial investment in the energy sector to meet the cumulative demand for power.
"We need power to mechanise and develop our irrigation to spearhead our Command Agriculture programmes in order to continuously achieve food security.
"Electricity is further needed to revive and resuscitate our industries, among others. As a key enabler, energy drives economic development by facilitating the delivery of basic amenities such as clean water, health, shelter and education, among others, to the country's citizenry."
President Mnangagwa also spoke of his vision for the country, saying it was premised on uplifting the lives of the majority.
He has come up with Vision 2030 from which the country will emerge a middle-income economy.
Observers have, however, said that target will be achieved earlier than scheduled if the country continues on the current trajectory.
"My Government is determined to turn around the fortunes of our great country and create a Zimbabwe we all want," said President Mnangagwa.
"We have a very clear vision for Zimbabwe to be an open, free and democratic country with a progressive, prosperous and strong economy.
"The recent sad and unfortunate event in our country in Bulawayo will never deter us from our resolve to modernise our country.
"Allow me therefore to take this opportunity to assure our nation and investors alike that we are a safe and peace-loving country and indeed Zimbabwe remains open for business."
There was no doubting that finally, Zimbabwe now has a leadership that listens and attends to the wishes of the masses.
One gets the feeling that more is coming.