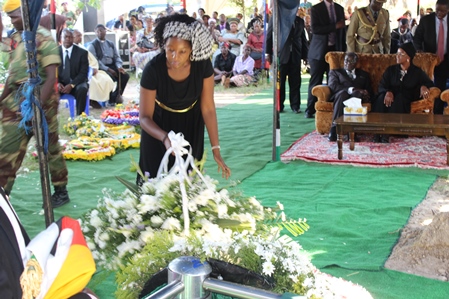 THE late liberation war heroine, Cde Bridgette Mugabe has been described as a caring woman and model of a true patriot.
Her humility and skills as an educationist and mother were ranked highly by those who gathered to bid her farewell last Tuesday.
Braving torture at the hands of Rhodesians, the late sister to President Robert Mugabe, was described as the epitome of selflessness.
Tete Bridgette as she was affectionately known, never gave up on contributing to the liberation struggle even after spending a month in prison enduring torture and scare tactics.
Besides the humiliation and beatings, Tete Bridgette still continued to assist freedom fighters and looking after family members.
Nephew to Bridget, Leo Mugabe who stayed with the late heroine at St Peters School in Chinhoyi since his childhood, revealed how his aunt played a pivotal role in igniting the Second Chimurenga in Chinhoyi in 1966.
"I only got to know of Amai's (Cde Bridget Mugabe) link to the freedom fighters after I saw her preparing a bigger pot of food than what we used to do," said Leo Mugabe.
"I questioned her why she was preparing the food in excess when we were only few and she said she wanted us to eat a lot of food that day."
Leo Mugabe said the truth was exposed when he was sent by Tete Bridget to give food to people who were hiding nearby.
Leo said he was surprised when he saw the people with guns.
He said he did not know that these were the seven brave soldiers who would start the Second Chimurenga in the famous Chinhoyi 1966 Battle.
"I discovered that the people I was sent to were carrying guns," said Leo Mugabe.
"I only discovered that they were the seven comrades the following day when Amai told me that the people I gave the food had died during the battle.
"She threatened me with death if I ever told anyone that she had given them food the previous night.
"My mother prepared the last supper for the first fighters who stood against the Smith regime."
Leo Mugabe narrated that it was after the battle that Tete Bridgette started to receive threats and harassment from the Rhodesian intelligence officers accusing her of working with the fighters.
"Amai was imprisoned in 1966 in connection with the Chinhoyi attack where she suffered a lot of abuse in cells," he said.
Another nephew Gabriel Mugabe, narrated how at a tender age, he saw Cde Bridgette Mugabe interacting with freedom fighters in Mhondoro.
"I stayed with her when she was teaching in Ngezi and we saw how she assisted freedom fighters who would visit our house on different occasions," he said.
"I later learnt that some of the people that would come to our house included the national hero Cde George Mudukuti.
"Ndinofunga kuti, she was working with the freedom fighter in recruiting other comrades to join the war."
ZANU PF Secretary for Administration Cde Didymus Mutasa dismissed claims that the late Bridgette Mugabe had attained heroine status as a result of her relationship with President Robert Mugabe.
Cde Mutasa told The Patriot that the party and province came up with the decision to accord Tete Bridgette the heroine status due to the suffering she endured during the liberation struggle.
"From what has been said by witnesses about her contribution towards the independence of Zimbabwe, it was imperative that we grant her the liberation war heroine status," Cde Mutasa said.
"It has been proved that she suffered a lot due to her dedication to free the nation from the colonisers.
"Also being a sister of a great leader who was very active during the liberation struggle, it was inevitable for her not to be spared from torture and harassment from Smith agents."
Sister to the late Tete Bridgette Mugabe, Regina Gata, who also grew up under the eye of the late heroine said her sister was a loving and caring woman who did not discriminate.
"I was close to my sister because we stayed together and she looked after me when I was young in Highfield," she said.
"She did a lot for me and while I would say some things to other people, she never held any grudge against me.
"She was God-fearing; my sister was love itself."
Tete Bridgette who died at 78, collapsed at the burial of her sister Sabina Mugabe at the National Heroes Acre in August 2010 and was admitted at Parirenyatwa Group of Hospitals where she had been in the intensive care unit until her passing on last Sunday after succumbing to heart failure.
She is survived by daughter Lorraine and several grand children.
She trained as a Science teacher and taught at Ngezi and St Michael's among other schools.