I WAS recently in Gokwe.
It was so blistering hot I wondered how citizens in this part of the country survived.
We were attending nyaradzo (memorial) for my sister-in-law's mother. As soon as the formalities were over, we left for Gweru.
Sunday was a restful day for all of us as we recovered from the heat and journey.
At around 7pm, we had a call from a stranger who said he was calling on behalf of a relative who had collapsed at the Batanai Bus Terminus.
It was my sister-in-law's sister who had collapsed.
My brother and his wife rushed to the bus terminus and took her to Gweru General Hospital. She was diagnosed with acute gastroenteritis but the hospital had no medicines, so they sent her home with a prescription.
Since it was past 9pm, all the pharmacies in Gweru had closed.
They brought her home. I met them on the veranda as they entered the house.
I could not believe what I saw.
My brother and sister-in-law held her on either side and she could neither stand nor walk by herself.
Her face was haggard as if she had been sick for at least two weeks; she was not the same girl I had joked and laughed with the day before panyaradzo.
Her dress clung to her body matted with her semi-dried liquid stool. Needless to say the stench was terrible.
They took her to the bathroom where my sister-in-law immediately bathed her.
Lavender is a disinfectant
My brother and I were in the middle of a course on herbs and their uses.
We had learned that, among many other uses, lavender is a powerful disinfectant and a fellow trainee had earlier on brought me a bagful of lavender.
I took one of my biggest pots and prepared a decoction of the herb.
After 30 minutes, it was ready. I strained it and took it to the bathroom and the toilet.
The stench immediately vanished, it was magical. I could not believe it.
But mainini's stomach was still running; she needed to use the loo almost every 10 minutes.
My brother and I were worried. This could not go on throughout the night, otherwise we would lose her before dawn.
In our herbal course, we had also learnt about yew, a very strong anti-biotic used by pharmaceutical companies.
Yew can be used to treat gastroenteritis. It can bring fast relief in the case of acute sepsis of wounds and can be applied externally or taken internally.
Our neighbour, just one house down the road, had a hedge of yew shrubbery.
In fact, the herbal doctor, our instructor, had used this hedge as a practical example of what yew looked like.
We consulted the sister of the 'patient' if we could try the herb.
She was not too eager but she agreed; the alternative was to watch her sister die.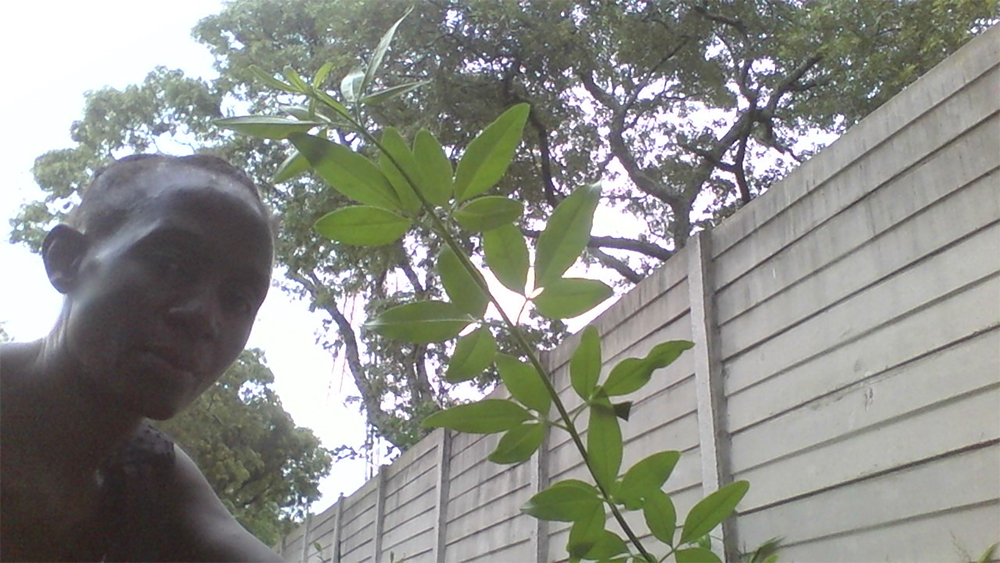 Yew has a very distinctive leaf pattern
It was already around
10pm.
My brother and I took a torch and proceeded to the neighbour's hedge.
Most of the leaves on the plant were yellow and it was not easy to find sufficient green leaves.
We were glad the neighbour's wife was my aunt's daughter otherwise what would they have thought if they had woken up to see 'strangers' picking 'things' from their shrubbery that late.
We managed to get sufficient for a dose (approximately half a handful of the patient's hand).
We boiled 300mls of water and then added the leaves.
We covered the pot and left it to boil for five minutes.
We then strained the boiled medicine and left the liquid to cool sufficiently for her to drink it comfortably. She fell asleep almost immediately. This was around 11 pm.
Her stomach did not run until the following morning. Around 7am, after she had eaten her porridge, her stool was no longer watery.
By 9am, she could sit up. At around 10am, when I left for class, she was seated on the veranda, relaxed and quite comfortable.
When I came back from class at around 2pm, she was still seated at the veranda relaxed and peaceful.
I then left for town on some business. My brother had left earlier to get the medication prescribed by the doctor.
When I came back from town about 5pm, she was sleeping on the veranda not looking so well.
I was told she had started 'running' again.
They had not administered the morning yew and had started on the doctor's prescription. I was not sure what to make of it.
My sister-in-law, now at the forefront of this struggle, suggested we stop the doctor's prescription and continue with the yew.
We concurred.
Once again my brother and I prepared the herbal medicine and she drank it.
By supper time, she had stabilised and the running had stopped; she could sit up with us in the lounge.
We continued our hunt for the green yew leaves and continued with the herbal preparations.
By end of the next day, her husband arrived and decided to take her home to Mkoba Township.
The patient, now quite herself, insisted that we give her some yew to take home so she could continue with the herbal treatment.
The next day, Wednesday, she felt well enough to report for duty; she is a school teacher.
Musikavanhu never left anything to chance when He put together this material earth.
Yew should not be administered to the elderly or to children below eight years of age. It should be taken in the morning and evening for four days, no more. Only green leaves should be used, those that have turned yellow would have lost potency.