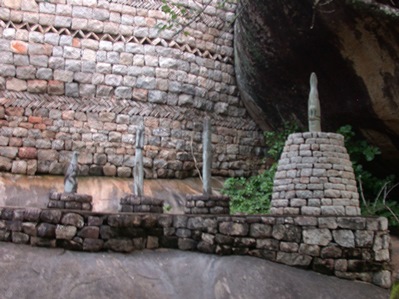 "WHEN I know who I am, I will be free," says a nameless character in Invisible Man by Ralph Ellison.
"Who are we Africans called Frenchmen?" asks Taundi in Houseboy by Ferdinand Oyono.
"What became of the Black People of Sumer?" the traveller asked the old man, "For ancient records show that the people of Sumer were Black. What happened to them?" "Ah," the old man sighed.
"They lost their history, so they died."
Most names that Zimbabweans have adopted have nothing to do with their own history and who they are as Africans.
Some don't even know the real meanings behind those names.
This includes the African names distorted by whites and foreigners.
Well-known Zimbabwean historians have accepted them and teach them to our students and the world as given truths.
A good example is the name Mwene Mutapa, distorted by whites to Mwana Mutapa, Munhumutapa and the high-sounding nonsensical word Monomotapa which has gained popular currency throughout Zimbabwe even after independence.
Sound knowledge of the significance of our names and the real history behind them, hidden by these colonial corruptions, if brought to the consciousness of Zimbabwean people, will go a long way in our decolonisation and liberation process, and ultimate control of our destiny and who we truly are as a Zimbabwean African people.
Let's begin with the real meaning of the name Mwene Mutapa.
Mwene Mutapa means 'Owner of Mines or Mining, King of Mines, Prince of Mines, Lord of Mines, Ruler of Mines, Overseer and Custodian of Mines and all Mining Activities and Concessions' in the land, including all ancillary industries associated with mineral and metal processing, production, and trade.
Mutapa is, therefore, not a name of a particular individual or King.
It is a title.
Any person who became King of the Mutapa Kingdom was invested with the title and powers of Mwene Mutapa to ensure that no activities concerning mining in the land are carried out without his concession.
For those who may not be conversant with the Shona language, 'Mwene' means 'owner' as in 'Mwene wazvo'.
'Mutapa' means 'Miner'.
It comes from the word 'matope' which means mud or 'mutape' which means clay.
Both 'mutape' and 'matope' are associated with playing with mud as in alluvial gold panning.
Mutape also means molten gold or metal ancillary to the mining and smelting industry and the production of all metal products in the Kingdom, such as guns, spears, hoes, axes and various ornaments which were exported to countries overseas such as India, Portugal, China, Persia and gave rise to Great Zimbabwe as the earliest civilisation in the world only second to Egypt.
So, since mutape also means molten gold or metal, Mutapa also became known as Master of the Forge.
This tradition of referring to the founders of civilisations and nations in Africa, as Mwene Mutapas, or Owners of the Land, and Custodians and Overseers of the Land is not unique to Zimbabwe.
It is found all over Africa.
H. Moyana and M. Sibanda in their book, The African Heritage, give the example of the Kongo Kingdom where the founder was called 'Ntinu Mwene' which in Shona means, 'You are the Owner', which in English would mean, 'You are the King, Lord, Owner, Custodian or Master'.
According to Moyana and Sibanda, Ntinu Mwene is also referred to as Inventor of the Forge and the Art of the Iron Smith, the same titular meaning as Mutapa associated with the production of tools from molten gold or iron.
The Kongo King, again, according to Moyana and Sibanda, was also called the Manikongo which means Lord or Ruler of the Kongo, Maker of the Arms of War and Tools of Agriculture. 'Mani' is derived from 'Mwene' which means 'Owner', both in Shona and Kikongo.
One can therefore refer to Mwene Mutapa as 'Manimutapa' which can be easily corrupted to 'Monomotapa'.
So, the idea that has been peddled around by both European and African historians who sheepishly follow whites, that Mwene Mutapa means, 'the one who abducts children' is based on such corruptions of Mwene Mutapa to Mwana Mutapa where 'Mwene' which means 'owner' becomes 'Mwana' which means 'child' and 'Mutapa' which means 'Master of the Forge or Miner' becomes 'Kidnapper'.
A similar misrepresentation of the name Mwene Mutapa is its change to Munhumutapa to suggest that the Mutapas were not only kidnappers of children, but also enslavers of able-bodied adults for cheap labour to build the great stone monuments found throughout the Mutapa Kingdom, of which Great Zimbabwe is just the biggest and well-publicised in the world.
The other stone monuments whose names have been changed or corrupted to hide and obliterate their true identity and ownership from Zimbabwean and the world's consciousness, are 'Danangombe' changed to 'Dhlodhlo Ruins', 'Manyanga' changed to 'Intaba zika Mambo' or 'Mambo Hills', and 'Nhandare' now called 'Naletale Ruins'.
The same name changes apply to place names.
Mount Darwin, for instance, is locally known as Fura.
The Swahili changed Fura to Aufur.
The Europeans changed Aufur to Ophir and rushed to colonise Zimbabwe as the Land of Ophir. They correctly understood Mwene Mutapa to mean Owner of Mines and changed the name to King Solomon, and referred to the mines in the Mutapa Kingdom as King Solomon's Mines.
They envisaged Great Zimbabwe as King Solomon's Palace and the Queen of Sheba who visited him as the Queen of Sabe River.
This change of Mwene Mutapa to King Solomon should not come as a surprise.
It is the habit of Europeans to rename other people's kings and appropriate them and their civilisations as theirs.
A good example is 'Mutapa Mavhura Mhande' whose name they changed to 'King Filipe' and passed to the world's posterity as a Portuguese King.
To illustrate that white people know very well what they will be doing when they corrupt African names, here is an example of Basil Davidson and what he says about the title, Mwene Mutapa.
"The title of their ruler was Mwana Mutapa which the Portuguese corrupted to Monomotapa."
Here, Davidson is aware of the correct meaning and significance of the title Mwene Mutapa, but tries to correct a distortion with his own further distortion to keep you fooled and ignorant about your own true history.
We must wake up as Zimbabweans and begin to correct the distortions of our names and identity and be masters of our history and destiny.