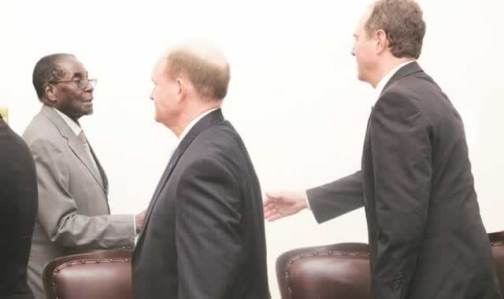 PRESIDENT Robert Mugabe's remarkable moments hinge on triumph against adversity such as the liberation struggle and most recently the illegal economic sanctions against Zimbabwe.
On Tuesday he took a delegation from the United States Congress to task for maintaining sanctions against Zimbabwe.
The President described the visit as rare and a surprise given how relations between Zimbabwe and the US have soured over the past 15 years.
Yet there has always been an explanation to the frosty relations.
"A surprise visit…We normally don't have visits from the US Congress or Senate, but have individuals who have come," he quipped.
"This is quite rare. It used to happen those good days when our relations were good up to the time of President Bush. Everything went sour during Bush's time, not because we had quarreled with America, but because they supported (Tony) Blair in efforts to reverse the land reform programme.
"We had followed all the steps to settle our people but when the Labour Party took over, they wanted to reverse it completely and we said no, Zimbabwe was a free country.
"…We had Bush imposing sanctions and we were surprised. We know they wanted to please Blair and sanctions have remained on. Mr Bush decided to impose sanctions on us and the Senate and Congress said yes, we deserve sanctions."
When former British Foreign Secretary, the late Robin Cook told the late Foreign Affairs Minister Dr Stan Mudenge in 2001 that Zimbabweans would 'suffer until they stone you (the Zimbabwe Government) in the streets' if land was not returned to white commercial farmers, he was right.
Britain had already laid the ground for chaos in Zimbabwe, but it needed the support of its cousin and the EU to successfully launch an onslaught against Harare.
America played ball, so too did Europe.
"'Stan you guys must get rid of Bob (President Mugabe)," Cook told Mudenge.
Dr Mudenge told Cook that 'for the same reasons that you guys want him out, we want him in'.
It was at that point that Cook then went on the offensive saying:
"OK, you guys must not say we didn't warn you: If you don't get rid of Bob, what will hit you will make your people stone you in the streets."
That marked the beginning of Britain and America's hostilities against Zimbabwe.
In September 2001, former US Assistant Secretary for African Affairs, Chester Crocker, acknowledged the gravity of the matter when he told Senators that "to separate the Zimbabwe people from that man Robert Mugabe and ZANU PF we are going to have to make their economy scream, and I hope you Senators have the stomach for what you have to do".
By December of the same year, the so-called Zimbabwe Democracy and Economic Recovery Act (ZDERA)had come into force.
What followed was a series of choreographed denials by British and American officials in the West and the MDC and their cousins in the anti-Zimbabwe project as well as civil society that Harare was under sanctions at all.
They preferred to call them 'targeted' at President Mugabe and his 'cronies'.
But a simple perusal of ZDERA shows that document instructed multilateral financial institutions to impose sanctions against Zimbabwe in the following manner:
1. Suspension of balance of payment s support
2. Suspension of technical assistance
3. Suspension of voting and related rights by the IMF and
4. Declaration of ineligibility to access IMF resources.
The World Bank also effectively imposed sanctions on Zimbabwe in the form of:
1. Suspension of grants and
2. Suspension of infrastructural development flows to both government and private sector.
Also, with the withdrawal of the multilateral financial institutions from providing balance of payments support to some bilateral creditors, donors followed suit by either scaling down or suspending disbursements of loans to the Government and parastatals.
Prior to these developments, Zimbabwe had an impeccable record of prompt debt servicing and was highly rated the international financial markets.
At the end of 1999, total foreign payments arrears amounted to US$109 million and increased significantly to US$2, 5 billion by the end of 2006.
The unfavourable developments emanated from the combined effects of inadequate export performance and reduced capital inflows.
A combination of current account deficits and reduced capital inflows resulted in excessive pressure on foreign exchange reserves, which resulted from US$830 million (three months import cover in 1996) to less than one month cover by 2006.
The attendant foreign exchange shortages severely constrained the country's capacity to meet foreign payment obligations and finance critical imports such as drugs, grain, raw materials, fuel and electricity.
To further buttress America's dishonesty were utterances by officials from that part of the world.
On July 4 2004, the then Secretary of State in President Bush's administration, Collin Powell, announced that the US and the EU had ended all official assistance to the government of Zimbabwe.
Powell's revelations that Uncle Sam was lobbying other governments to do the same, confirmed the sanctions were not in any way 'targeted' at President Mugabe as was being claimed by the opposition.
As the US Congressmen emerged from the meeting with President Mugabe, a member of the delegation claimed they had come to discuss issues to do with 'wildlife'.
And even as they return to Washington, the message must be clear; Zimbabwe and Robert Mugabe are not about to bow down to America's 'madness'.