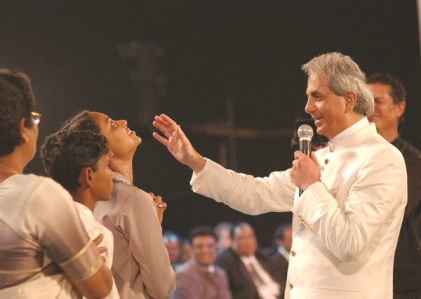 PROSPERITY  gospel is a Christian religious doctrine that says financial blessings come as a result of the will of God for Christians. The belief centres on the message that a person with faith who thinks positively and gives more donations to Christian churches will increase his or her wealth.
In Africa, particularly in Nigeria, prosperity gospel preachers are massively growing in popularity in the evangelical world. This teaching is inspired by an American-style prosperity that puts emphasis on health and wealth and not so much on sin. Many people believe in the teaching of this gospel. Such as gospel is taking advantage of poor Christians with little resources. For the poor, being rich is the central message and they see a future of wealth if they give the little they have.
Time magazine described the prosperity gospel as the latest movement promoting America materialism. The article in Time says that "prosperity gospel is a baptized form of capitalism. Capitalism has been brought into the church and given a position of honour. Unfortunately, God has been shunted aside."
In Zimbabwe many people go to church for different reasons and but many others believe that economic empowerment through divine intervention is one of them. On one of the Christian websites, there is a story about Tedius Makwari who used to attend the United Family International Church in Zimbabwe hoping to make money one day. Makwari said he did not realise "any benefit of going to the church besides being stripped of his hard-earned money in the name of offerings." In a continent where many churches are growing by emphasizing both the material and spiritual benefits of faith, Makwari represents many people who follow and believe in a religious movement that can evoke disappointment and disillusionment.
Femi Adeleye is the International Fellowship of Evangelical Students Associate General Secretary for Partnership and Collaboration. He is a Nigerian based in Ghana and he has spoken strongly against the prosperity gospel because in his own personal life, he saw how prosperity gospel can enrich others while taking from the poor. In his book, Preachers of a Different Gospel: a Pilgrim's Reflections on Contemporary Trends in Christianity Adeley begs people to reject the prosperity gospel in favour of everyday type of Christianity.
Adeleye begins his book by describing a "strange gospel" that has created "strange Christians." He laments the fact that many no longer follow to the gospel as it was first presented in Africa. A reviewer noted that : "Throughout the book, Adeleye contrasts the revivals of the 1970's with contemporary gospel presentations in an effort to show how quickly the degeneration has taken place. Quoting Dietrich Bonhoeffer, A.W. Tozer and others, Adeleye seeks to show the disparity between the prosperity teaching in Africa today and historic Christian witness." Toward the end of his book, Adeleye argues that the prosperity gospel is responsible for some of Africa's many cultural problems.
Some of the key preachers or proponents of this prosperity gospel are Americans, Joel Osteen and Joyce Meyer. Another major prosperity gospel preacher is Benny Hinn of the Word of Faith and the Trinity Broadcast Network. In America, Hinn has made hundreds of millions of dollars over the years spreading the prosperity gospel. When people give him money, they are promised blessings of a "double return on investment" for every dollar they spend. At one time, he pleaded to his followers to send him $2,5M over a 90-day period in order to rescue his church from debt. One may ask how the church incurs such a huge debt.
Hinn emailed to millions of his followers telling them that God wanted him to be debt free. In the email, he also wrote that a friend of his was going to give him $2,5 million. But this amount must be matched by his followers. Hinn said, "I feel so strongly that he wants them to be part of the supernatural wealth transfer that is coming to every believer who will obey God's Word…. Immediately I saw the hand of God in this. Our Lord could have simply used our friend to plant the seed and be blessed immeasurably by it. .. by planting a much larger seed into the work of the Lord, and, in so doing, doubling the blessings."
Hinn also preached that Christians will get massive amounts of wealth, physical healing from illness, beauty, fame, miracles and financial prosperity and glory by "sowing a seed" or sending money to Hinn's global ministry. For those with a critical eye, Hinn clearly presents a scam to steal from the people who believe in him. Such a hypocritical scam is an example of theft using the manipulation of Christian teachings. Such preachers use their greed and love of money to trap unwitting believers into trying to use money to buy favour and blessings from God.
John May, one preacher who opposed Hinn's teachings has argued that at no point in the Bible did anyone ever pay God or Jesus any money to receive a blessing. The prosperity gospel is built upon a number of many mistaken theological arguments. David Jones, in The Bankruptcy of the Prosperity Gospel, argues that the teachings of the Bible do not seek money as a condition to get blessings.
Instead of simply following prosperity gospel teachings, Christians should ask where in the Bible God talks about getting blessing from giving money. Jesus was born poor and he died a poor man. The Bible says Jesus died on a cross, and not in a huge expansive mansion. In addition the prosperity gospel is also not the gospel that the twelve apostles preached.
Many people are being led astray by the teachings of the prosperity gospel. Those who are not Christians are also witnessing a perverted form of the gospel and a much distorted picture of the Christianity from the view of those who simply use preaching to get rich.