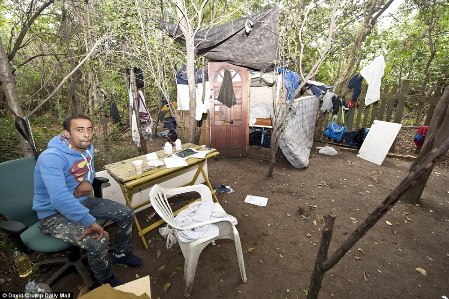 RESPONDING to my article last week about the plight of Zimbabwean failed asylum seekers in the UK, a reader of The Patriot from Nigeria, Dario Thurston Hreiðarsson, commented "Go home! Africa is not such a terrible place that you need to put yourself through this for God's sake!
"I almost feel like weeping reading this, is there a war in Zimbabwe? Natural disaster? So why don't you just bite the bullet and go home?
"I met so many of you like this before I came home to Nigeria last year and I still dream of them sometimes. Why do you put yourself through this?
"In such a terrible country as well! Leave the UK and come home! Please!"
After the article, I received a lot of phone calls and messages through my facebook inbox from people wanting to tell their stories, or stories of hardships they have witnessed being experienced not only by black Zimbabwean asylum seekers in the UK, but also white Zimbabweans in the UK and Australia.
One colleague alerted me to a post on Rhodesians Worldwide facebook page, posted on October 4 2014, and which read: "Hi fellow Rhodesians in Australia: I introduce Stephen John Woodward. He served in the RAR. He arrived in Australia and married a lass whose father is also ex-Rhodesian.
"He has a left arm which is limp thanks to a bullet from Mugabe's thugs. He still has the bullet inside him.
"Unfortunately the couple have now split up and he is now on a bridging visa awaiting a final decision from the emigration department in Australia as to whether he should be sent back to Zimbabwe or not.
"If he is successful, he will obtain a protection Visa. This decision is pending within the next month or so. His ex-wife will not assist him.
"At this point he has no job and is about to lose his current accommodation. I too am still without a job and therefore cannot assist.
"Can anybody assist him with accommodation in the Sydney area? He is prepared to work around the property. His picture below."
The post is accompanied with the photograph of a scruffy looking ex-Rhodesian soldier, Stephen John Woodward.
And "He is prepared to work around the property." He is prepared to be a houseboy or garden boy in return for food and accommodation, something unheard of a whiteman in Rhodesia!
It is not clear when he got the bullet in his shoulder; whether he was shot by vanamukoma during the war or after independence.
One caller from London told me of a white Zimbabwean who is also living in destitution because he has no visa to live in the UK.
He told me that the guy sleeps in a car because he has no accommodation and no one can assist him, even fellow white Zimbabweans.
The caller said: "Tinaye murungu arikurara mumotokari kuno kuLondon. Haana basa, haana mapaper. People used to give him accommodation until they stopped. Veduwe zvinosiririsa nekuti murungu haana kufitwa nenhamo. Dai adzokera hake kumusha…"
I do not know if the white Zimbabwean sleeping rough in London had claimed for political asylum in the UK or not. On June 5 2011 the Mail Online newspaper wrote an article about an ex-Zimbabwean policeman, Guy Taylor, whose application for asylum had been turned down by the UK immigration. This was despite having British (Welsh) and Irish ancestors.
Another caller alerted me to a shanty town in London, where immigrants from Eastern Europe have camped in the hope of finding jobs in Britain.
He alerted me to an article published by the Daily Mail (October 1) about how 'some 40 economic migrants' from Eastern Europe who came to the UK seeking better lives are now living in a camp in North London where they 'cook on open fires, wash in the canal and use the woods as a toilet'.
The shacks are built from 'discarded pallets, wooden doors and plastic sheets' resembling a shanty town in 'Rio or Soweto' according to the Daily Mail reporter.
But all this negative media reports about destitution of immigrants do not seem to dissuade 1 000 immigrants, mostly Africans, camped at another squalor camp in France, camp Calais; who are gambling with their lives as they take the risks to sneak into Britain (or Promised Land) as asylum seekers by hiding in lorries and cross-border trucks.
A few weeks ago one news television channel showed a news clip of African migrants camped at the Calais camp in France, and one of the migrants from Sudan, spoke of Britain as the Promised Land where he would get a job and money.
The migrants at Calais camp, which is located on a chemical site in France, live in a makeshift camp with no food and sanitation, all in the hope of getting to Britain. According to Nick Dorman of the UK's Mirror (August 2 2014), the migrants
"…spend nights under canvas with no drinking water or sanitary facilities.
"During the day they try to leap on UK-bound trucks as they slow down or stop at junctions leading to ferries. Many are injured and some have been killed as they fall off trailers and are run over by following lorries."
The migrants include women and children who are living in the jungle, according to a French charity, Calais Migrant Solidarity.
I agree with Dario Thurston Hreiðarsson; that it is about time that we return home. When we see opportunities in Europe, on the other hand most British people (professionals) I have spoken to say that given any opportunity to leave this country, they would do so.
A colleague who is looking after an elderly male British who once lived in Zambia, told me that the old man is regretting why he left Africa to come to the UK, his birth place.
"When I asked him how he would compare Zambia with Britain, the old man looked at me with disbelief before saying there was nothing to compare between Britain and Zambia. Zambia was much better!" my colleague said.
The new British Ambassador to Zimbabwe, Ms Catriona Laing was recently reported in Zimbabwean media as saying that they (the British) would be sending a trade delegation to look for areas of investment in Zimbabwe by the end of this month. The British are seeing an opportunity in Zimbabwe when we are seeing an illusion of a better life in Britain!
Despite the appeal made by the Rhodesians on their facebook page for their colleague, it looks as though none, or very few people, are prepared to take in a destitute or a fellow countryman.
Maybe it is also about time they (Rhodesians) stopped existing in a utopian Rhodesia; a country that now only exists on a facebook page and which was wiped out of history in 1980 through the barrel of a gun!