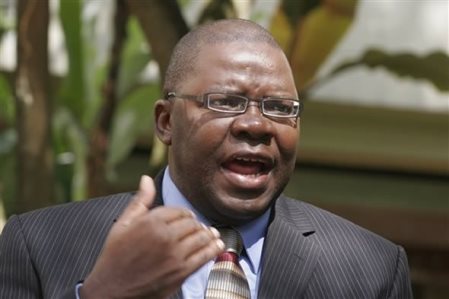 THE story of the MDC's grand coalition master-plan will certainly provide an important illustration of how tragedies occur in political parties.
So much hype was made as the parties hurried back and forth without any clue of how such grand schemes must be anchored, just about a few days ago, the news came. The mulled grand coalition has collapsed.
As Morgan Tsvangirai's star continues to fade, Tendai Biti has been hoping to capitalise on the misfortune of his former principal. But the learned lawyer forgot to read into political basics which need no reading how the politics of Zimbabwe makes its orbit.
He forgot to turn back and look at another fallen learned Professor Welshman Ncube. He even forgot to pause and think of the other fallen ZANU PF comrade Dumiso Dabengwa who is still caught up in trying to push politics through a tribal scheme.
As for when serious politicians will read into the fact that Zimbabwean politics is driven by the people remains an issue of concern. Maybe they will never learn that fact.
At the back of Tendai Biti's mind he should have known that his project was stillborn but it never rang a bell in his mind. His illusion revolving around a futile hope that the so-called coalition was going to make Matabeleland its hunting ground is the biggest folly of the day.
Take away the ZANU PF and PF ZAPU tags, somebody should now understand that the politics of Matabeleland is not just built around supporting ZANU PF.
That politics is much deeper than that because it is anchored upon a liberation connection. It is politics that has made people look beyond party names.
With its roots anchored in the liberation struggle, it is not an accident that no matter what ZANU PF might go through it remains the only party which the people want to identify and belong to.
As Dabengwa misread that interpretation hoping to bring on board Biti and company to create an illusory so-called grand coalition with a nationalistic outlook, Biti was also blinded in the process. It is not who one identifies with in terms of tribal identity that matters in this matrix.
Welshman Ncube fell where he thought was his natural political habitat. Dabengwa has made the same mistake. Now the cunning Tendai Biti who narrowly won a parliamentary seat in the last election was hoping to jump on to the bandwagon which still does not understand that the politics of the south of this country is anchored in the principles of the struggle and not mercenary tendencies.
That is why the Morgan Tsvangirai impact is disappearing as fast as it came about. Some have said, "From the people ZANU PF came and to the people shall it go."
For those with ears let them hear and decipher this basic lesson.
This so-called grand coalition was certainly built upon a number of lies. The biggest of those was the agreement which we will never know about but which one can almost read through careful consideration and thought.
That ridiculous agreement was certainly premised upon the lie that the so-called coalition will make significant inroads into Matabeleland which is a presumed powerbase of Ncube and Dabengwa powerbase. But far from it, the two non-schemers are colliding with reality every day.
They do not own the people of that region and neither can they poison them to turn against their struggle roots. That umbilical cord between the people and ZANU PF can only be severed by the gods of this land and not a few politicians who command no mandate from the people.
Biti now has to deal with a tragedy of expulsion from parliament which has not only left him wounded but also posed as an eye opener that he is not that great.
He could stand against Morgan Tsvangirai but he forgot that with the people the contest and territory is a different one altogether. Could the same people who saw him fail on promises to re-open their industries and revive their dying city of Bulawayo entrust him with their votes? Not in a thousand years as Ian Smith once proclaimed a doomed prophecy.
The way Biti dreamt and crafted his dreams into those of Ncube and Dabengwa is certainly now passing off as the staff of small men. Small men in thinking, small men in planning that's the whole summation of that poorly imagined grand coalition.
That dream is taking people slowly towards a destiny of complete political annihilation. But in that circus the people are watching and asking themselves how much such people want to take them for granted.
If ever there is introspection these coalition talkers must be dwelling on, it is that Matabeleland is not one hunting ground which can be bought for thirty pieces of silver manifesting through empty promises. It is a land of men and women of principle whose revolutionary stance will always take them back to ZANU PF. In ZANU PF they will stay and in that party their relationship will never be shaken. Packing the bags and bidding politics goodbye will serve that whole lot from further embarrassment.
The sooner they realise that they can only cross the width and breadth of that region with nothing other than a false hope of political victory, the better. That land is closed to any dreamers like Biti, Ncube and Dabengwa.
Their coalition is a dream of very small men.