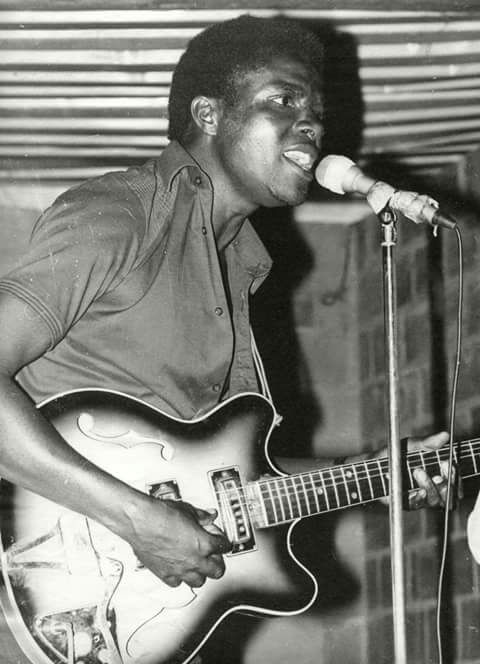 By Fidelis Manyange
THE legendary James Chimombe, born James Mbatete Mbasera Chimombe, is well known for his sing-along tunes which have defied time, 27 years after his death.
Chimombe died on October 23 1990 at Parirenyatwa Hospital in Harare.
In an interview with the Patriot Arts, Chimombe's daughter, Tendai, said she was inspired by her father to take up music as a profession.
"My father used to tell me that if I wanted to take music as a career, I was supposed to be strong and courageous because the arts and entertainment industry, at that time, was not conducive to women," said Tendai.
"My father loved music by Phil Collins and Michael Bolton and I would do some backing vocals, harmonising most of the songs when he played them."
At Rusvingo Primary School in Highfield, Harare, Tendai joined the school's percussion band. She also took part in the traditional band, which was a breakthrough in showcasing her talent.
She used to lip-sync prominent artists much to the delight of the Highfield community.
Some musicians persuaded her to join their bands.
It's important to note, most of James Chimombe's songs were recorded during the vinyl era.
James Chimombe, said Tendai, would always ensure that his children (Tendai and the late Freddy) were the first to listen to his music before it was played on air.
"We were his number one fans," said Tendai.
When Tendai was at high school, Professor Fred Zindi approached James Chimombe and asked Tendai to join the Frontline Kids. He had seen her doing a rendetion of Harare Mambos' 'Mbuya Nehanda Kufa Vachitaura'.
However, James Chimombe refused saying he wanted his daughter to pursue her studies.
After high school, Tendai enrolled at the Ethnomusicology, now Zimbabwe College of Music, where she obtained a National Certificate in Music.
Such was her love for music that she quit her job with the Ministry of Finance to pursue music full-time.
Tendai told Patriot Arts some interesting facts about her father.
Chimombe, who hailed from Chivhu, Njanja, in Mundende Village near Mupatsi Township, came to Harare and lived in a single-room in Highfield's Western Triangle, with his elder brother Allan Chimombe.
It was at that time that he met Synodia Govera, who later became his wife.
Govera is Tendai's mother.
After settling for a while, Chimombe and his wife went to Chivhu, after being summoned by Chimombe's mother.
While he was in Chivhu, Chimombe took part in local village concerts (makonzati) with his hand-made banjo.
On return to Harare, he joined Thomas Mapfumo's Acid Band, playing the rhythm guitar.
He also played with Pop Settlers and Ok Success Band, a Rhumba outfit from the then Zaire, now DRC.
However, it was with the Ocean City Band that he recorded most of his albums before he later parted ways with the group.
"He wanted all the songs done his way and that's when the other band members told him to leave," said Tendai.
"He formed Huchi Band, which is the name I have also adopted.
As Chimombe flourished on stage, things were quite different at home, he separated with Govera, his wife.
"After separating with my mother, my father married a white woman, Rhoda Smith. Together with my brother Freddy, we stayed as a family for four years."
According to Tendai, Chimombe loved his family so much that he used to take them to his family shows at Club Hide Out in Lochinvar and Mushandirapamwe in Highfield, where he was a resident artiste.
The other interesting aspect about Chimombe was the uniqueness of his music.
Other artistes, especially from South Africa, found it irresistible.
Brenda Fassie's song 'Vulindlela' has a beat taken from Chimombe's 'Zvaitika'.
Steve Kekana did a rendition of Chimombe's song 'Cecilia'.
In 2012 at the Harare International Festival of the Arts (HIFA), Kekana called Tendai on stage and performed the song with him.
But it is Chimombe's final day that still haunts Tendai.
She even recalls her last moment with her father.
"It was on October 23 1990 when I made one of my regular visits to Parirenyatwa Hospital where he was admitted," said Tendai.
"He was sitting on a chair, had a tissue in his hand, looking down and avoided looking directly in my eyes.
"The bell rang to signal the end of the visit, but I stayed put.
"I didn't want to leave, but my father forced me to leave.
"When I left the hospital, I cried all the way home and just when I got home, I got the shock of my life.
"Father had passed away as soon as I left the hospital.
"That was the worst day of my life."
To honour her father, Tendai decided to follow her father's footsteps.
She has recorded an album: Tribute to the legendary James Chimombe and she is currently working on an album yet to be named.
Tendai's favourite songs from her father are 'Siya Waoneka' which he wrote after separating with Tendai's mother, 'Masutu', 'Vazungu', 'Nherera' and 'Kuuya Kwawaita'.
Tendai is single and has two children Tafadzwa and Tanatswa Marowa.
Indeed, music runs in the family; Tafadzwa currently plays the bass guitar for dancehall great, Wallace Chirimuko, aka, Winky D.