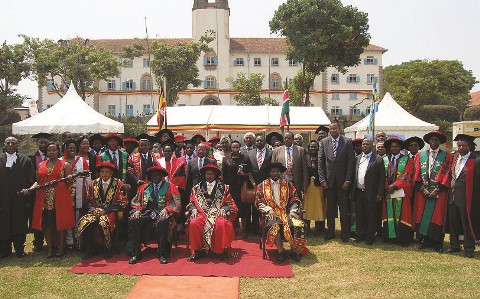 AFRICAN universities built during the colonial era became famous institutions of higher learning.
This was a good development that came out of the British Empire.
But how successful were such institutions and did the British foresee that the universities would bring awareness of power and resistance for the Africans?
This is the first part on a study of African universities built in the colonial era.
We track the development of education and how such institutions became centres of nationalist consciousness and resistance.
Among the universities to emerge during the dark days of the British Empire was the University of Ibadan in West Africa, the University of the West Indies in the Caribbean and Fort Hare University in South Africa.
In Uganda, Makerere University grew to become one of the oldest and most prestigious Universities in Africa.
Its historical milestones are as follows: In 1920 the British Secretary of State, Winston Churchill approved the establishment of a 'native technical school at Kampala'. 
1921, temporary classrooms and living quarters were constructed.
Then in 1922, a technical school emerged "on a hill amidst rolling lawns and groves of trees and bushes."
At its inception, the college was named Makerere Technical College with 14 boys learning carpentry, building and mechanics.
Then it expanded into the Higher College for East Africa, awarding diplomas and certificates.
Women began attending Makerere in 1945 and by 1949 Makerere Higher College became a University College of East Africa, awarding degrees of the University of London.
In 1963 Makerere joined universities in Kenya and Tanzania and the University of East Africa (UEA) was formed. 
According to the Ugandan writer, Yahya Ssremba, Makerere University, "was praised, glorified and exalted.
"From teaching carpentry, building and mechanics, Makerere gradually became an epitome of knowledge that attracted applicants from as far as Great Britain." 
Before the Second World War, Makerere College increasingly became an epicentre of knowledge, attracting more applicants from Europe as well as Africa.
As Carol Fisherman has written, the university was like a fabled Mecca for the African aspiring young generations eager to learn.
It educated and trained many of African's first generation of remarkable intellectual and political leaders.
Makerere was known as the 'Harvard of Africa'. 
As Nakanyike and Nansozi observed in Makerere University in Transition, "the rise of the university farm at Kabayoro, the Medical school research programme at Mulago hospital and the rampant research in botany, zoology, chemistry and physics demonstrated the extent to which the university was not just a university, but a world class." 
Many students came from Europe and America and everywhere to work on their doctorate thesis.
Seminars and conferences were continuously held at the campus, adding more to its vibrant and intellectual environment.
It was not an exaggeration to compare Makerere and Harvard University. According to the Carnegie Corporation International Development Programme, both universities were regarded as high profile institutions in Africa and in America.
Vali Jamal, a former Senior Economist at the UN who taught at Makerere University in the 1960s noted the following: "As an academic institution, Makerere boasted of high standards.
"The graduating students were awarded London University degrees, which also reviewed the course content and examination papers and student grades.
"Its medical and agricultural schools enjoyed international reputation while the East African Institute of Social Research was a leader in Africa on anthropological and social research." 
Notable students to graduate from Makerere University include Tanzanian president Julius Nyerere, Benjamin Mukapa, former president of the DRC Joseph Kabila, Kenyan President Mwai Kibaki.
After Uganda's independence Makerere also became a centre for literary activity. It provided an environment that inspired the development of African nationalist consciousness and resistance against colonial rule.
Many prominent writers like Nuruddin Farah, Ali Mazrui, David Rubadiri, and Okello Oculi. V.S Naipaul, Ngugi Wa Thiongo, John Ruganda, Peter Nazareth and many others passed through Makerere.
On July 1 1970, Makerere became an independent national university of the Republic of Uganda, offering undergraduate and post graduate degrees.
However, during the civil wars of the 1970s and 1980's Makerere University declined in standards and struggled to survive.
The government reduced expenditure on higher education.
As government rule changed and there was political turmoil in Uganda, Makerere continued to suffer a downfall between 1971 to 1979.
In The First Downfall of Makerere, written by Nakanyike Musisi and Nansozi Muwanga, Makerere first collapsed under the leadership of former President Amin Dada and this was followed by further disturbance under President Amin.
Musisi and Muwanga wrote: "Makerere became a place with bare laboratories, empty library shelves, chronic shortages of scholastic materials and overcrowded halls of residence.
"Libraries and common rooms, toilets and washroom facilities were converted into additional student rooms, leaving students to make their own alternative toilet arrangements.
"The institution continues to suffer from the lack of resources as government changed hands."
Eckhard Breitinger, the German writer and academic also noted with regret that there was little improvement under Yoweri Kaguta Museveni.
When Breitinger first went to Makerere in 1986, he wrote that, "the Department of Music, Dance and Drama was in shambles.
"The grand piano rested on empty crates – the legs had been put to better use on wheelbarrows, the lamps, the sockets, the electric wig had completely disappeared, windows and doors were missing, the floor in the dance rehearsal rooms was gone." 
However, Breitinger later wrote an article titled, Being an African University, in which he saw the 'revival' of the university as the 'miraculous resurrection' of Makerere.
Steps to revive Makerere and improve education at this remarkable institution are currently underway.
While Makerere presents a legacy of success during colonial rule, it should be stated that Makerere was created to serve Britain and the empire and not necessarily to empower black people.
Karen Theroux wrote in The Carnegie Reporter, in an article titled, 'Makerere at the Crossroads' that the British government established Makerere University because there were too many local craftsmen and hardly any skilled workers to provide administration work for colonial establishment.
Despite the colonial motives to create Makerere Technical College, the institution grew into a most formidable regional university with an incredible heritage.