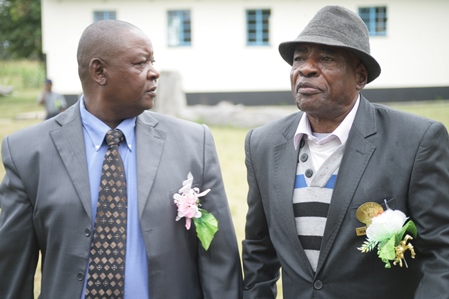 By Munhamu Pekeshe
THE Nhohwe people are my maternal uncles.
Visits to them in the Mukarakate ward in the 70s and 80s were highly treasured.
I admired the area's level of development in comparison to our own underdevelopment in Unyetu.
Paddocks, windmills, Community Hall, bumper harvests, mangoes, tea, bread, and cars were part and parcel of this community.
In adulthood, my visiting frequency has been linked to funerals of close relations. My recent visit was a rare social visit.
No one had died.
I took a kombi from Murehwa Centre to Dombwe via Mukarakate Road.
The road, a few kilometres from Murehwa Centre is well sign posted, Mukarakate Road.
That is perhaps the only positive aspect about this road which I had the misfortune to travel on recently.
To say the road is in a bad state is an understatement.
In many areas, the road has ceased to exist, washed away by years of neglect and the current incessant rains.
I have travelled on dirt roads before, but nothing could have prepared me for this road hell.
The stretch in Muchekayaora, Gutu district, is a carpet in comparison.
The rough patch around Ruvara, between Unyetu and Gokomere in Chikomba Central, would pass for wide tar in comparison.
Even the stretch I drove on in Sengwa, Gokwe North, crossing a dry rocky Sengwa riverbed pales in comparison.
Every couple of kilometres our kombi came across a group of young boys trying rudimentary road repairs and in the process demanding US$1 per motorist donations.
By the time I dropped off at Dombwe Business Centre, I had counted eight such road toll stations.
The kombi fare was US$3 for a distance of just over 20km.
But given the state of road disrepair I thought the fare was hugely discounted.
I had last been here several years back, but was amazed to see unfamiliar faces call me by name and demand a beer from me.
I played the 'January disease' card and diverted the conversation to the state of the road.
One sneered, "Do you want to be our MP?" while another politely advised that I should have used the Mutize Road which the funeral cortege for the late Chief Jonathan Mangwende had used.
This country of the Nhohwe people has deteriorated rapidly in the last three decades.
It used to be counted among the best in terms of literacy, material and social development.
Previously it was a bastion of cultural preservation and nationalism.
We grew up on a diet of stories from my mother on the heroics of the Mangwende people.
She spoke glowingly about the exploits of two of them; Muchemwa and Munhuwepayi, father and son.
The father was to later feature prominently in my university level history as, hero or dissident?
The later has been silenced from national chronicles and confined to Nhohwe history as a local nationalist hero.
Muchemwa was the eldest son of Mangwende Mungate II.
Muchemwa was born and raised before the arrival of the British imperial force. His father, Mungate II was Mangwende 1880-1924.
Muchemwa was physically imposing and extremely intelligent, qualities that made him a natural leader.
Between 1890 and 1896, Muchemwa watched with alarm as his father made concession after concession to agents of the British imperial force.
In October 1890 Mangwende signed the BSA Co. Treaty that had been brought by Fredrick Courtney.
Mangwende, unaware of the Berlin Conference, Rudd Concession and Royal Charter appended his signature thinking this was an opportunity to use a muzungu against his rivals as he had done previously with the Portuguese Gouveia.
Soon his country was flooded by European traders, hunters, farmers, missionaries and administrators.
He allowed Anglican Bishop Knight Bruce of Mashonaland to station missionary Bernard Mizeki in Nhohwe country.
BSA Co. agents James Bennett and Llewellyn Meredith were allowed to set up camp in Nhohwe country under the guise of traders, hunters and friends of Mangwende.
Mizeki married Mutwa, granddaughter of Mangwende.
Mangwende's senior wife and mother of Muchemwa, Zvandiparira, converted to Christianity.
Sunday became a chisi in Nhohwe country.
In 1895, William Edwards became Native Commissioner for Mangwende country. He 'married' Mangwende's sister.
In a space of five years, Christianity had started to rapidly crowd out Nhohwe traditions and culture.
Christian civilisation brought suffering and conflict among the Nhohwe people. Hut tax was introduced indiscriminately.
Natural disasters like small pox, drought, rinderpest and locusts broke out.
There was mass killing of cattle as a veterinary precautionary measure to contain cattle disease.
Mangwende authority was trashed and adults were openly flogged and mistreated by young European boys that Mangwende considered friends.
Muchemwa, his uncle, and other traditionalists, started a campaign of defiance against Christianity, BSA Co. rule and European culture, in order to save Nhowe life from annihilation.
Even the naïve old man, Mangwende, became disillusioned.
Muchemwa's stock rose while his father became extremely unpopular. Muchemwa became the de facto leader of the Mangwende people in their quest to preserve their independence and Nhohwe traditional way of life.
In June 1896 Muchemwa was in contact with emissaries of Mambo Mashayamombe, Sekuru Kaguvi and Mbuya Nehanda.
On June 18 he organised the killing of Bernard Mizeki, the symbol of Christianity in Nhohwe country.
Other notable accomplishments of the Muchemwa-led First Chimurenga in Nhohwe country include the killing of the Mutoko Native Commissioner and the defeat of Harding's force, that included 500 Budya mercenaries, in March 1897 near Nyadire.
Muchemwa and the Nhohwe people, including Mangwende, then moved from the Mahopo fortress to the Bokoto fortress in Mukarakate.
Here the Europeans, having failed to break the fortress, laid siege for months until Muchemwa, Mangwende and his people finally surrendered in September 1897.
Muchemwa refused to recognise the peace agreement and between 1898 and 1903 led a small guerilla army that caused havoc to BSA Co. administration.
He eventually ran out of fighting resources and was deserted by key lieutenants leading to his capture in 1903.
He was made to live the rest of his life under house arrest near the Native Commissioner's camp at Murehwa.
In 1909 he was allowed to visit a village in Murehwa.
Here he had an argument with Mutsvatiwa, his stepson, whose father Chiroodza, Muchemwa had been killed many years back.
Muchemwa's father remained a compliant Mangwende until his death in 1924.
Travelling from Murehwa Centre along the dirt track called Mukarakate Road there is nothing to show for Muchemwa's heroics.
Even in our national memory the name has been deleted.
Muchemwa left behind a son, Munhuwepayi, who became Mangwende in 1937.
Next week we shall look at Munhuwepayi's heroics.