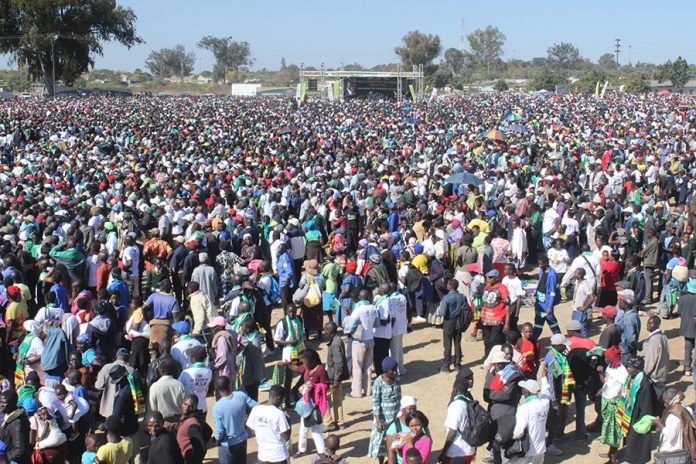 'PRESIDENTIAL race breaks record,' screamed the headline of one of the country's daily newspapers.
The previous day, thousands of hopefuls had thronged various centres across the country to submit their names for Presidential, House of Assembly, Upper House and Local Government elections.
Many Zimbabweans went to bed oblivious of the fact that 23 people had submitted their names for the presidential bid.
I say many Zimbabweans because there is a misconception on the actual number of people who use social media.
This is the misconception that has been shamelessly spread by the MDC-Alliance.
They have tried to sell the world the ruse that many Zimbabweans use the social media as a way to sell their 'popularity'.
But back to serious business.
On Friday June 15 2018, Zimbabweans woke up to the reality, which again the opposition has tried to rubbish, that democracy is firmly and truly at play in Zimbabwe.
There are traditionally two kinds of presidential candidates in the country.
The others are mere pretenders to the throne.
One side has an ideology rooted in what it means to be Zimbabwean, it has a clear vision of where the country should be and how they intend to take it there.
It has history on its side and a clear vision for the future.
It has a solid connection with the masses who form the larger part of the registered voters.
This connection is founded on a firm foundation.
This is the side which ZANU PF Presidential candidate President Emmerson Dambudzo Mnangagwa belongs to.
On the other side is a grouping that says it is pursuing what it calls 'generational consensus'.
They have migrated from the narrative that 'Mugabe must go,' to a change of guard on the basis of age.
Yet a perusal of the people who have successfully submitted their papers at the Nomination Court shows little or no evidence of the so-called generational consensus.
This group belongs to the MDC-Alliance and is led by one Nelson Chamisa who, besides boasting about his youthful age and getting entangled in many embarrassing gaffes, has yet to come up with a solid message in his campaign.
The coming into the fold of a reinvigorated ZANU PF has also sternly upended the generational consensus paradigm.
There is yet another group whose rise we have witnessed in recent times.
These are beneficiaries of the democracy that President Mnangagwa has brought to the country since assuming office on November 24 2017.
It is not clear what exactly they are hoping to achieve on July 30 2018.
The voter has already passed a verdict with some of them, despite impressive academic qualifications, are viewed as offering comic relief.
No one is taking them seriously.
Below we give an overview of some of these characters.
Nkosana Moyo
Nkosana Moyo boasts of an impressive CV.
He holds a PhD in Physics from the Imperial College, University of London and MBA from Cranfield School of Management, in the UK.
Nkosana Moyo describes himself as a politician, an economist and is former Minister of Industry and International Trade.
He rose to prominence in May 2001 when he suddenly resigned from his ministerial post after disagreeing with former president Robert Mugabe's policies.
The former President Mugabe described him as a 'coward'.
On June 29 2017 Moyo announced that he would be running for President of Zimbabwe in the forthcoming elections.
He formed an outfit called Alliance for People's Agenda (APA).
Since then, he has huffed and puffed with his unorthodox campaign methods which have seen him not addressing rallies but literary invading people's privacy.
He has failed to convince the electorate which hardly recognises him as he embarks on his rather bizarre 'campaign'.
In one instance, he posted pictures of himself boarding a commuter omnibus.
But these stunts have done little to convince voters.
Last week he launched his manifesto in an event that largely went unnoticed.
Thokozani Khupe
It is difficult to find where to begin when writing about Dr Khupe.
Hers has been a difficult political path in which she became a victim of the MDC-Alliance's violence after she was brutally attacked by marauding MDC-T youths for opposing the late party leader Morgan Tsvangirai last year and in February this year in Buhera.
It was in Buhera during the burial of Tsvangirai that she almost lost her life after angry youths who supported new MDC leader Chamisa almost burnt her alive in a hut in Buhera.
She would be using the name MDC-T in the election after being elected unopposed as the leader of her splinter group.
On May 12 2018 she launched her party's manifesto.
The manifesto titled, 'Building an Economy to Support Economic Transformation (BEST)' was launched at the Amphitheatre in Bulawayo at an event attended by a handful of the party's supporters.
It talks about devolution of power and a serious campaign against corruption among other issues.
But like Nkosana Moyo, she faltered and her pedigree will be severely tested in the forthcoming polls.
Meanwhile, reports say some MDC Alliance officials are secretly backing her to instigate a Chamisa loss in the elections.
We will be looking at what other presidential candidates are offering in the next coming few weeks.
Let those with ears listen.