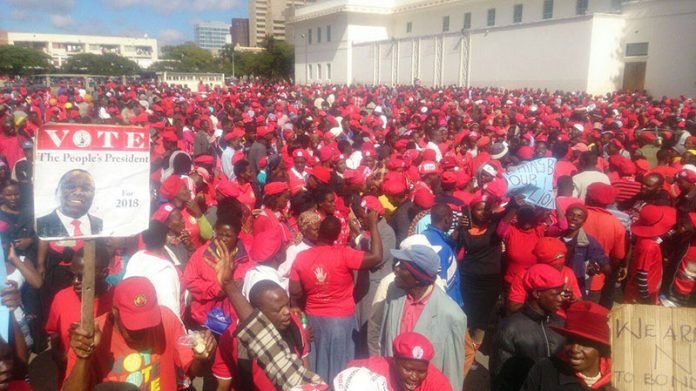 ON June 26 2017 when Evan Mawarire was arrested over what his handlers claimed was a 'prayer meeting' with University of Zimbabwe medical students, memories of the March 11 2007 Highfield 'prayer meeting' were immediately evoked.
This year, MDC-T thugs attacked and killed a police officer at Harvest House, the beleaguered opposition party's headquarters, during an illegal and violent demonstration.
The MDC-T must be answerable to these and many other incidences.
They have been allowed to literally 'get away with murder'.
The spectre of violence needs to be exorcised by the likes of Mawarire, if the self-proclaimed 'pastor' is indeed 'a man of God'.
Such is the political schematics of the opposition in the country that God's name is invoked when they want to embark on violence!
The West have tried to impose on us the propaganda that 'democracy', as allegedly presented by the MDC-T, is 'good' while empowerment, which ZANU PF is vigorously pursuing, is 'repressive'.
This narrative, which has for years been the West's and the MDC-T's trump card in their vicious but doomed pursuit for regime change, has been shifted from one context to the other — but every time is bereft of solid moral ground.
Even when Tsvangirai provoked the police in the aftermath of the March 11 2007 'convention', there was silence on the burnt police stations, commuter omnibuses and ZUPCO bus.
The only image was that of a heavily bandaged Tsvangirai with his partners-in-crime in tow.
An article titled The Battle Over Zimbabwe's Future, authored by Gregory Elich and published by Global Research on April 13 2007, gives a compelling insight into the MDC-T's previously hidden track record.
Elich says:
"The 'prayer meeting' was in fact a demonstration that was part of the MDC-led Save Zimbabwe Campaign's month-long 'defiance' campaign.
By calling the demonstration a 'prayer meeting', organisers hoped to get around the Government's four-month ban on demonstrations that had been instituted after a rally the month before resulted in running battles between the police and crowds of MDC supporters.
The 'prayer meeting' tag was also useful for managing Western perception.
Troubles began on the morning of March 11 when a handful of demonstrators were arrested as they headed to the rally site.
At around noon, a group of MDC supporters attacked three unarmed police officers.
One officer managed to escape, but the other two were beaten and suffered serious head injuries.
'As they ran, some of them dropped their batons so we picked up their discarded sticks and used them to beat them.
'The police were badly beaten, after which the crowd left the police on the side of the road and ran away'.
Meanwhile, MDC supporters elsewhere in Harare overturned a commuter omnibus and later stopped a kombi (commuter van).
After looting the luggage, they doused the vehicle with gasoline and set it afire.
A number of cars were stoned and one was overturned."
From Elich's article, parallels can be drawn from a report by a local online publication on June 27 2017.
Below is what the report says in part:
"Police declined to comment on Mawarire's arrest but protesting students said he was live streaming on facebook at the time they were staging the protest.
He is said to have prayed while the students were protesting and in his prayer he appealed for divine intervention to save Zimbabwe."
But the prayer we need as a country is that of the consolidation of the visible progress that we have been making as a country over the past few months.
We need prayers that bind us as one people, prayers that fill our hearts with love and unity.
We need prayers that give us more development through hard work.
When prayers result in violence, it is the instigators of that violence who need prayers and we will duly pray for them so that they can see the light.
The notice by UZ published on June 26 2017 all but exposes Mawarire for the fraud that he is.
"The UZ security department has reported this morning that a gathering of medical students at the Students Union building had started throwing stones, a behaviour that the UZ does not tolerate," reads the notice in part.
"The University has now made a decision that all medical students should move out of halls of residence on campus and off campus with immediate effect.
All medical students are therefore directed to vacate halls of residence with immediate effect and by no later than 1:15pm, June 27 2017."
As we march towards the 2018 harmonised elections, we should be wary of unruly elements like Mawarire who have demonstrated time and again that violence is the hallmark of their politics.
Let those with ears listen.