By Farayi Mungoshi
CREED 1 is a 2015 film in which we discover that Apollo Creed (the fictional character inspired by Muhammed Ali) had an extramarital affair and fathered a child named Adonis Johnson (Donnie), starring Michael B. Jordan as Adonis.
The film begins with Donnie fighting and overpowering a much bigger boy in a youth detention centre. We soon learn that he is actually Apollo Creed's son (thereby revealing how he is such a good fighter, and we are set in the driving seat of where the story is actually going).
He is a good child who just fights a lot.
At this stage, we are introduced to Apollo's widow, Mary Anne, who comes in and takes Donnie to her home. She gives him a chance at a normal life instead of being moved from one foster home to another.
Years later, we catch up to an older Donnie as he quits his job at Smith Boardley Financial Group, opting to follow his passion for boxing.
Realising that he needs to up his game after receiving a thumping from a light heavyweight championship belt contender, Donnie asks Rocky Balboa, his father's old friend and heavyweight champion of the world to train him, and Rocky agrees.
When Adonis defeats a local boxer, word gets out that he is actually Apollo Creed's son and this soon comes to the attention of the current heavyweight champion of the world, Conlan, who immediately offers him a title shot.
Conlan had never, in his entire career, been knocked down by an opponent in the ring and surely it was not going to start with little known Donnie, even though he was the son of the great Apollo Creed.
In a style much like the first Rocky, Donnie is nowhere near ready to be the heavyweight champion of the world but it's a once in a lifetime opportunity, a chance to step out of his father's shadow.
Together with Rocky, they take the chance to go for the title.
And again, like Rocky's storyline in Rocky 1, Donnie goes all the way to the final round, knocking down Conlan for the first time in his career in the ring, but eventually losing.
The commentator, at the end of the fight, says Conlan won the fight but Creed won the night. Conlan tells Adonis that he will be a champion one day.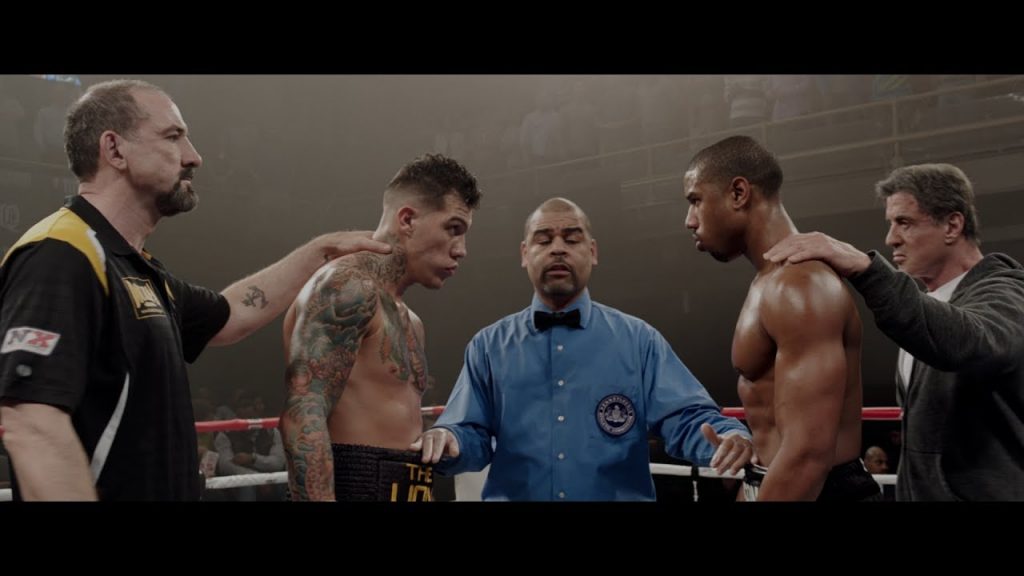 Creed 2, released at the end of 2018 and still doing its runs around the world, sees Donnie winning the heavyweight title at the beginning of the film and establishing himself as champion.
It is at that moment that ghosts from the past resurface.
Dolph Lundgren, starring as Ivan Drago, returns to the scene, only this time it's not him fighting, but his son Viktor.
For those who still remember Lundgren in the 1980s you would agree he was one huge, scary fellow who fought and killed Apollo Creed in the ring.
And now he returns with his son, who is just as big, and dwarfs Donnie in the ring much like Ivan Drago dwarfed Rocky.
The storyline could have easily been one about revenge, as Creed seeks to avenge his father's death at the hands Drago by defeating his son, but the writers were cleverer, preferring to offer a much deeper, more sensible storyline harbouring on Creed building his own legacy, and stepping out of his father's shadow to be his own man.
For the Dragos, it is revenge they want. After Ivan Drago lost the fight to Rocky in his own backyard in Russia, he became the subject of ridicule. Ivan has raised Viktor as a fighter and that is all he knows.
When Donnie becomes champion, the Dragos step out of the shadows to challenge for the heavyweight. Donnie quickly accepts but Rocky refuses and, as is typical of young people, pride gets in the way and he goes to fight Viktor without Rocky in his corner.
Donnie is mercilessly beaten up by Viktor. He is clearly outclassed. However, Viktor is disqualified for punching Donnie while he was down on one knee. Donnie is hospitalised,
Donnie's defeat brings back the family together as they stand by him in hospital.
Donnie takes his time to get back in the ring. As champion, he has to fight or lose his title. He is adamant. He knows that nobody will see him as the true champion since he got that walloping from Viktor and for the world to accept him as the real champion, he must defeat Viktor and there is no way he is going to do it without Rocky's help.
Donnie's training with Rocky is so intense that by the time Donnie steps in the ring, he is ready for the hard punches.
The fight does not go well for the Dragos, but love conquers all as Ivan throws in the towel to halt the match as Viktor is outclassed by Donnie.
After watching Rocky 2 with Roger Ebert all those years ago, I wonder if Muhammed Ali knew that one day the Rocky story would cross the racial lines from white back to black.
"America has to have its images," he said after watching Rocky 2, except that now, instead of a white image in the ring, there's a black one.
After Creed wins against Viktor, Rocky says: "It's your time now."
This can be interpreted to mean many things, but one thing for sure, the button stick has been passed down and it is this young crop of African-Americans who are taking it up.
Creed 1 and 2 have grossed almost US$400 million and, once again, Sylvester Stallone is making a killing as Creed is part of the Rocky Franchise.
Stallone has managed to make over a billion dollars with the Rocky movies and that's made him the star he is today.