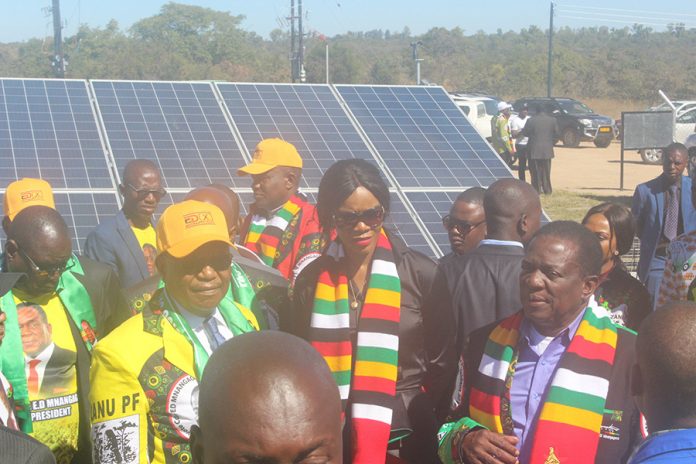 IN 2012, this column pointed out that a toxic trend of demonising the country had become big business.
These activities were part of the regime change agenda.
And this agenda was supposed to have breathed its last in November 2017 — so we thought!
But back then, we highlighted a fundamental point that seemed to have been lost on individuals who were pursuing the regime change agenda.
Zimbabwe, we argued, has always been about the people and unity before the individual.
We emphasised that we were, and still are, a nation that has a phenomenal collective spirit woven around the liberation struggle ethos.
This is the spirit that has guided us as a nation through the tribulations that we have encountered since April 18 1980.
We still stand by that position.
And it should be borne in mind that during the above mentioned period, Zimbabwe was enmeshed in a serious war of attrition with the outside world because of the land issue.
The war is still very much alive.
And in that vein, there are many questions that we should ask ourselves as a nation.
Has the West, in particular the US, been sincere about re-engagement?
Do we have an opposition that has the interests of the nation at heart?
What did MDC Alliance leader Nelson Chamisa intend to do if he won the elections?
What did he mean when he said this country would be made ungovernable if he lost the elections?
Can we really enjoy peaceful sleep knowing fully well that we have an opposition that is retracing its footsteps back to its founders?
Something is not sounding right, especially when considering the swiftness of the US to increase sanctions and when one scrutinises reports that Chamisa's lawyers are being funded from a certain source.
What is in it for that funder?
Something is brewing behind the scenes.
It seeks to negate the goodwill that the country has generated over the past few months.
We have to be on the lookout as a nation.
Let us look at the following:
Those who fail to see that Western 'grievances' about the country's Land Reform and Resettlement Programme are not about to dissipate might as well buy new political lenses so that they can have a clear view of what is happening and what will happen in future.
Zimbabwe is about to be entangled in another bruising battle with some Western nations, not so much because of the recently held elections but principally because of what is now becoming an age-old bitterness over ownership and control of the means of production.
Be that as it may, the nation moves forward.
It finds solace in the unity of Zimbabweans in order for it to develop.
We find comfort in the many successes that are in the offing for our country.
First, we have to maintain and consolidate what we already have with our all-weather friends.
Let us forge ahead with our relations and give them first priority when it comes to investments.
But we do not forget the past.
The battles we waged post-independence must galvanise us.
Our evolution as a nation has left some in a state of confusion.
They have failed to move with the times.
They are still spoiling for a fight, still trapped in a time warp and bluntly refusing to embrace the new trajectory the country has taken.
How can one claim to love the country but in the same vein threaten to destabilise it?
We have already witnessed rank madness manifesting in clear acts of spite.
The MDC Alliance stands warned that its actions will, in the near future, return to haunt them.
They cannot hold the nation to ransom in order for them to perpetuate a lie they have been feeding their naïve supporters and expect to be treated like kings in a castle.
The time for their moment in the court of public opinion is surely coming.
We have lost a great deal because of their intransigence.
August 2018 will go down as the month of lost opportunities for Zimbabwe.
All because we have people who believe they hold the keys to the country's salvation.
A friend of mine and a senior lecturer at a local university asked me about my thoughts on MDC Alliance's electoral petition.
I found that question rather peculiar as I had given little thought to that issue.
My interactions these days are focused mainly on the country's future, with particular emphasis on the economy.
Surely we cannot be in election mode forever; an election in which all contesting parties took part as equal partners.
An election in which people like Chamisa and others in the opposition finally got the freedom to campaign freely without hindrances but one which they now disown, all to satisfy their nefarious agendas.
ED and his administration have a job to do.
They cannot be held hostage by a coterie of perennial losers.
There should be no Government of National Unity with these characters.
ZANU PF cannot give political life to those who lost elections.
If they want a political life, they should get it from their handlers in the West.
ZANU PF has a duty to deliver economic prosperity to the country.
Let those with ears listen.