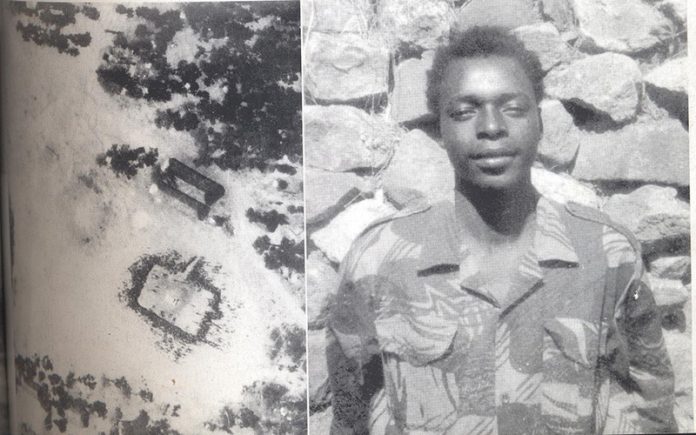 The story of Alex-Bruce Makotore aka Cde Bruce Lee Taparara
THE feeling on the way to Vumba Road, the road leading to Machipanda Border Post (Forbes) was electric.
As per instruction, we were supposed to follow Vumba Road for about 10 kilometres then we would be in Mosken (Mozambique).
The person supposed to guide us, one Beidha — brother to Bla Standa — had taken another group, so we had to navigate the way ourselves.
No one in my group, which also included a girl and the young Chihama knew their way around the then Umtali (now Mutare).
So we proceeded due east when, after only two kilometres, we got to the CMED depot which was guarded by a soldier with a dog.
The dog barked once and we all panicked and ran into the nearby bush towards the southerly direction and lost our bearings.
For the whole night we walked southwards losing our bearings completely.
The following morning, we were surprised to learn that we were still very far from a place the locals referred to as Portuguese East Africa.
We were told the border was about 30km away and some contemplated going back to Salisbury; but I vowed never to return home, especially considering one could be imprisoned for up to 20 years under the notorious Anti-Terrorism Act.
We were soon back on track and for a day we walked towards the border and when night came, we were just a stone's throw away from Mozambique.
'Hurray!' we celebrated.
Getting to the border was a major achievement.
Much to our surprise, most Mozambicans spoke Shona and they also had rural set-ups similar to ours where we have sabhukus (village heads).
We were taken to the town centre, Manica, to meet with hundreds of other recruits from other parts of Zimbabwe.
This time I was worn out and barefooted since the shoes I had stolen from Pindai Chakarisa had been shredded by the rugged terrain we had travelled.
From Manica, we were ferried to Villa Perry (now Chimoio).
There, we were made to sleep in an industrial shell house for a good two weeks.
The conditions were filthy.
The place was an old DAF trucks workshop shed without walls.
One morning, a small truck drove into the base and we rushed to it in anticipation of being picked to go for training.
I was picked with 10 others and we got into the truck.
We headed for Pungwe River only to find the bridge collapsed.
I think it had been bombed.
We wondered why.
We later arrived at a base which was abandoned.
There were bullet shells strewn all over the place.
When we picked the shells trying to make necklaces, one of the seniors discouraged us saying the bullet 'could have killed your relative'.
We wondered what had happened at that place.
We had just walked into the scene of the Nyadzonia Massacre.
Nearly a thousand comrades had been killed when one of ZANLA's senior commanders turned rebel and sold his comrades to the enemy.
Morrison Nyathi had escorted Rhodesian Selous Scouts into Nyadzonia disguised as FRELIMO soldiers.
We then understood how the inmates at Chimoio (DAF) had been injured.
There were several injured receiving treatment at Chimoio Hospital and staying at DAF.
Some of my schoolmates who had arrived earlier had not been lucky. The likes of Richard, a Form Three chap at Highfield Community School, was shot all over the body and could hardly walk.
We later moved to Doiroi Refugee Camp which was a replacement for Nyadzonia.
Here, things turned worse because of hunger.
Food was so scarce that one meal a day was hard to come by.
Life was just impossible at Doiroi.
Besides the hunger, there were also diseases.
Malaria, for instance, killed tens a day.
Joseph Chagadama, whose Chimurenga name was ZED Hondo, had been promoted into the security department.
He also recruited me and I was given the name Bruce Lee.
I was part of the team responsible for camp security.
We stayed at Doiroi for close to 11 months before moving to Chimoio, Takawira Base II, where I began my training early 1977.
In early 1978 I was selected for further training in Tanzania for six months before my deployment on the war front in June that same year.
I operated in Wedza (Hwedza) right up to independence in 1980.
After settling down a bit, I thought of Bla Standa.
I thought I owed him at least a visit to hear how he had survived the brutality of the notorious Rhodesian security forces.
I went to Bla Standa's house only to be greeted by the sad news that his brother, Beidha, never returned from the war.
I told him Beidha and I had last seen each other at Doiroi in 1976.
This is kuno-crossa, an intriguing story of my life.
So long Bla Standa!