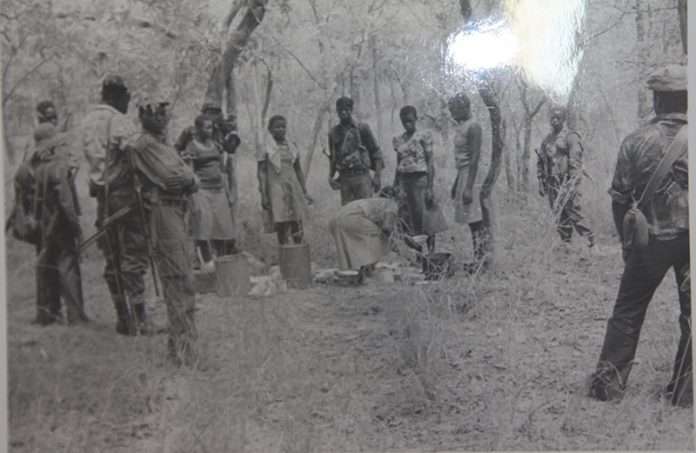 The Mavonde ZANLA HQ Base was commanded by Cde Rex Nhongo (the late Solomon Mujuru), deputised by Cde Sheba Gava (the late Vitalis Zvinavashe), writes Dr Felix Muchemwa in his book The Struggle for Land in Zimbabwe (1890-2010) that The Patriot is serialising.
THE biggest of the mountains nick-named 'Monte Casino' by the Rhodesian Security forces, stood prominently in the middle of the Mavonde ZANLA HQ Base. (Moorcraft and McLaughlin, 1982: p.115)
Huge tropical musasa trees gave a massive canopy to the mountains and hills as well as the surrounding flat terrain.
Under the canopy of musasa trees, visibility was limited to not more than 50 metres.
A concentric zig-zag system of inter-connecting trenches (as at Mapai) interspersed with 12,7mm anti-aircraft positions which progressively increased towards the top of the mountain had been established.
At the top of the Monte Casino, the anti-aircraft positions and bunkers dug into the rocky ground were well-camouflaged with aloes. (Cole, 1984: p.357)
It was an all round anti-air defence system with more than 20 anti-air positions co-ordinated by radio communication. (Nhongo)
Dotted among the zig-zag trenches were the 'handaki' or bunkers which were dug under tall musasa trees and roofed by huge logs of wood covered by massive mounds of earth.
The 6 000 strong ZANLA force at Mavonde ZANLA HQ Base was heavily armed with brand new AK-rifles, RPD light machine guns and an array of rocket launchers, including RPG-7s. Permanently deployed along the zig-zag trenches were heavy machine guns (HMGs).
The mortar 82mm base plate was sited at the top of Monte Casino Mountain, under the command of Comrade Belingwe, the most precise mortar 82mm gunner in the whole of ZANLA forces.
Also deployed at the top of Monte Casino Mountain were the recoilless guns directed towards the south, east and west.
The Mavonde ZANLA HQ Base was commanded by Cde Rex Nhongo (Solomon Mujuru), deputised by Cde Sheba Gava (Vitalis Zvinavashe).
Also based at the ZANLA HQ Base was the Chief of Training for ZANLA, Cde Joshua Misihairambwi (the late Mark Dube).
The tactical commander was Cde Ndoda, a tough, no-nonsense, thick-bearded member of the General Staff.
Provincial commanders also visited Mavonde ZANLA HQ Base for various reasons, among them, to source arms and ammunition, manpower and medical supplies.
By October 1979, the Rhodesians knew they had made great mistakes at Mapai by trying to assault heavily defended FRELIMO and ZANLA positions using light infantry weaponry backed only by 60mm mortar support weapons. (Cole, 1984: p.337)
The raid on Mavonde ZANLA HQ Base was, therefore, planned differently.
The aerial bombardment would remain the same as at Mapai, but the ground force would be supported by an artillery battery of 25-pounder guns as well as Eland Armoured cars mounted with 90mm guns. (Moorcraft and McLaughlin, 1982: p.94)
A 100-man shock assault force was to advance into the Mavonde ZANLA HQ Base in two columns of 10 UNIMOG armoured cars (Pigs) each.
The UNIMOG, mounted with 14,5mm and 12,7mm HMGs and each with a capacity of carrying a stick of four to five men, were to go for a frontal assault on the Mavonde ZANLA HQ in a-column-at-a-time sequence. (Moorcraft and McLaughlin, 1982: pp.114-116)
Simultaneously, Canberras armed with alpha bombs would target the Monte Casino Mountain, followed by Hunters armed with golf bombs and 68mm rockets and 30mm cannons targeting anti-air positions.
A company of the Rhodesian Light Infantry (RLI) men, fewer than 100 troops, were to parachute onto designated landing zones, 10km from the target and infiltrate into ambush positions during the whole period of the operation. (Moorcraft and McLaughlin, 1982: p.116)
Day One
Cde Nhongo had been less than two minutes out on his way to Chimoio to collect extra ammunition when the trees started falling in front of his land-cruiser and in trying to make a quick u-turn, his driver ended up crashing into the trees.
It was exactly 8am and Rhodesian Canberras had just begun bombing Mavonde and drawn a heavy barrage of anti-aircraft fire from the base.
They were closely followed by Hunters, targeting anti-aircraft positions.
Almost simultaneously, ZANLA deployed a barrage of mortar 82mm fire, heavy machine gun and RPG-7 fire onto the invading UNIMOG column, raising huge columns of dust and felling trees in the process.
The UNIMOGS scrambled into reverse and through a maze of zig-zag trenches, were forced back five-to-eight km east of Monte Casino Mountain, outside ZANLA HQ Base.
In the process, some Selous Scouts were captured and quickly subjected to frenzied interrogation.
Rhodesian plans to capture the Mavonde ZANLA HQ Base by an armoured car frontal assault were thus revealed.
One day had been allocated for the capture of Mavonde ZANLA HQ Base, in particular the dominating Monte Casino Mountain, but the plan had already been thrown out of gear in the very first attempt and would soon be abandoned. (Moorcraft and McLaughlin, 1982: p.116)
A quick liaison with Cde Ndoda saw Cde Nhongo going up to the top of Monte Casino Mountain to direct the operation from there.
Late in the afternoon, the Selous Scouts regrouped east of Monte Casino, outside the ZANLA HQ Base, and mounted their 81mm mortar plate.
That position became the Selous Scouts HQ.
Throughout the rest of the day, their artillery pounded Mavonde.
However, by night, the situation was delicate.
The same artillery attracted fire from ZANLA's HMGs, recoilless guns and from Belingwe's 82mm Mortar Section whose shells landed accurately and with devastating effect.
In the end, it meant Captain Pomford's 81mm mortar base plate could not be used for rapid fire which could be spotted by the ZANLA heavy machine gunners for neutralisation by Belingwe's Mortar 82mm.
Selous Scouts also found themselves restrained from utilising their artillery batteries of 25 pounder guns and the Eland armoured car 90mm guns.