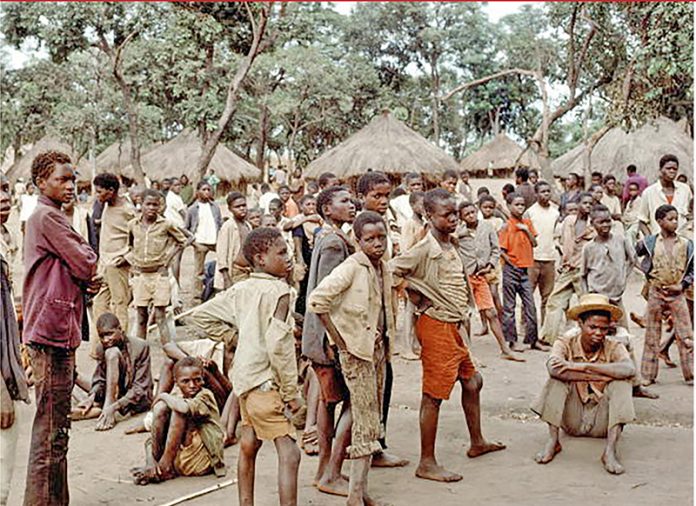 "Amai nababa musandicheme,
Kana ndafa nehondo
Ndini ndakazvida, kufira Zimbabwe
Pamwe chete nehondo…"
THEY sang as they gathered firewood, built their barracks, at dawn as they went to the river for their first bath of the day in the freezing mornings of May, June, July and August.
They sang as they cooked their food kuguzunya (the kitchen), as they worked in the garden, as they walked to their classes two kilometres out of the camp (kundodzidzira kucover), they sang at parade, strengthening each other, in all their life in the camps, in the struggle, they sang, the children of Zimbabwe.
They sang of their total commitment to Zimbabwe, to die for it.
Young as they were, they knew deep in their hearts they had a grave responsibility for their land Zimbabwe, for their people when they left home and all its comforts and consolations for the struggle.
Though so many of them were too young to be trained militarily and had to be put in schools until they were old enough to be trained as freedom fighters, they never relinquished their commitment to Zimbabwe, their preparedness to die for it, to fight for its liberation.
They waited anxiously for the day they would be old enough to be trained as freedom fighters, their hearts' desire, hence they were Chindunduma, mavambo ehondo yedu yerusunguko, vadoko ivava.
Zvakava neushingisi hukuru kwatiri tose vakuru, kuti kana vadoko ivava vakava noushingi hwakadai, ko inivo mukuru ndingadini.
Ndingagumira pazhira here?
Kwete!
Takati kwete, aiwa, nzou hairemerwi nenyanga dzayo, tikarwavo tese tikaisunungura.
Asi zvisakanganikwa muruzhinji kupi nekupi, vanhu vazive kuti tine chikuru-kuru chakaitwa navana ava chokuzvipira kufira nyika yavo kuti vanhu vese vemunyika yavo vagare murugare, nanhasi tiri murugare irworwu.
And when they sang songs such as this one, they renewed their pledge to Zimbabwe, everyday, every moment.
Though hunger, disease, bullets and napalm plagued their young lives, their tender souls, they remained resolute.
They never took a single step backwards.
At Doiroi, Chibawawa, Nyadzonia, they died from hunger and disease, they died resolutely committed to Zimbabwe – they were never shaken.
Medicines were insufficient, food was scant, over-crowding encouraged diseases such as scabies, gastro-enteritis which were rife, matekenya (jigger fleas) ate the feet and the children still looked at their deformed toes and joked: 'Zvimwe zvigunwe zvinoti pamberi neZANU, zvimwe zvichitivo pasi naSmith'.
They still sang:
"No more crying, no crying
No more crying over me,
But before I'll be a slave
I'll be buried in my grave
And go home to my Lord and be free."
Death was not a possibility; it was the reality they witnessed everyday, all the time.
When I was at Matenje Camp in Mozambique, each time we buried a child who died from one illness or another, I always got deeply hurt; that this was one more mother who would be told her child did not make it home with the others.
The children too were hurt but they never looked back.
This was a common song among the youngsters in the struggle, they willingly entered the war arena knowing it would cost their lives; they accepted their sufferings as payment for Zimbabwe, what was needed to redeem it.
And they did pay and finally the great land of Zimbabwe was liberated by their suffering, by their blood.
Suffering did not make them renounce their allegiance to Zimbabwe, their commitment to it.
Ndihwo ugamba hwatinopemberera nhasi uno, mwedzi uno. Kwakava kurwadziwa kwakadzikisisa, kutambura kwakanyanyisisa pasina mai, pasina baba, vatete kana mainini, kana mbuya.
Asi ndizvo zvionoita magamba.
Haarwadziwi obva oti todzokera shure.
Haarwadziwi obva oramba zvaakapikira.
Oti ah! Zvarwadza! Aiwa kwete, anoramba aripo kudzamara simba rapera mukufa, kudzamara abudisa ndima yake.
Zvino muugamba uhwu mune zvinoshamisa, kana wazvipira ukatamburira chawakapikira kudzamara simba rapera mukufa, hapana unokwanisa kuchipokonyora muruoko rwako.
Tarisai henyu muone izvi hazvifi zvakaitika.
Mangwana history ichakutaridzai, ichakurondedzerai.
To struggle to the finish line is what makes one a true Zimbabwean, nothing less.
Ndihwo unonzi ugamba. Venyika ino hapana chavakaramba kuitira nyika yavo.
Vakazadzisa izvozvo, kudzamara zvose zvokutuka zvekuti hamuna ushingisi hwokuva nenyika yenyu moga, muchizadzisa zvamunoda munyika menyu zvapera kuti hwa-a.
Nhasi tigere murifa renyika ino.
Hapana anokwanisa kuzviputsa.
Vanozama chipi nechipi asi zvinoramba.
Zimbabwe yakavakwa nemabwe eushingisi hwakanyanyisa, ugamaba hwusina nechinongo.
Zimbabwe ndeye ropa rakateuka moyo wakachena kuti mbu-u rerudo rwenyika yahwo.
But still others wake up in the morning after sleepless nights of plotting against their kith and kin and shout: 'Burn Zimbabwe down, shut it down!'
They work day and night with evil forces, material and non-material, so they can hand over our Zimbabwe to the British, the Europeans and the Americans, the very enemies we defeated despite their Mirage jets and napalm bombs, all their war jets and their arsenal from NATO.
Zviroto izvozvo!
Our Zimbabwe is secure pamusana peugamba hwavana vayo vakazvipira kudzamara simba rapera mukufa.
It defies the imagination that children died for this country and never rescinded their decision to fight and free Zimbabwe despite untold suffering, despite burying so many of their comrades, despite seeing them die day-after-day, they soldiered on.
But today there are some who say: 'Ah it is too hard in Zimbabwe! Nothing is workable! Let us destroy it, destroy everything, tigoona. Let us sell this country and its people into captivity'.
Because of a dollar!
Zvinoshamisa!
Zimbabwe is not so cheap!
It was bought by the most precious blood, by the ultimate sacrifice of thousands, the self-sacrifice we celebrate this week, this month of August.
It took martyrs to bring this country back and among these martyrs, thousands were willing children.
Nothing can equal or surpass this martyrdom, it cannot be compared to dung, the cheap ones, the treacherous ones who think they can reverse this victory, this heroic history.
Chimoio, Chimoio, Chimoio, Chimoio
Nyadzonia, Nyadzonia, Nyadzonia, Nyadzonia
Mboroma, Mboroma, Mboroma, Mboroma
Abantwana beZimbabwe bafela ilizwe
Abantwana beZimbabwe bafela ilizwe
A song of lament we sang as we remembered our compatriots who had completed their part and left us to fight on.
It was not possible to dry the tears as we buried so many.
The children of Zimbabwe perished at Doiroi, Chibawawa, Chimoio, Nyadzonia, Pasichigare, Matenje, Mavhudzi and other places from physical and psycho-socal diseases, from hunger.
They faced the gun unflinchingly, they laid down their lives in their thousands.
They were maimed, they lost limbs, they inhaled and ingested toxins and poisons and from these they still suffer.
All for Zimbabwe!
Iyeyi nyika inotukwa navarungu ichinzi haina zvainoreva?
Saka tingati kudini?
Ruzha rwavapanduki rungatiputsa here?
Musikavanhu would not agree.
It is Heroes' Day, Heroes' Week, Heroes' Month, the month of martyrs, the time to reflect on the depth of sacrifice which bought and brought back Zimbabwe, tracing the footsteps of our heroes from the days of Nehanda Nyakasikana, (at last Comrade S.V. Muzenda is with Nehanda in the vista of Musikavanhu) to the last child who died for this country.
This is a time to renew our pledge to this great fearless land, to walk in the footsteps of these great sons and daughters of Zimbabwe, a time to be restored and reassured nokuti:
'Neropa zhinji ramagamba tinodzivirirwa kumhandu dzose!'
At Nyadzonia they paid the price for Zimbabwe.
Amandla Ngawethu!