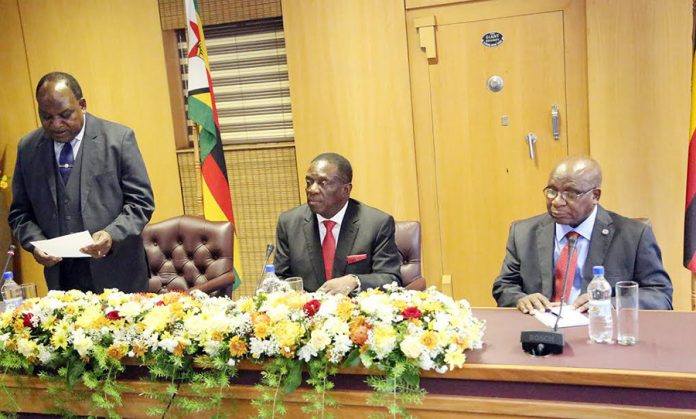 AS newly sworn in President Cde Emmerson Dambudzo Mnangagwa emerged from the dais, shortly after delivering his speech, which had struck the right chords, there was unanimous agreement, that it was no longer business as usual, especially for civil servants.
The speech was what the doctor ordered.
Promising sweeping reforms, to extract the country from the deep, dark hole of the economic malaise set the tone right.
It also ensured political stability, in the intervening period, going forward.
It spoke on the challenges facing the people.
A non-performing economy, a serious and now chronic cash shortage, ridiculously soaring price increases and unusually high unemployment rates in a small country like Zimbabwe, need to be tackled.
The nation expects these challenges to be overcome.
And now is no longer the time for hero worshiping and praise singing as had been the norm in the recent past.
This is now the time to come together and start work. Zimbabweans must avoid all the ills of the past, as they focus on the prospects for a bright future.
There had been, as pointed out in this column time and again, a nauseating tendency by some officials in Government to sleep on duty to the great detriment of the country's development.
We have highlighted on several occasions, that Government officials, including some Ministers, were stalling progress on critical developmental issues.
They literally sat on projects that had the potential to create employment and generate the much-needed revenue.
We are aware of some of these projects and some of the officials in question and will expose them.
For now, as President Mnangagwa said, focus should be on our collective effort to rebuild the country through hard work, dedication and commitment.
The time to spend hours on useless workshops, meetings and foreign jaunts that have no results must be culled.
If those workshops, meetings and foreign trips are of significance as the officials claimed, then the results should be visible.
It is telling that despite spending thousands of dollars on the above mentioned, there is nothing to show for it.
Government officials must now spend their time attending to people's concerns, ideas and finding solutions to the problems bedeviling the economy.
We should not have in our midst officials who cannot attend to enquiries or phone calls.
President Mnangagwa has pledged servant leadership to the people and we expect the same from Government officials.
Said President Mnangagwa: "For close to two decades now, this country went through many developments.
While we cannot change the past, there is a lot we can do in the present and future to give our nation a different, positive direction.
As we do so, we should never remain hostages of our past.
I thus appeal to all of us that we let bygones be bygones.
– recognise that the urgent tasks that beckon will not be accomplished through speeches, necessary as they may be.
– have to hit the ground running to make sure that I lead in stupendous efforts we all need to summon and unleash in concert, towards taking this great nation beyond where our immediate past President left it.
As we focus on recovering our economy, we must shed misbehaviours and acts of indiscipline which have characterised the past.
Acts of corruption must stop forthwith, where these occur, swift justice must be served to show each and all that crime and other acts of economic sabotage can only guarantee ruin to perpetrators."
Those who have ears ought to have taken these words to heart.
Those who do not listen, those who choose to steer clear from the people's project will have the exit door wide open.
We cannot afford to have those who are bent on derailing the people's project in our midst and manning our offices at a huge cost to the country.
Below are some suggestions that this writer will help the country take the much-needed giant leap forward.
– A committee to monitor operations of Government officials must be put in place as a matter of urgency.
This committee will be responsible for ensuring that the people are attended to at, at the shortest possible time.
– Second, a hotline must be opened for the public to raise their concerns against incompetent and lethargic officials.
– Constant and unannounced visits by the country's leadership must also be the norm.
This will ensure that the officials are kept on their toes.
– A formidable relationship with the media must be established.
Government must also establish a performance appraisal sheet for each and every official.
We simply need competent people in our offices.
– In the same vein, officials must produce regular updates on their work in order for the public to be abreast with developments taking place in the country.
Such methods worked to maximum effect during the implementation of the highly successful Command Agriculture Programme where the nation was given regular updates on progress.
As we move forward in this new era, there is no doubt, all eyes will be on civil servants as they execute their mandate with the diligence they have demonstrated in the past.
This column will be keeping a close eye on developments as they unravel.
Let those with ears listen.