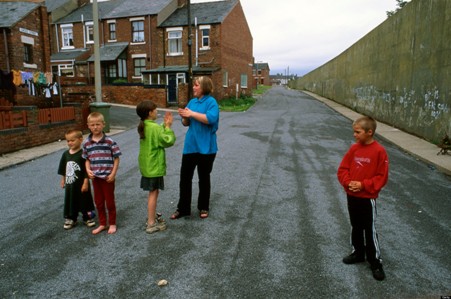 ON March 12 2014, BBC One showed the documentary Famous, Rich and Hungry.
The footage was not of hungry African children in some poor African country with budging eyes and flies hovering around them feasting on their mucus (this is the image of Africa portrayed by many Western media).
It was a documentary showing the daily livelihoods of Britain's hungry poor. Four celebrities, journalist Rachel Johnson (Boris Johnson's sister), Theo Paphitis (Dragon's Den), Jaime Laing (Made in Chelsea) and actress Cheryl Fergison, volunteered to live with poor people in the UK for three days so that they would understand, "what it means to go hungry in the UK today" when "confronted with the tough decisions many people face on a daily basis".
One celebrity went to stay with a single mother who lived on one meal a day so that she could feed her child.
Another celebrity went to stay with a man who made tough choices between keeping warm (heating) or buying food, while another celebrity went to live with a family relying on food banks for food.
Although many people have criticised this documentary as a 'poverty safari' for rich people, however, it did shed a light on how the economic recession and poverty is affecting many ordinary Britons.
And for the immigrant person from Africa, the situation is even worse when compounded with covert and overt racism
We are not out of the (economic recession) woods yet.
For many Zimbabweans, the feeling is that of returning to Zimbabwe.
Gone are the days in Britain when jobs were advertised on every corner, when we arrived at Gatwick Airport and went straight to work from the airport.
Many people are losing their jobs; some are living in overcrowded accommodation because they cannot afford the money to pay rent for bigger places, while those in employment have to cope with stricter employment conditions, for example, salary freezes or salary reduction.
Others have had their houses repossessed because of mortgage non-payment. Marriages are breaking down due to economic and financial pressures.
Others are entering into marriages of convenience for survival.
In the past, many Zimbabweans took advantage of the cheaper council houses that were readily available especially to refugees.
Those are not available anymore due to tougher immigration rules.
The councils have been told to give priority to British and European Union 'citizens'.
Recession is also affecting ordinary white Britons.
One person commenting (online) on the recently screened BBC One documentary, wrote: "Me too.
"It's the relentless cycle of not having quite enough to buy the shopping and put money on the gas token.
"It's the humiliation of asking at the checkout for them to deduct that one item which you really wanted, but will have to do without.
"It's walking past all those juicy, but expensive fruits in the supermarket and getting a bag of apples.
"It's walking everywhere because it costs so much to go by bus.
"It's knowing that you can't have a new pair of shoes let alone a new pair of glasses.
"The worst thing that happened when I was last very poor was the need to make a 999 call for an ambulance, but the phone had long been cut off."
And the middle class is also not spared.
Writing for The Telegraph on February 16 2014, Lucy Mangan reported how the middle class of Britain is 'squeezed and stripped' of their jobs, security and income.
"Our savings are being eroded by interest rates way below inflation.
"Our salaries are stagnating.
"In both Britain and America they have not increased in real terms since the 1980s, and they have fallen by 10 percent since 2009.
"Several university-educated friends, working in both the public and private sectors, are almost literally doing so for nothing.
"The vast bulk of their incomes goes on childcare and commuting."
Mr Malunga, who came to the UK in 2002, has a decent job and his organisation helps people with social and economic problems such as helping them to go back to work, to access social housing, or to have their debts cancelled.
He gets about £33 000 per year and his wife has a small business.
He too, admits that things are tough for his family.
"The assistance we give to relatives in Zimbabwe is splitting our resources," he said.
"It is even worse because the US dollar is a strong currency, almost at par with the British pound sterling.
"I cannot afford a new car now.
"Prices have been increasing silently.
"They don't make any public announcements.
"What is worse is that most companies are slashing the salaries.
"My salary has been frozen at £33 000 per year.
"We used to take agency staff to help us; they used to get paid £15 per hour.
"But now our company has reduced that to £6,31, minimum wage!
"If I leave my job now, the person who will replace me will be paid £10 000 per year.
"So it's a situation where we go to work to keep our jobs open.
"The employers don't care about us anymore because if I go, it's better for them.
"They used to be flexible, but now they tell you that your employment has to suit the needs of the company, and not the employer meeting the needs of the employee."
Some of Mr Malunga's clients are Zimbabweans, including those on student visas.
He says the situation is very difficult for students because they have to work many jobs in order to pay international fees and their upkeep costs.
"My advice is that people should think of going back to Zimbabwe, or at least leave that option open," he said.
"Ini ndikawana land I will go.
"I have two houses in Zimbabwe and lots of residential stands as well, but I would want some land where I can do some projects when I return."
Mr Malunga says he knows two families (Zimbabweans) that are overcrowded and sharing bedrooms with teenage children.
"I know a couple with two teenage children, a boy and a girl, who are living in a one-bedroom house," he said.
"It's obvious one teenager sleeps in the lounge while another sleeps in the kitchen probably.
"It's so bad, but what surprises me is that the couple has three houses in Bulawayo and Harare: one in Masiyepambili, another in Paddonhurst and one in Mufakose.
"I also know a daughter of a prominent ZANU PF person, I can't say her name, who lives in a one-bedroom flat with a 13-year-old daughter and yet she has a very big house in Harare."
Masimba Musodza has been in Middlesbrough for over four years after living in London for some time.
He admits that the job situation in that Yorkshire town which once thrived on iron and steel production, is also gloomy.
However, even though life is tough, he does not think of going back home to Zimbabwe, at least not yet.
"I don't think life is much harder this year than it was a year ago, but it is certainly harder than it was five years ago," said Musodza.
"All the same, I think I am better off in Britain than Zimbabwe.
"There are less job opportunities, but the world of business remains open.
"The news from home is that there is a new wave of people leaving the country to seek greener pastures.
"I also hear complaints from those who have returned that they feel sidelined and resented, for whatever reason.
"So, I have decided to press on in the UK.
"I feel that the decision to go back is an individual one, so I have nothing, but support for those who do want to return to Zimbabwe.
"But I am convinced that returning is not an option for me.
"Not this year, anyway."
For the majority of Zimbabweans feeling the financial pressure, poverty and destitution, perhaps it's now time to throw in the towel and go back home.