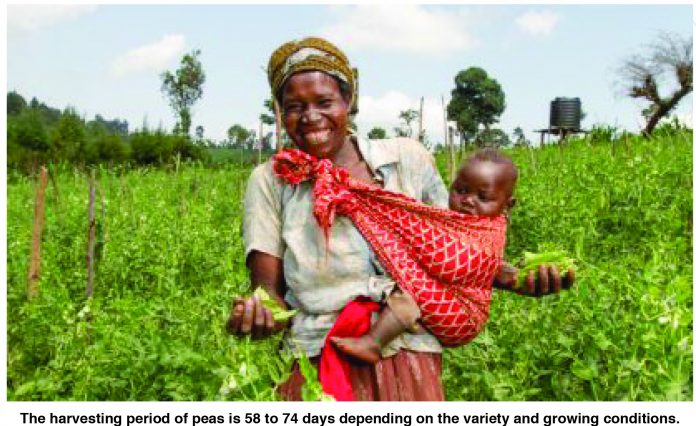 By Shingirirai Mutonho
WINTER for many farmers is a time to start preparations for the summer cropping season, but in light of calls by Government for farmers to fully utilise land, it is imperative for producers to produce winter crops.
The last summer cropping season was poor, as the country was hit by a drought-induced El Nino.
Those with irrigation facilities have been urged to be productive.
One crop that thrives in winter is peas.
Peas, a nutritious leguminous vegetable, is rich in proteins, amino acids, sugars, carbohydrates, calcium, phosphorous, iron as well as vitamins A and C.
In an interview with The Patriot, Agritex agronomist Luke Munyoro said peas can be planted from March to May and reaped from June to August.
"Peas can be grown under various weather conditions, but they thrive in cold and dry climates as the long cold spell helps in increasing yield," he said.
"Pea seeds can germinate even at a minimum temperature of five degrees Celsius, but the process is slow.
"The optimum temperature for germination is about 22 degrees Celsius, but at higher temperatures, germination is rapid.
"The optimum temperature for good growth is between one and 18 degrees Celsius."
Munyoro said peas can be grown in all soil types, but preferably well drained sandy loam soils.
"Peas, however, do not thrive in acidic, alkaline or saline soils and it grows best at a pH of 6.5 and if the pH is less than six, then it should be amended using lime to improve the soil condition," he said.
"The soil should be rich in organic matter as it enhances better growth by supplying nutrients."
Land preparation is key in peas production, Munyoro said.
"The land should be prepared well by ploughing, but the soils should not be pulverised and must be free from weeds and stubble," he said.
"Well-decomposed farmyard manure can be applied during ploughing at 25 to 30 tonnes per hectare.
"After ploughing, the field should be levelled to allow proper distribution of irrigation water."
A grower should invest in adequate and quality seeds and fertilisers to get favourable yields, said Munyoro.
"About 80 to 90 kilogrammes (kg) of seed is required to plant one hectare (h) with a yield target of six tonnes per hectare expected and this can be doubled with heavier fertilisation and good control of pests and diseases," he said.
"Pea seed may be treated with Rhizobium culture with up to 50 kg per ha required as this will help fix atmospheric nitrogen and reduce nitrogen fertiliser application."
Munyoro said after crop establishment, growers should check their fields to determine if inoculation was successful.
"Peas is normally sown directly into fields where it is grown to maturity, but it can also be sown early in pots in a greenhouse, for planting out," he said.
"Timely planting is essential for optimum yields as late sown crops are often affected by low moisture availability and heavy aphid infestation at medium altitudes and by frost at high altitudes.
"Do not sow in wet or poorly cultivated soil, but wait a week or two until the soil dries."
Munyoro advised farmers to apply about 500 kg per ha of basal compound C fertiliser.
"The crop should be top dressed at first pod set with potassium nitrate," he said.
"Apart from application of fertilisers and manures, it is essential to treat the seed with Rhizobium inoculums for better nodulation, plant vigour and high grain yields.
"Peas is very susceptible to fertiliser burn, so fertilisers should be placed carefully."
Munyoro said the water requirement of peas is comparatively low.
"Pre-planting irrigation is essential for proper germination and after that, the frequency depends on soil type with generally two to three irrigation intervals required," he said.
"Soil moisture deficit reduces growth and hampers nodulation while excess moisture results in a yellowing crop, reducing yields.
"The crop must be irrigated at pod filling stage."
After plant establishment, Munyoro said farmers should be on the lookout for weeds, pests and diseases.
"Weeds should be rigorously controlled and the critical period of weed competition is three to eight weeks," he said.
"Peas are mostly affected by leaf weevil, pod borers, leaf miner, aphids, cutworms, slugs and snails.
"Diseases that affect peas include wilt, powdery mildew, downy mildew, rust, fusarium wilt, aphanomyces root rot, leaf-roll virus, pea seed borne mosaic and pea stunt."
The harvesting period is 58 to 74 days depending on variety and growing conditions.
Munyoro urged growers to pick peas when pods are round (swollen) and full.
"Pick a few pods every day or two near harvest time to determine if the peas are at the proper stage for eating," he said.
"Peas have the best quality when they are fully expanded but immature, before they become hard and starchy.
"The pods on the lower part of the plant mature early."
Munyoro said harvested peas should be rapidly cooled to zero to one degree Celsius.
Optimum storage conditions are between zero to two degrees Celsius and 90 to 98 percent relative humidity.