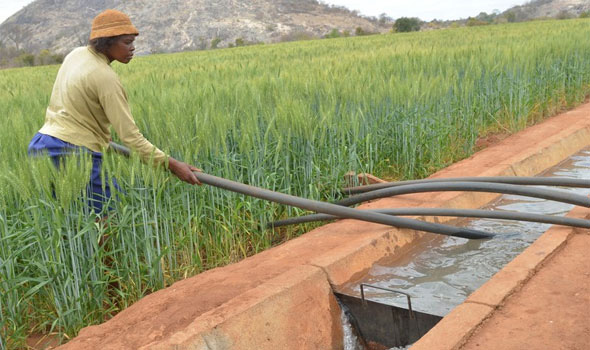 TRADITIONALLY, May 15 is the deadline for winter wheat sowing, but the uncertainty surrounding production, which has become a perennial feature, continues as there are no indications that growers will this year plant the crop.
The question is: Will the cereal output increase this season in the face of the myriad challenges confronting the sector?
Despite the power utility, Zimbabwe Electricity Supply Authority (ZESA), assuring the nation there is adequate electricity to cater for everyone during the winter season, there are a plethora of challenges in wheat production.
Limited farmer support to finance the crop in terms of inputs as most farmers lack collateral to borrow from the bank as well as tight liquidity constraints are some of the challenges in wheat production.
Government recently launched a 67 000-hectare Command Wheat Programme under which 50 000 hectares will be funded by Sakunda, with a further 17 000 hectares funded by other contractors.
With an average yield of four tonnes per hectare expected, the country would realise 268 000 tonnes of wheat.
The country requires 460 000 tonnes of wheat every year and current efforts are expected to progressively increase production to erase the deficit.
Agronomist Ivan Craig encouraged farmers not to give up on wheat production as it is a vital crop; and there is room for farmers to make a profit.
"The secret is in the yield, hence farmers should make sure they achieve maximum yield/ha and in turn they will make a profit," said Craig.
"The maximum yield/ha is between eight and 11 tonnes and even if farmers produce five tonnes, they will still be able to break even."
Farmers have cited high costs of production as a huge drawback and the reason locally produced wheat is priced higher than that in neighbouring countries.
Electricity costs of between US$700 and US$800 to irrigate a hectare of the crop per season have also made it difficult for farmers to break even.
A hectare of wheat is irrigated after seven days for eight hours before germination and after every 14 days for eight hours after germination till it is harvested.
Craig said for farmers to realise maximum yields, they should follow the correct procedures and ensure they have the right and adequate inputs.
"A farmer should ensure land is well prepared and there is enough water to see the crop from establishment to harvesting," he said.
"Farmers can approach Agricultural Technical Extension Services (AGRITEX) and have them do a feasibility study to determine the actual amount of water in their water source and afterwards advise on the crop that can be sustained with their water.
"After determining the size of the field, farmers should ensure it is prepared and have adequate seeds and fertilisers."
When using the broadcasting planting method, farmers require 135 to 140 kg of seed per ha and when using the drilling method, 120 to 125 kg is required.
Before planting, said Craig, the field should be irrigated until it is saturated.
"After planting it will take up to four days before the plant starts to sprout and water should be withdrawn for 21 days as this encourages deeper development of the roots and the full utilisation of residual nutrients," he said.
"After 21 days, full irrigation cycle resumes and for those in sandy soils, it should be after every eight to nine days depending on the rate of evaporation while for those in heavy soils, after every 12 to 14 days."
Craig said after 21 days of planting, it is advisable to then apply herbicides and top dressing.
Compound D fertiliser is applied just before planting.
"Those in heavy soils should apply 350 kg of top dressing fertiliser/ha while those in sandy soils, between 400 and 450 kg," said Craig.
"If the fertiliser is to be applied using the broadcasting method, the application should be split into two; for instance those in sandy soils can apply 225kg/ha after the 21 days and the other 225 kg after two weeks."
Regular inspections to check for weeds, pests and diseases is important, said Craig.
He said the crop should be safeguarded from veld fires and logging.
"Farmer should develop a passion for the crop and if they notice anything amiss, be it pests or diseases, they should take a specimen to AGRITEX officials who will assess and recommend corrective measures," he said.
"The major challenge in wheat production is the quelea birds which cause serious damage.
"When faced with this challenge, a farmer should notify the Zimbabwe National Parks and Wildlife Authority who will offer control methods."
If correct procedures are followed, yields maximised, farmers would be able to break even and result in the wheat production sector rebounding.