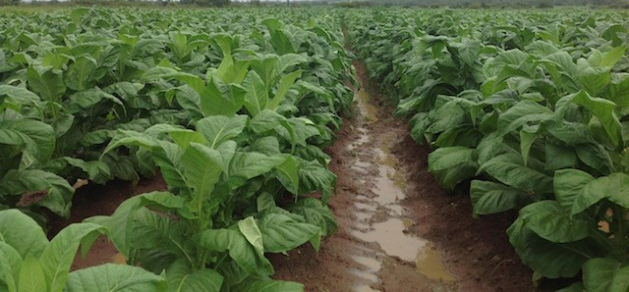 THE tobacco marketing season, one of the major highlights on the agriculture calendar, is set to begin this month with stakeholders optimistic of a successful season on the back of increased growers.
Farmers have already begun harvesting and curing the golden leaf.
Traditionally, the marketing of tobacco starts in February, however, in the past seasons it has been starting in March.
The tobacco cycle starts in June when farmers prepare their seedbeds, with planting in September for farmers who irrigate their crop and runs to selling of the crop in February.
Most people have taken up tobacco production, given its lucrative returns.
According to Tobacco Industry and Marketing Board (TIMB), there has been an increase in tobacco planted this season compared to last season.
At least 42 283ha have been planted countrywide, indicating a 0,9 percent increase from the 41 496ha planted during the same period last year.
Manicaland Province has the largest hectarage put under flue-cured tobacco on 12 703ha.
The bulk of the hectarage, 27 885ha, is under dry land while 14 398ha are under irrigation.
Tobacco registration for the 2017/18 season rose by 37 percent to 100 723 from 73 685 last season.
This season, the number of new growers increased from 14 841 last season to
33 307.
With stakeholders optimistic, it remains to be seen whether this marketing season will be different from the past seasons.
Past marketing seasons were characterised by congestion with some farmers having to spend days and weeks camped outside floors, failing to sell their crop.
Auction floors blamed farmers for not following the correct marketing procedure of having to book their crop first and getting a grower's number.
This has resulted in the eroding of the farmer's premium as they spend days at the auction floors before their crop is sold.
As if the pricing issue is not enough to cause 'headaches' for some farmers, they too have to be on the lookout for some unruly elements who plot all year on how to cash in on the unsuspecting farmers.
Despite the challenges faced by growers, locally produced tobacco remains in demand because of its unique flavour and is mostly used for blending.
Zimbabwe Progressive Tobacco Farmers Association president Mutandwa Mutasa said farmers should take advantage of the demand for locally produced tobacco.
"Our tobacco will always have a market," he said, adding: "It is important that farmers look at how they can benefit from producing the crop beyond the offloading bay.
"Of late, farmers have been crying foul over the prices offered by buyers.
"As we move to improve on quality, we should also be thinking of how we can value-add the leaf."
Mutasa said the Union was engaging stakeholders on how farmers can get high returns from producing tobacco.
"With time, we should get to a stage where farmers would be selling processed tobacco," he said.
"As a Union, we are proposing in the long run that farmers be levied five percent which will be used to buy a threshing machine that will be administered by TIMB.
"With a threshing machine in place, farmers will be able to sell a processed leaf.
"We envisage a situation where farmers will now be bringing their crops to be graded and then threshed before they sell it to ensure that they get more for their crop."
Efforts continue to be made to ensure tobacco growers benefit from producing the crop.
Following the liquidity crisis, changes were made to the payment system with the hope of improving operations of farmers and these have helped cushion farmers from the 'cash crisis'.
Under the new regulations by TIMB and Reserve Bank of Zimbabwe, farmers are required to be paid through their banks in order to encourage savings and foster financial inclusion.
This entailed all farmers to have bank accounts.
In the past, it was mandatory only for contract farmers to have bank accounts.
Meanwhile, farmers have resorted to purchasing inputs using plastic money.
With preparations on course for the next tobacco season, it is anticipated yields will continue to rise.
Tobacco, which is the country's highest foreign currency earner followed by gold, has continued to fare well.
During the 2017 marketing season, farmers sold 189 million kilogrammes (kg) of flue cured tobacco, with contract farmers contributing most of the deliveries at 158 million kg, while self-financed farmers weighed in with 31 million kg.