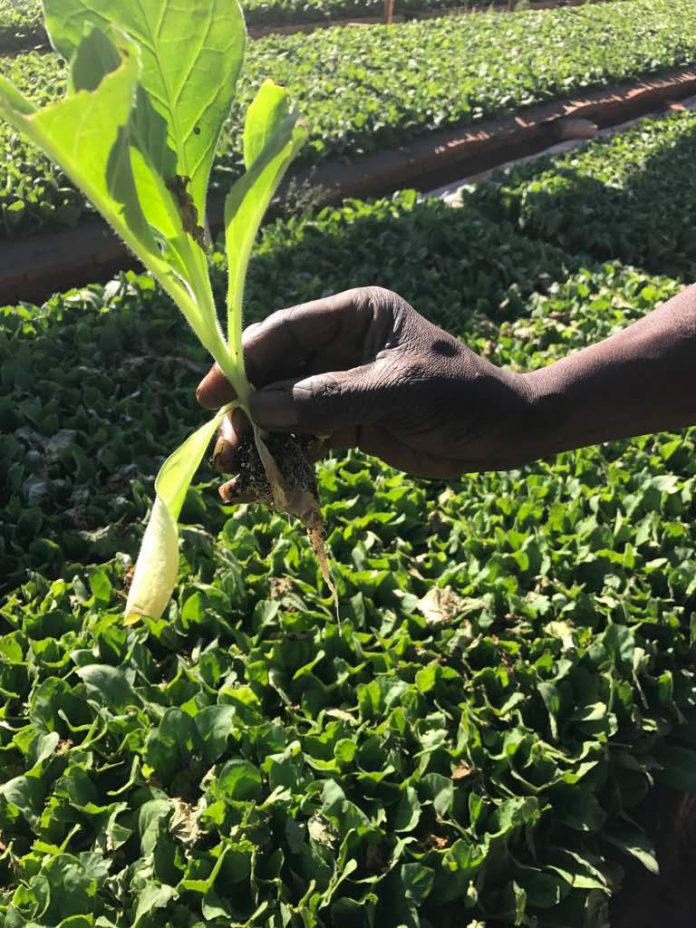 SEPTEMBER 1 is the regulated date for farmers to start transplanting seedlings from seedbeds to the fields.
Hence this week, for farmers irrigating their crop, it was all work as transplanting began.
Those waiting for the rains are managing their seedbeds and nurseries, waiting for the onset of the rains to transplant.
The tobacco cycle starts in June when farmers prepare their seedbeds, in September planting begins, mainly for farmers who irrigate their crop while harvesting starts in December and runs to selling of the crop in February.
As the country emphasises the need to up agricultural production, farmers should follow correct procedures to ensure improved yields.
Apart from transplanting, farmers should by now have registered or renewed their registration with the Tobacco Marketing Board (TIMB) to avoid disappointments of paying US$100 fines compared to the US$10 registration required.
The tobacco production sub-sector, a former preserve of white farmers, has grown over the years with production levels rising from an all-time low of 48,8 million kilogrammes (kg) in 2008 to 239 million kg surpassing the deliveries recorded in 2000.
The record becomes the highest since 1980.
If more is to be produced this season, those willing to be a cut above the rest should put their houses in order, with activities on the farm going along with stipulated dates for the various processes of production.
Zimbabwe Farmers Union (ZFU) commodities specialist Simbarashe Muchena said most farmers had adhered to the stipulated date of transplanting.
"By last month, most farmers had already prepared seedbeds and those who irrigate their crop have already started transplanting," he said.
"We are looking forward to a good season, provided we receive adequate rains on time."
"Farmers are now transplanting their seedlings with those with the rain-fed crop still under seedling stage to be transplanted with onset of rains."
Muchena said farmers should be aware that planting dates are not only synchronised with the rain season but are for pest and diseases control.
"The dates are meant to break the life cycles of pests to reduce crop damaged by pests," he said.
"The date is just the earliest date for planting, hence growers can also grow beyond that date."
He urged farmers to continue acquiring skills in order to produce a quality crop.
Some farmers have, in the past, urged Government to review the gazetted irrigated tobacco planting dates as they no longer conform to prevailing weather patterns which have been affected by climate change.
Zimbabwe Commercial Farmers Union president Wonder Chabikwa said those irrigating their crop were not affected by climate change.
"All our irrigated tobacco growers know what they are doing and they have started transplanting," he said.
"Mostly, climate change is about the rainfall patterns and temperatures and this does not affect those with irrigation facilities. As long as they have enough water in their water sources then they will not be affected even if the rains delay."
Chabikwa said those who rely on the rains were affected by the changing rainfall patterns.
"With rain-fed tobacco, a farmer has to plant three weeks before the onset of the rains and if the rains delay, it means their crop will be affected or will wilt," he said.
"For smallholder farmers, if the rains delay, can dig up holes next to the plants and fill them up with five litres of water, but this only serves those with a smaller hectarage."
Chabikwa said the percentage of farmers irrigating their tobacco was small and efforts should be made to increase the numbers.
"Only about 25 percent of the tobacco growers use irrigation and normally the irrigated crop has higher yields and a better quality compared to that which is rain-fed," he said.
The country has over the years recorded poor harvests due to erratic rainfall patterns and this confirms the importance of moving away from rain-fed agriculture.
Farmers have been calling on Government to come up with a meaningful contribution towards the setting up of viable irrigation infrastructure that can adequately sustain and guarantee the country of food security in the face of drought.
Government, as part of efforts to enhance agricultural activities, has embarked on a programme to rehabilitate and establish irrigation schemes.
Chabikwa urged financial institutions to support the tobacco industry as it was poised for growth.
"With what is transpiring on the ground, the sector has potential to continue to grow, hence there is need for stakeholders to support the growers," he said.
Tobacco contributes 20 percent of the Gross Domestic Product.
The sector accounts for 40 percent of exports and supplies 63 percent of raw materials for agro-based industries.
The country exports 98 percent of semi-finished tobacco products, with the rest being consumed locally.