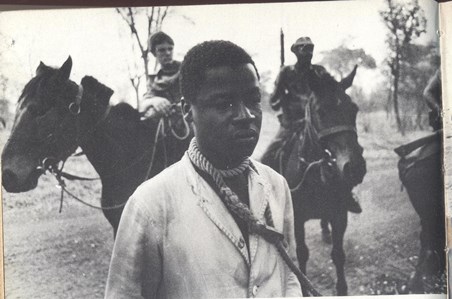 WHAT was once a hellhole, a place of torture and punishment, where the stench of death lingered insistently in the air and where the cries of tortured freedom fighters was common because of the oppressive white man, has, thanks to the emancipation of Zimbabwe in 1980, become a place of rehabilitation.
Today, Zimbabweans are celebrating 34 years of independence, 34 years which saw great strides being taken in upholding human rights in Zimbabwe's prisons.
In an interview with The Patriot last week, the Acting Commissioner-General of the Zimbabwe Prisons and Correctional Service (ZPS), Fadzai Mupure said in celebrating Independence, Zimbabweans must know that Rhodesians used prisons as a tool of oppression.
"The establishment of prisons in Zimbabwe was mooted by the colonial settlers mainly to punish blacks," said Acting Comm-Gen Mupure.
"Prisons during the colonial era were punitive in nature and did not offer any form of rehabilitation to the inmate.
"This system only changed when we attained Independence in 1980."
Acting Comm Gen Mupure said whites incarcerated blacks not to reform, but destroy them not only by breaking their spirit, but in some instances killing them.
She said many black political prisoners were killed in prisons every day and the number rose as the fight for independence heightened.
"At Harare Central Prison, black prisoners were sent to the gallows daily and with the increasing number of black prisoners, the white colonialist resorted to burying multiple corpses in a single grave," said Acting Comm Gen Mupure.
"Later on, prisoners were incinerated as burial land around the prisons became scarce."
Acting Comm Gen Mupure said discrimination in the prisons during the colonial era was structured such that white people had the best treatment followed by coloureds and black people received the worst treatment.
"There was a huge gulf between prisoners," she said.
"For instance, at Harare Central Prison there were three sections, one for whites, the other for coloureds and a section for black inmates.
"In the whites and coloured sections, there was better infrastructure which included bath tubs, spacious cells, and an improved diet compared to sections where blacks were housed, where infrastructure and treatment was at its worst."
According to the ZPS documents, racial segregation during the colonial regime also extended to staff members.
Acting Comm-Gen Mupure revealed that racism was practised to ludicrous levels that saw different ink colours being used to record names of inmates.
"The segregation rose to deplorable levels as shown in some prison register books where names of whites were recorded in red ink or any other colour which was not the usual blue or black distinguishing between white and black inmates," she said.
"The coming of independence saw a complete transformation in the treatment of prisoners in all prison facilities.
"Independence ushered in a new dispensation of administering prisons on a paradigm of human equality and adherence to the provisions of the United Nations (UN) Charter on Human Rights and Prisoner's Rights.
"We are now able to self-govern our prisons and offer rehabilitation skills to our inmates and do away with repressive systems of the colonialists."
Various mechanisms, said Acting Comm Gen Mupure, had been put in place to ensure that prisoners receive skills that will ensure successful integration into society upon release.
"The rehabilitation paradigm has been pursued since Independence," she said. "Education, medical rehabilitation, Psyco-social counselling, religious counselling, arts and sport have been extended to our inmate population.
"Recently the ZPS incorporated prisoners in one of the country's major music talent show, 'Starbrite'.
"The incorporation of inmates in the talent show 'Starbrite' shows how determined we are as far as rehabilitation is concerned."
The ZPS has over the years successfully partnered with various stakeholders to help with the rehabilitation of inmates.