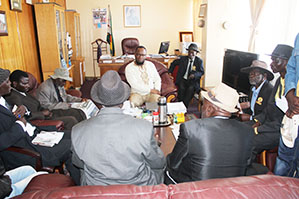 By Knowledge Teya and Golden Guvamatanga
THERE is a painful song that normally hits the airwaves in the country towards Heroes commemorations in August or every time when a hero dies.
It is called 'Tormented Soul', a dedication to those who perished in the liberation struggle, the thousands who died at Nyadzonia, Chimoio Freedom Camp and others buried in shallow graves around the country's borders.
Thirty-four years after independence, the same song 'Tormented Soul' is talking about the same people, but in a different way according to a delegation of chiefs and headmen from Rushinga District in Mt Darwin who recently travelled to Chimoio.
They came back with sad news, that there are tormented souls at Chimoio.
The chilling disparities on how the Government is setting its priorities when it comes to Cecil John Rhodes' grave at Matopos and the historic Chimoio shrine in Mozambique were once again brought to the fore by the Rushinga District traditional leaders' delegation.
In the brief to Primary and Secondary Education Minister Lazarus Dokora on Sunday, the most important message that came from their testimonies was how the country has seemingly abandoned the historic Chimoio shrine.
But Chimoio is important to Zimbabwe's history in many ways.
It was at Chimoio that the Rhodesian Forces committed one of the worst massacres in the history of mankind when they brutally murdered thousands of Zimbabwean freedom fighters in November 1977.
Located about 95 kilometres east of the Zimbabwean border, Chimoio is the capital of Manica Province in Mozambique and was, most importantly, the headquarters of the Zimbabwe African National Liberation Army (ZANLA) when the Rhodesian raid (Operation Dingo) which claimed over 5 000 lives took place.
The victims were eventually buried in mass graves making Chimoio one of the most important aspects of our history.
There are over 11 mass graves at Chimoio.
In previous years, acres of space have been dedicated to various sections of the media on how the foundations of the country's history are entrenched at Chimoio.
But the emotional testimonies by the traditional leaders will without doubt bring to the spotlight how some veterans of the liberation struggle have not only turned their backs on the country's history, but have completely abandoned the struggle itself.
Abandoned, dumped and forgotten were some of the epitaphs the traditional leaders used to describe the state that the Chimoio shrine is currently in.
They gave disturbing accounts of how even those who have volunteered to provide security at the shrine are struggling to make ends meet.
With no salary, no food and other incentives, the leaders said they had to make contributions for the Chimoio shrine caretakers, young Mozambicans, less than 20 years old.
Chief Makuni said the Government must quickly renovate the dilapidated infrastructure at Chimoio.
"Takabatikana zvikuru nezvatakaona paChimoio," he said.
"Asi zvakandinetsa kuti vanhu vari paChimoio vakafira nyika here kana kuti kwete?
"Mugwagwa wacho hauchafambike, waya yadonha, mombe dzinenge dzichingotambira mukati zvekare.
"Minister (Dokora) please endai munotaurira President mamiriro akaita kuChimoio."
Chief Rusambo echoed the same sentiments and said it is important for some Heroes celebrations to be held at Chimoio.
"Panofanira kutoitwa bira paChimoio kwete gala remagitari asi bira chairo, kuratidza kuti hatina kukanganwa vamwe vedu vakauraiwa zvinopisa tsitsi.
"Takanzwa kuti izvozvi vamwe vanoonekwa mausiku vachimhanya, vamwe vakagara pamakuva ipapo uyezve vamwe vachiridza pfuti zvichireva kuti vane kushushikana kukuru.
"Mweya yavo haina kuzorora.
"Tiri kubata vanhu vepaChimoio uchapa.
"Hatina kuvafuratira here vana ava?
"Izvozvi fence irikudonha, mombe dzava kungopinda, vana vanochengetapo paChimoio havabhadharwi, vanogeza nemvura chete nekuti havana kana mari ye kutenga sipo nechikafu.
"Ngationei zvekuita."
Headman Chitange could not contain his emotions.
"Patakasvika ndakanyatsonzwa kuti shuwa pakafiwa asi vanhu ava vakafa neshungu.
"Takaona madrum munekamwe kamba anonzi ndiwo aifashaidzirwa mvura vanhu vachikandirwa imomo.
"Ndakabatikana zvikuru, asi dai hurumende yaona zvekuita nenyaya yekuchengetedza paChimoio nokuti hapachina kumira zvakanaka."
In contrast, Rhodes' grave in Matopos is a tourist attraction that is given special attention.
The traditional leaders said it defies logic for Zimbabweans to prioritise Rhodes' grave while ignoring the sacred shrine at Chimoio.
It is as good as abandoning our own history, they said.
Ironically Rhodes maliciously chose to be buried at Matopos in order for him to cut the link between the people of Zimbabwe and the country's ancestral spirits.
There has been a nagging fear within whites that the country's strength is drawn from ancestral spirits and there is no doubt that spirit mediums played an important role during the liberation struggle.
But the sentiment that kept popping up in the Rushinga traditional leaders' testimonies were how the country has seemingly turned its back on its history?
Has Zimbabwe and its Government suddenly forgotten about the thousands who died in order for the country to be free?
Could it be the reason why things are not going on well in the country?
Did we do that which was supposed to be done when we gained independence in 1980 and did we remember those who perished during the liberation struggle?
Did we do anything to appease their spirits?
If not, then Chimoio is one place that we must begin with.
Minister Dokora said they will liaise with the National Museums and Monuments Department and will soon be sending a technical team from his Ministry to assess the level of damage at Chimoio in order to map the way forward.