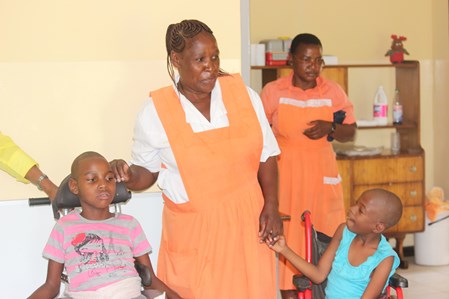 IMAGINE being deaf, dumb and blind or taking care of such a person who is described as 'severely disabled' or having 'profound disability' with minimal resources.
After walking into 'TOSE' Respite care home in Prospect, Harare, and interviewing the caregivers of children with profound disability, one will never be the same again; rather they will count their blessings.
In an interview, TOSE executive director, Stella Faranisi said the organisation which accommodates 40 severely disabled children has minimal resources.
"We do not take care of partially or just disabled children; we take children who will have been examined and found having 'profound disability' which makes them highly dependent on others," she said.
"We start by training them on how to do verbal or non-verbal communication, we do toilet training because most of them come to our institution untrained since most people do not know how to train them at home."
Faranisi said most of the children come to the institution when they turn five or even older hence their muscles are not as flexible because of the inactivity requiring a lot of specialist attention.
She said TOSE remained committed to supporting families with such children, but the centre was facing financial constraints.
"We have financial challenges and our projects such as poultry and grinding mill are not able to meet the utility bills and the day-to-day affairs," she said.
"The children pay school fees, but not all of them pay the total amount and even if they pay the full amount, the fees meet only a third of the requirements of the child per term.
"Disabled children need a lot of attention and because of their unique conditions they regularly go to the hospital.
"We need transport; special diets for the children, special equipment, the electricity bills are high because we use warm water every time for the children making our monthly expenditure very high, hence the concept of 'TOSE' which means together comes into play as we invite different stakeholders to take part in supporting the wellbeing of the disabled.
"We also need solar panels so as to avail warm water in the swimming pool as it is good exercise for the children and we need to expand the poultry project and probably have a green house so as to boost our income."
Faranisi said it was high time society changed its attitudes towards disability as most children who come to the centre were under the care of guardians particularly grandparents as disability if not handled properly leads to divorce or family breakdown.
"Our concept is to reduce the burden from the guardians in most cases grandparents because some people divorce or run away as a result of not being able to cope with the pressure of having a disabled child," she said.
"This leaves pressure on the grandparent who becomes 'disabled' in the sense that they cannot take part in any economic activity.
"So we ease that pressure during the school term and take the child in our care so that they are able to take part in economic activities so that they are able to take care of themselves and other family members."
Faranisi urged women to always visit health care centres as most conditions have been linked to blunders made during the gestation period and child birth.
Society, she said, must take a more responsible role by protecting the disabled children as they are prone to physical, sexual and verbal abuse.
TOSE was founded by Desi Page (nee Matongo) in 1991after she realised that there were tremendous gaps in the care and rehabilitation of the severely, mentally and physically handicapped people in the country.
TOSE's objectives include providing residential care, consultancy services, assessments, outreach services and rehabilitation programmes in speech and language, mobility and occupational therapy, among others.