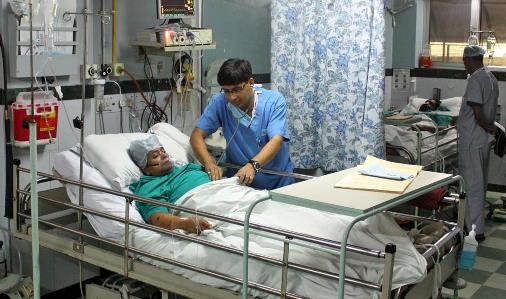 A NEW company MedTours Africa, which seeks to provide medical tourists in the sub-Saharan region, a one-stop shop for medical services and logistics, has been established.
MedTours will facilitate visits to, among other places that can offer advanced medical care that is not available in the country, India.
In India, the company has partnered Satguru Partap Singh Apollo Hospital (SPS APOLLO), a reputable institution in Ludhiana.
Medical tourism is the act of travelling to other nations to obtain medical services.
The term 'medical tourism' was initially coined by travel agencies and the media as a catch-phrase to describe a fast growing industry where people travel to different nations to obtain medical services.
Leisure aspects of travelling can be included on such a medical travel trip.
The trips include elective procedures and complex specialised surgeries like knee/hip replacement, heart surgery, dental procedures and different cosmetic surgery.
MedTours medical director, Ms Cheurombo Pswarayi, said the objective of the company is to lessen the burden on caregivers by assisting them with travel and medical logistics for their loved ones.
"MedTours Africa will offer tailor-made packages which will cover four areas of travel which include visas and air ticket facilitation covering flights, transfers and local transport systems, accommodation for the patient and travel partner before, during and post-procedure care," she said.
The country has no such agency which has left care givers with the extra burden of logistics when they want to seek treatment across the borders.
India has been the choice of many Zimbabweans seeking advanced medical assistance that is not locally available because of the affordable rates offered compared to other countries.
Pswarayi said they intend to expand to other destinations such as South Africa, Malaysia and Turkey in the near future.
"Our goal is to get the credentials we need to make sure MedTours Africa is the first option for patients, seeking international treatment," she said.
"We want to expand our portfolio by adding partner hospitals in other tourist destinations-South Africa, Malaysia, Turkey and we also hope to extend our services to clients outside our boarders and in sub-Saharan Africa in the not so distant future."
Pswarayi said their company aims to provide excellent service to create an emotional impact on the receiver by facilitating safe, comfortable, and affordable medical tourism packages.
India is positioning itself as the primary medical tourism destination for complex medical procedures in the world.
India, Thailand, Colombia, Philippines and other countries in South East Asia offer affordable packages than the United States (US) for example.
Placidway.com, a site which offers extensive information related to medical travel, international medical providers, foreign treatment among others states that heart valve replacement or repair in the US generally costs an average of US$25 000 per valve. 
Those patients who undergo multiple valve replacement surgical procedures may expect to pay up to US$100 000 for such services, depending on hospital or surgical centre location. 
Hospitals outside the US are known to charge much more reasonable prices.  Medical travellers in India, for instance, can get the same quality cardiac procedure at around US$9 500 for a single valve replacement. 
The double valve replacements can cause around US$11 500.
Most of India's healthcare hospitals excel in cardio thoracic surgery, cardiology, cosmetic surgery, infertility treatment, ophthalmology, neurosurgery, transplants, cardiothoracic surgery, thoracic surgery, obesity surgery, orthopaedic surgery and several other surgery treatments.
The idea of Medical Tourism is not a new one.
The earliest recorded event of medical tourism dates back hundreds of years to when Greek pilgrims travelled from Mediterranean to Saronic Gulf, Epidauria.
This place was the sanctuary of the healing god Asklepios. Epidauria then became the original travel destination for medical tourism.