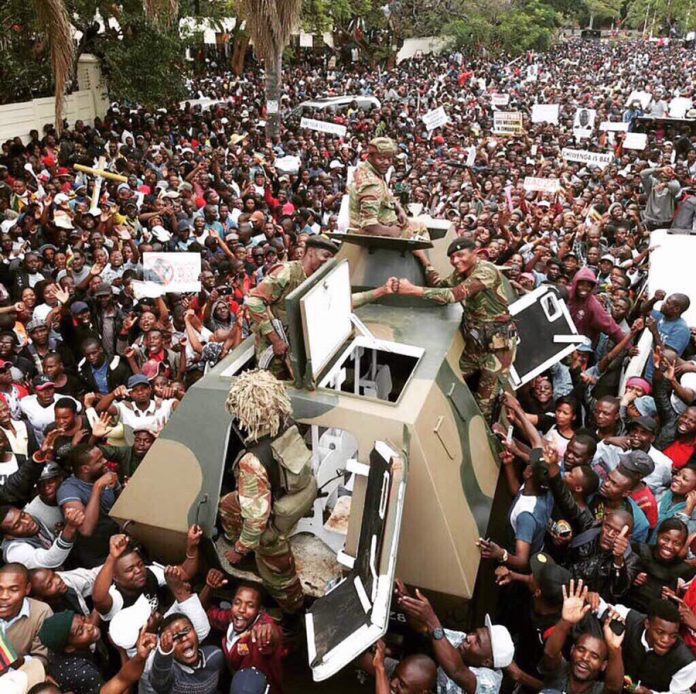 IN the end, it was one big mistake that simply consolidated what was, from the onset, an easy victory for ED.
It was a political miscalculation, a narrative that had all the ingredients of disaster written all over it.
On an unusually sunny Sunday afternoon on July 29 2018, one old gentleman chose to spoil the party for the stuttering young Nelson Chamisa and he did it with aplomb.
He invited the world for what was initially supposed to be a press briefing which ended up being a long, winding sermon about his personal grievances.
Again it was supposed to be an earth shattering pronouncement, one we had known for long but chosen, out of respect for the old man, to keep to our chests.
He told the world he would not vote for ZANU PF.
And ZANU PF was supposed to be shaken.
It was supposed to lose some of its key supporters who would then vote for the MDC Alliance; an endorsement of some sort if you ask me.
Let us hear him speak:
"I have never met Chamisa. I wish to meet him if he wins. As for who I will vote. I Cannot Vote For Those Who Have Tormented Me. No l Can't! We used to say politics direct the gun. But now, the gun directs politics. I say no, no, no! Thokozani Khupe and Joyce Mujuru do not offer much. What is there is Chamisa (sic)."
This is far from the truth.
We shall discuss it in the near future and at great length for that matter.
But then what in so far as that press conference is concerned?
Here we go.
November 2017 is important when unpacking this matter.
It brings forth some useful insights, especially when unravelling the said press conference and the outcome of Monday's polls.
Let us give this issue the prominence it deserves.
When Operation Restore Legacy was initiated and successfully implemented in November, the key issue was to bring stability both to the country and to the economy.
It was meant to save it from an impending disaster, to cushion it from the immanent free fall.
It was meant to restore the country to normalcy and reintroduce it into the league of nations.
It was also meant to restore dignity to the people of Zimbabwe after years of isolation and economic stagnation.
In addition to that, it was meant to unite the people of Zimbabwe after decades of divisive politics and antagonism.
The above was achieved through the historic November 18 2017 march by Zimbabweans from across the political divide.
On that day, Zimbabweans from across the board came in their numbers to send a clear message that, united we can achieve many great things as a nation.
This is what Chamisa and his cohorts have been trying to dismantle through their bizarre, strange shenanigans to take the country back to the pre-November 2017 events.
That failed before and July 30 2018 further put paid to that contemptuous aspiration.
On Monday, only one aspiration stood tall and above others.
It was the people's aspiration and there are several lessons to be learned from that historic poll.
Key to understanding this fundamental point is to locate what President Emmerson Dambudzo Mnangagwa and his new administration have stood for and what they have done since assuming office on November 24 2017.
ED did not only come up with an election plan.
He came up with a Zimbabwe recovery strategy that is anchored on long-term as well as achievable economic and political goals.
Not only did he talk about that, in the nine months he has been in office he has delivered on many fronts.
He has given Zimbabwe hope.
He has given tangibles.
He has started many infrastructural development projects which have the potential to make this a globally competitive economic force within the shortest possible time.
In the aftermath of these polls, it will be business unusual for the country.
This country is set to witness unprecedented growth.
It is set to embark on an economic trajectory that will see it leapfrogging those countries which had overtaken it over the years.
The new dispensation has taken the country back to the league of nations.
Past antagonisms have all but been extinguished and old and new friendships alike are being established.
In the same vein and linked to the above have been the attempt by Chamisa to rubbish the electoral processes in the country in order to lay the foundation for an ungovernable post-election Zimbabwe.
Chamisa has targetted ZEC chairperson Justice Priscilla Chigumba.
He wants Zimbabweans to believe there is instability in the absence of his electoral victory.
To achieve that, he tries to smuggle the pre-November 2017 set up into the national debate in order for him to upset the national psyche.
But Zimbabweans have seen through that miasma and have, instead, totally rejected both through the ballot and the peace they have exhibited before, during and after elections.
This country will remain stable and will never be subjected to any nonsense that Chamisa and his goons may try to infuse into the country's politics.
The law is waiting for him!
Let those with ears listen.